Time to start saving for Christmas
It's that time of year again!
As we approach the end of 2013, we cannot end the year without two of the best holidays. Aside from our birthdays, people generally look forward to Thanksgiving and Christmas. For thanksgiving we get to stuff our faces with home cooked meals and for Christmas we are typically blessed with presents.
How can we not love those holidays?
However, this only means one thing, it's time to get those Christmas lists ready.
For those that are expecting something expensive this year, it's time to start saving. With only a little over a month left, not only do we need to start saving, but we also need to start figuring out what we want to buy our loved ones.
If you're confused, you've come to the right place. I plan on giving ideas for the perfect Christmas present for either a family member or a significant other.
To start, if you're looking to buy something for your boyfriend, they're a few "toys" coming out that he would enjoy.
Guys are generally easy to shop for. If it's sneakers, games or clothes they are usually satisfied. Therefore, if your boyfriend is into video games, the Xbox One is scheduled to release at midnight on November 22.
The Xbox One is a new game system that is considered an upgrade from the Xbox 360. Although, the features are very similar, the Xbox One will contain a bunch of new apps where you can watch movies, news, sports, and most importantly play video games.
If you're not looking to buy something that big, a video game is also good. Call of Duty Ghosts was just recently released and "the game is a must have", according to reviews on Best Buy.
Aside from video games, one thing most men love to do is look their best. You can help him out by buying him a pair of sneakers to go with his attire. Men love new clothes and sneakers. Therefore, there are two sneakers that are expected to be released just in time for Christmas.
On December 14. The Air Jordan 12 "Taxi" will be released and with just enough time to end up under your Christmas tree. They are one of the final sneakers from Michael Jordan's days as a Chicago Bull and are coming back in 2013, according to sneakernews.
On Dec. 21 the other "must have" sneakers will be released and will be in a Foot Locker near you. The Air Jordan 11 Gamma Blue are all black with a hint of blue. These sneakers are perfect and will match with just about any color.
If your boyfriend isn't into video games or sneakers, something sentimental always works. He will appreciate if you buy him something you know he personally likes.
Now, for those who are confused about buying something for their girlfriend, women love shoes. Since winter is quickly approaching, a pair of boots would be perfect. Whether they are heel boots from Michel Kors or a pair of uggs, your girlfriend is bound to love her gift. This also depends on her sense of style. Therefore, fellas, you must know your girlfriend in order for her to absolutely love her gift. Look at what she wears and listen for any signs she gives you. We tend to do that.
So be attentive!
Just like men, we like to look our best. Therefore, cosmetics are something else women love. Again, if your girlfriend isn't into makeup or doesn't even wear it, this is not something to buy. MAC and Sephora are great places to pick up gifts. Being that most men aren't knowledgeable when it comes to makeup, ask someone in either of those stores to help you and get the necessities.
If you find this difficult, a gift card will work. Also, something sentimental is nice as well. If you buy her something you know only she likes, not only will she appreciate it more but it will make her happy that she knows you listen to her when she speaks.
Next, buying something for a family member. Depending on the family member, this could be easy. If you're looking to buy something for your parents, something for the house is always a good present. Look to see what they need or if there is something you can buy to help them around the house.
This pretty much applies to anyone else in your family. Look to see what they're in need of or lack. Whether it is for their car or work, they will appreciate it a lot.
Ultimately, Christmas is about giving to others. Therefore, with anything you buy, it is bound to be appreciated. It doesn't matter how expensive or how big the gift is. The thought is what counts.
Leave a Comment
About the Contributor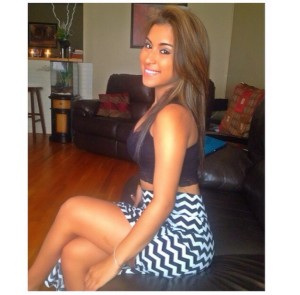 Kayla Rivera, Impact Staff
Kayla Rivera is a 20 year-old college senior. She is a Media Studies major in hopes of being a successful news reporter. She is an overachiever and will...