Runway Wife
An older woman checked into the hotel in early July, and she said she was hiding from her husband. She asked me not to tell anyone that she's here. I told her that it would be against our policies anyways to reveal that information to someone. I thought that would be the last time I saw her until check out.
The next morning around 7:30 a.m., she came into the lobby and asked if she could use the lobby phone to make a call because she threw her phone out so that "nobody can track me."
I let her use the phone and she called two people, Rocky and Angie, neither of them answered, so she left a voice mail telling them to call this number back. She told me she was going to stay in the lobby until they called back. Every phone call that came through she asked, "Is it for me?"
By 10 a.m., there still had been no word from Rocky or Angie. This woman is still in the lobby going from chair to chair, drinking coffee after coffee, and buying all of the chips from the snack bar. Then these two men come into the lobby to check in early, but their room wasn't ready yet, so they decided to wait in the lobby with me and this woman until they can check in.
At this point, this woman is starting to get on my nerves because she's been in the lobby basically since I started my shift, and the lobby isn't that big. Every time I got up to use the bathroom, go into the kitchen, go to my boss's office, she would just stare me down.
Around 11:30 a.m. the two men were able to check-in, and as soon as these men got out of their seats this woman ran over to where they were sitting to steal their seats. One of the men looked at her and said, "if you wanted the seat you could've asked" to which she responded with "I shouldn't have to ask." I got these men out of the lobby as soon as possible.
She started asking me to do to things for her. She asked me to turn off the AC because she was cold, so I lowered it, it was on 75 degrees instead of 70 since it is July. Then she asked if I could change the music, but the hotel only gets WHUD and when I tried to explain that to her, she snapped and said, "turn this shit off then." She asked me to make her a cup of coffee as I was on the phone, so I politely said no, and she started calling me rude saying I should respect her more.
At noon, I picked up the phone and it's a man named Rocky and before I could even finish saying his name, she ripped the phone out of my hand and started talking.
She told Rocky that her husband is trying to kill her in her home and that he has "a cold case of three women, one being his first wife and another being his mistress" that's why she's at the hotel. She's trying to convince Rocky to let her stay with him, but he's telling her to call the police and to go to a shelter. She starts screaming on the phone "The police don't care, help a lady out Rocky, he's trying to kill me."
After a 20-minute conversation of this woman trying to convince Rocky to "save her from her husband" the call ends with her saying, "I'm sure Angie will help me," and a slam of the phone. I take the phone back from her and whip it down as she takes a seat to wait for Angie's call.
This woman has almost worked a whole shift with me just waiting for a phone call. It was about 2:45 p.m. when she decided she was going to go back to her room to "take a nap." She asked me to wake her up at 6 p.m. and that if Angie called to let her know that she will call back then. When I told her I would be off by then so my coworker would be doing that she proceeded to say, "NO." You have to be the one to wake me up, I know your face already."
I wrote a note saying that she wanted a wake-up call so that my coworker didn't forget. When 3 p.m. hit, it was shift change, I start explaining everything to my coworker just so she was in the loop about everything. I told my boss to update me on her if anything happens.
A few hours pass I get a text from my boss saying that the cops came to do a wellness check on her called in by "one of her friends," and took her to a mental hospital.
Leave a Comment
About the Contributor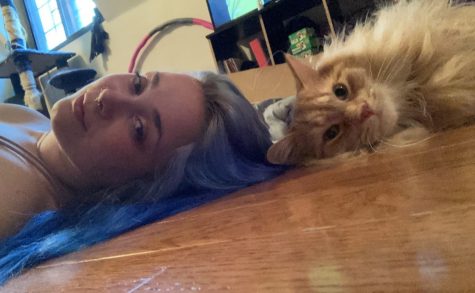 Amber Banscher, Impact Staff
Amber is a 3rd year Journalism/Media major at Mercy College. She is a 20-year-old who lives with her cat Arizona.

Amber writes a column titled Open...