Voodoo Doughnuts
It's fun, it's different, it's a west coast gem, it's the magic is in the hole! Voodoo Doughnuts isn't just a doughnut shop, it's a way of life for Oregonians. It's the place to go if someone is visiting Portland or Eugene. If you were to ask any Oregonian what their favorite doughnut is they would be able to tell you without a second thought. My favorite is Old Dirty Bastard. It is a raised yeast doughnut with chocolate frosting, Oreo cookies, and peanut butter. In my opinion it's the best one they have.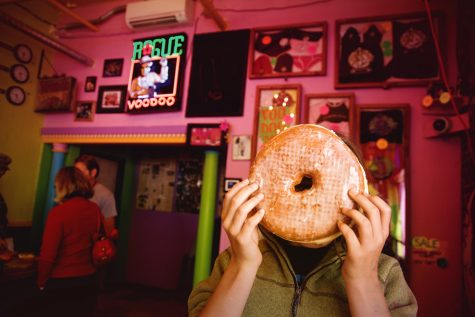 Voodoo Doughnut has locations in Portland and Eugene Oregon, Denver Colorado, Austin Texas, and most recently Las Angles California. Voodoo was founded by friends, Kenneth "Cat Daddy" Pogson and Tres Shannon. They always wanted to do something together. They wanted something fun for all ages, something that would fit well with the weirdness of Portland Oregon.
Cat Daddy and Tres managed to score a location in Old Town Portland. They decided to open a doughnut shop, but there was a problem. Neither of them knew how to make doughnuts. So, they went down to L.A. and learned from the masters, they were taught the basics to secrets of a great doughnut. They took these tricks of the trade up to Portland and still use them in their shops today.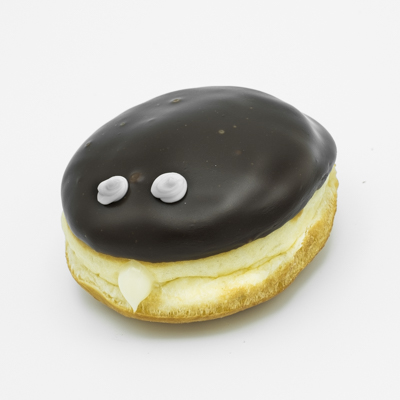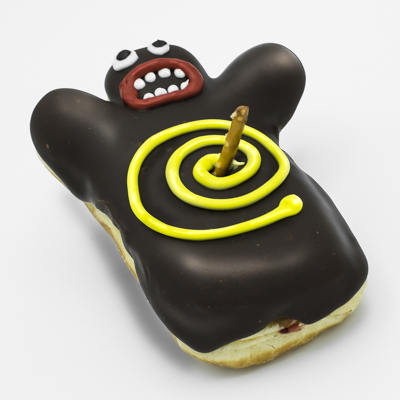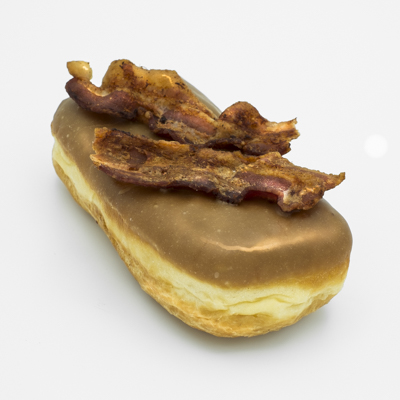 Voodoo has a variety of unique doughnuts; there's The Loop which is a raised yeast doughnut with vanilla frosting and Fruit Loops. Voodoo Bubble has vanilla frosting, bubble gum dust, and a piece of Dubble Bubble Gum on top. My sister's personal favorite is the Bacon Maple Bar, it's a normal Maple Bar but has strips of bacon on it. My mom's favorite is Portland Cream. It has the delicious Bavarian cream in it with chocolate on top with two eyeballs, that apparently represents the vision of the great city of Portland, maybe that's why my mom loves it so much since she grew up in Portland. You can't have a name like Voodoo Doughnuts without having a voodoo doughnut. The Voodoo Doll is raspberry filled with a chocolate topping. Every Voodoo Doll comes with a pretzel skate to move around where ever your heart desires.

Of my many experiences with Voodoo I will never forget the year my mom and I had to travel the two and a half hours to Eugene every month for meetings for my trip to Europe that summer. After every meeting we would go get Voodoo to bring some back home. On the first trip, we couldn't find it, either I was a bad navigator or the tricky roads in Eugene were getting to us. My mom says it was me, I say it was the roads. Anyway, we finally saw that pink building in sight and were so excited. I already knew I was going to have my Old Dirty Bastard and even though we weren't in Portland my mom was going to have her Portland Cream. We got in and we managed to be in there at the perfect time. The baker was taking out the morning doughnuts for the afternoon doughnuts, instead of throwing away all the doughnuts, he sold us a huge variety bucket of the leftovers. We walked out of that Pepto-Bismol pink doughnut shop with a bucket and our own pink box with the fresh doughnuts. When we got home, everyone got seconds, Heck! We even got thirds and fourths.
Another time I remember going to Voodoo is the night of my high school graduation. We left about 2 hours after graduation and 5 hours later we were in Portland. It was midnight, we were all tired, but as soon as the pink came into sight a good chuck of the bus was wide awake and excited to get these delicious doughnuts. As we walked it became apparent that we weren't going to be the only customers. Midnight in person is what some people would say is when "The Freaks come out." And that was true for Voodoo, we saw so many different characters I wouldn't know where to start. But it was an amazing night filled with the best doughnuts ever!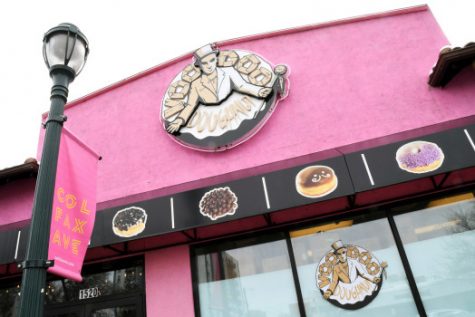 Voodoo Doughnuts has gain so much attention, it has been featured on many different TV shows; Anthony Bourdain: No Reservations, Man v. Food, The Simpsons 20thAnniversary Speical, Globe Trekker, and it was the destination in the season finale if the 13thseason of The Amazing Race, The famous pink box has also been in shows; Leverage, Supernatural and Grimm where the set location is Portland. Voodoo Doughnuts has also been featured in a video onInsidershowcasing the magic.
If anyone has the chance to visit Voodoo don't pick the doughnut let the bakers pick it for you. You will fall in love and question yourself all in the first bite. And remember, good things come in pink boxes!
Leave a Comment
About the Contributor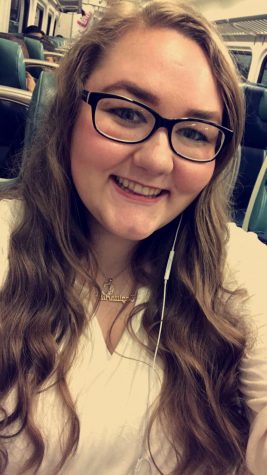 Caroline Newman, Impact Staff
Caroline is a senior at Mercy College. Her major is Radio & Television Production. She is from the picturesque valleys of Medford, Oregon. She is a...