Madden Football Has Gone Down Hill
I haven't written an overthinking-out-loud piece in a while, but today I wanted to get on here to go on a little rant about a video game that had a big part in my childhood Madden NFL. Before NBA 2K reigned supreme as the top sports game in the U.S. Madden had its time under the sun.
I can remember like it was just yesterday when Madden NFL 12 came out. My friends and I were in high school at the time and went to the midnight release at the Jefferson Valley Mall. I remember the line being out the door. People got there early to participate in a Madden tournament which, if you won you get a $100 GameStop gift card and a free copy of Madden. Times were simpler back then.
Fast forward eight years later, Madden 20 is about to come out GameStop at the Jefferson Valley Mall is doing a midnight release like they do every year for the new Madden. This time I'm by myself because my friends quit playing Madden long before me. They knew it was trash. I get there and unlike the Madden 12 release, there was no line out the door, no tournament for free copies of the game just a very small line, I included, of people buying this garbage game because it is the only Football game on the market.
It's just sad what they have done to this once amazing gaming franchise. The problem with Madden now is that it is all about one game mode, Madden Ultimate Team, or as most fans like to call it "MUT."  For anyone who doesn't know what MUT is let me give you a quick explanation, MUT is your own team you collect virtual trading cards by buying packs via the PSN store or the Microsoft store. You can also complete collections to get higher overall cards. You collect as many cards until your team is at the highest overall. You then can compete online with other teams around the world and see who's the best.
EA Sports makes most of their money through ultimate team transactions. The Ultimate Team mode is also available in FIFA, which is the most popular international sports game. In 2020, EA sports made a whopping $1.49 billion through Madden and FIFA ultimate team transactions. The only way to get better at the game is if you keep buying pack after pack, hoping you pull that 99 overall Super Bowl edition Tom Brady in one of the numerous amounts of packs you bought.
I miss the old days where it was just a classic online franchise. You and your friends pick your favorite team and redraft your whole team. I would always pick the Jets. Of course, we would have an elite quarterback. I also miss the days when people used to play regular online head-to-head where you just pick any current team and go against each other. They still have that in the newer games but none of the elite Madden players play regular head-to-head. If you ever play an online head-to-head game you will probably be matched up with a beginner who is garbage at the game, because like I said before, all the elite Madden players only play Ultimate team.
Madden got so bad that this was the first year I didn't buy it. I played it at a friend's house after it came out because I wanted to see how it was even knowing I wasn't going to buy it. It was probably the worst one I've ever played worst than Madden 18, which was a horrible game itself.
Here's is my conclusion to all this, EA Sports can continue to put out garbage in NFL football games because they have exclusive rights to the NFL. They are the only ones that can make an NFL licensed video game with its teams and logos. So if you are a hardcore football fan who wants to play an NFL video game Madden is your only option. EA Sports' NFL contract lasts until 2026. The only hope as football fans we have is if 2k can find a way to make a comeback and bring back the NFL 2k series. Something we haven't seen since its last game they put out ESPN NFL 2k5 back in 2004, which is personally my favorite sports game of all time.
Leave a Comment
About the Contributor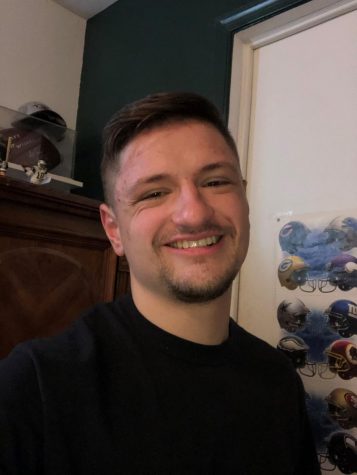 Alex Wendling, Impact Staff
A die-hard sports fan who is eager to learn more about the sports media industry. His dream is to one day work for a big sports news outlet. He is a die-hard...