Social Media Can Ruin Your Life
December 7, 2020
What we post on social media matters and can sometimes be used against us, unethically. Before we post something on the internet, we should think about whether it's appropriate or worthy of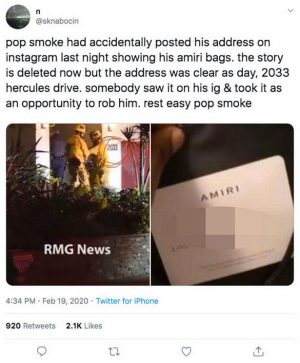 being posted, if the information is true, and if everyone who has access to our social media accounts should see it.
This is a generation where people feel comfortable posting absolutely anything from what they are eating to more personal and private things. In some cases, the amount of information you share can put you at risk.
Earlier this year on Feb. 19, Bashar Barakah Jackson, known professionally as Pop Smoke, was killed after accidentally sharing the address of where he was staying on social media.
Being cautious of what you post is not only important for your safety, but also for your professional life. Depending on how you use social media, it can either enhance your career or doom it. There have been multiple stories of people being fired for something they posted. Even some posts from when they were younger damaged their reputation.
Another story that went viral was the couple who got expelled from their high-school after posting a racist video on Tiktok. The couple shared a video that included racial slurs and racial stereotypes. They immediately regretted their decision after the video triggered backlash.
In this particular case, I personally believe they got what they deserved. While the First Amendment protects your freedom of speech, it does not protect your job or your reputation. You will forever be labeled for that post that doomed your character.
In 2016, nonprofit director, Pamela Ramsey Taylor, was fired from her job after she went on Facebook and posted a controversial comment about former First Lady Michelle Obama. In the post, Taylor glorified First Lady Melania Trump and made a negative comment about Obama's appearance, calling her "ape in heels." Her shameful post went viral and took a national spotlight in the news.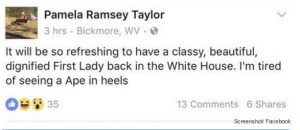 In September, the hashtag #justiçapormariferrer reached the trend topics on Twitter. The reason: the trial of businessman André de Camargo Aranha was accused of raping event promoter, Mariana Ferrer, during a party in 2018.  He was found innocent. This story made national news in Brazil and even reached the Brazilian community here in the United States.
According to the prosecutor responsible for the case, there was no way for the businessman to know, during the sexual act, that the young woman was not in a position to consent to the relationship, therefore he had no intention to rape, and the judge accepted his argument.
The defense of the businessman showed copies of sensual photos of the young woman as a professional model before the crime to reinforce the argument that the relationship was consensual.
The lawyer went on to completely humiliate the victim, accusing her of "not being a saint" and even saying he would be "ashamed to have a daughter like her." His attacks were based on photos that Ferrer had on her social media. As a result, people were enraged, and women went on social media to post their "sensual photos" to make a point.
I believe that in this case, the victim-blaming and shaming of her photos are completely unethical and revolting. How many of us have posted pictures that are slightly revealing? Or how many of us know someone confident and comfortable enough with sharing such photos? This should not define a person's character, but where should we draw the line?
Regardless of what the case might be, it is important to remember that we are always being watched. No matter how fast you "delete" your mistake, and no matter how old your post is, there is always someone quicker than you that will screenshot what they see and blow the whistle.