Broadway Musical Wicked Review
When I was in South Korea, I really liked to watch musicals and one thing on my wish list is to watch a Broadway musical in New York City. Finally my dream came true; my uncle sister lives in Boston now and she visited New York City last weekend. She said she is really fan of the musical Wicked and want to watch it in New York City. So, I decided to watch it and made a reservation for two seats. Before watching wicked I was very excited and happy because it was my first broad way musical in New York City.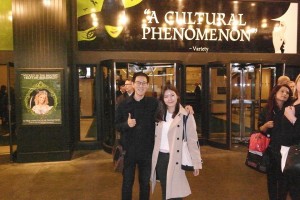 Musical Wicked is the most famous musical in New York City now. Since its 2003 debut, Wicked has broken box office records around the world, currently holding weekly-gross-takings records in Los Angeles, Chicago, St. Louis, and London. In the week ending January 2, 2011, the London, Broadway, and both North American touring productions simultaneously broke their respective records for the highest weekly gross.
Wicked is a musical with music and lyrics by Stephen Schwartz and a book by Winnie Holzman. Its plot begins before and continues after Dorothy's arrival in Oz from Kansas and includes several references to the 1939 film and Baum's novel. Wicked tells the story of two unlikely friends, Elphaba (the Wicked Witch of the West) and Glinda (the Good Witch of the North), who struggle through opposing personalities and viewpoints, rivalry over the same love-interest, reactions to the Wizard's corrupt government, and, ultimately, Elphaba's public fall from grace.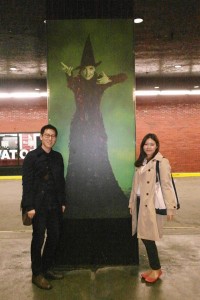 I love this musical wicked and there are many reasons. One of them is that I can learn many things from musical such as truly love and friendship. A friendship develops between Galinda and Elphaba even though they are totally different. They also show what truly love is by showing their story to audiances. Plus, I especially like this musical because it breaks the stereotype. Originally, Elphaba who has green skin was bad character in novel but musical changed it and see in defferent perspective. I think it is a good perspective and that's why I like musical wicked so much.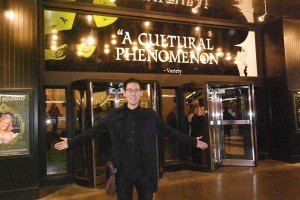 Actually, I didn't know about wicked very well before watching it. However, after watching it I was moved and surprised at actors amazing performance and now I am really big fan of musical Wicked. I think many people are considering for watching musical wicked now because it is very expensive. I admit it is very expensive but I recommend you guys to watch this amazing broadway musical because it is worth to watch.
Leave a Comment
About the Contributor
Heejoong Chung, Impact Staff
HEEJOONG is an exchange student from Yonsei Univ, in South Korea. He majors in Business Administration and he is highly interested in sports and business....