Quarantine is Making Me Hate Everyone
COVID-19 isn't going away anytime soon (at least according to most media outlets.)
As the coronavirus pandemic continues to spread throughout the world, and the majority of workplaces and schools have closed and resorted to remote working and learning. We will all be either stuck with each other or separated from one another for the next couple of months or even years.
I'm not going to lie, I enjoyed quarantine for the first month or two, I never leave the house anyway (due to a lack of a social life) and I took the time to engage in conversations and remote activities with my family that I usually didn't have the time to do. However, after seven months of New York looking and feeling like a ghost town and many places STILL closed down, I have officially gotten to the point where I want to throw everyone out the window and lock them out. I have literally spent every waking moment with my mother and niece since the beginning of shutdown and… I AM DONE.
So I am talking about ways to not fight with your quarantine mates during the pandemic. However, I am mostly writing this for and about myself so the next time I feel like cursing out my niece, I can read this piece and remind myself that I am still stuck in the same house with her regardless.
When you need peace and quiet to do your classwork but your eight-year-old niece is blasting Roblox on her tablet. 
The easy way to save my sanity is to use headphones (which has honestly saved my life along with Clorox these past couple of months). However, she constantly asks for me to play with her (even when I don't want to). So as an agreement, I have gotten in the routine of agreeing on hours of the day I need to work on my work in private, and an hour or two where I can play with her. While I know this issue in particular, I know others have dealt with similar situations like this, so finding a common ground where everyone can be happy is essential to sanity and productivity.
When we do go outside (usually for a local walk or to play in the park on occasion), I usually don't feel like going. I like to think that I've outgrown the park but I don't want to hurt her (my niece) and my mother's feelings. Here is what I (try to) do. 
I've found that there is really no easy way to say "Hey I don't like spending time with you! Leave me alone", I would actually say it like that too! However, I am learning to rephrase the way I say things in a way that softens the blow. I usually say "It's not personal, but I really need to catch up on my work and need some privacy for the next few hours." Then as soon as they leave I blast Doja Cat through my house and start dancing on the couch. Sometimes (when I feel nice) I would compromise and add that "Later on we can find some good movies that you can watch together to make up for the time apart," but I really have to be in the mood to sit through all the Minions movies straight.
This is not something I've experienced personally, but a situation my sister recently went through: You are worried you and your partner and I are going to get sick of each other which will inevitably lead to you two breaking up. 
While this is something that I've never personally gone through, I have seen this happen first hand and therefore I would like to interject in this conversation that has been held for months. One of the biggest challenges with working from home (when you're used to being in the office, school, etc.)  is that the normal daily activates that you two (or three or more) would do separately aren't there anymore. This causes a strain if it continues long enough. After researching and going off of what I've seen, to make your relationship work, you have to artificially impose them, when you are not working, take an hour or two to have a romantic and fun date night in. Just because you are locked up doesn't mean you have to get stuck in a routine.
Leave a Comment
About the Contributor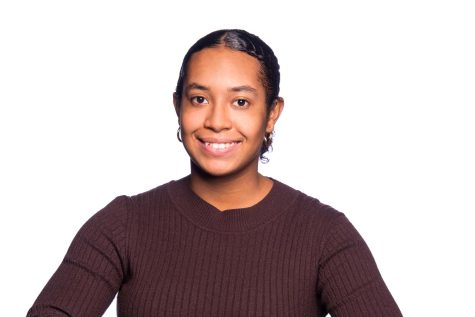 Britney Guzman, Impact Staff
Britney Guzman is a Senior at Mercy College. She writes a column called Quali-Tea News where she discusses her love for cats, Taylor Swift and mental...