I'm Addicted To Taylor Swift
For starters, hello everyone! It's nice to be back with you all.
Since I last wrote to you last spring, life has changed but frustratingly stayed the same. I am a senior now and have officially entered my final semester. I am a double auntie as my sister welcomed her beautiful daughter Alena to the world. I still have a deep love of cats and bad anxiety.
However, something that has changed from the last time that I spoke to you is that I have a new favorite artist.
Taylor Swift.
I started listening to Taylor Swift back in January of last year and officially joined the Swiftie fan club later that March. The first album that I listened to in full was Folklore. Hearing "Cardigan" while I was in Target is what first drew my attention to her work. I actually stood still in the middle of the candy aisle and listened to the whole song as I was clutching onto my Lifesavers and Jolly Ranchers. I was thinking, "wow this is a beautiful song."
Prior to that moment, I had only heard of her most popular radio-friendly songs such as "Shake It Off" and "Look What You've Made Me Do." Not to sugarcoat anything, but I hated them. I did the exact thing that I preach to others not to do and judged her catalog based on the only two radio-friendly songs I had ever listened to from her.
However, after "Cardigan," that all changed.
The first chance of free time that I got, I went and listened to Folklore, one of her most recent albums in full. It left me feeling loved, angry, sad, and lonely at the same time but in the best way. Then I listened to her sister album Evermore, which was released the previous December, and felt enlightened, happy, bitter, and hopeful. All in all. I was falling in love with her catalog.
Over the past year, I have listened to the rest of her albums in full and have concluded that I am not only on the Swiftie train but driving it full speed.
Therein lies the problem. I have listened to so much Taylor Swift in the past year, that I have abandoned any thought for other artists that exist in the world. My love for Taylor Swift has caused me to decrease my daily listens to my prior number 1, Little Mix, and my favorite male artist Ed Sheeran.  The wallpaper on my computer is the third stanza from All Too Well, a popular fan favorite, I have on occasion written her favorite number, 13, on my hand for good luck during difficult exams and have gotten into arguments with people who don't share my same love for her.
I know it sounds like I'm crazy, and while that is debatable, I want to assure everyone that my love for Tay-Tay doesn't go any further than her music. I'm not an obsessed fan that's going to try to track her down wherever I think she's at. I'm not crazy like that. However, I am writing this not as a post of admiration, but as a cry for help. Please tell me some great artists to listen to who are not Taylor Swift. Rap and R&B are not my favorite genres and I hate expletives and misogyny in songs.
I just want to get back to how I was before I discovered Queen Swift. I used to listen to Little Mix, Kacey Musgraves, Ed Sheeran, etc daily and made time for my classwork and other responsibilities. Now I spend 90% of my time listening to Taylor Swift and the other 10% thinking about how much I want to listen to her music. I can't even explain how many times I've gotten into disagreements with my mother about how much she hates my music taste and thinks it's "stupid." Almost every time she made those comments, a Taylor Swift song was playing.
Part of me doesn't want to discover other artists because I'm afraid that I'll become obsessed with them too and the cycle will continue. I don't want my love for artists that will never know me continues to push away those who love me. Taylor if you reading this (which I doubt). Please send me the bonus tracks for Lover and release a music video for "Cruel Summer."
Thanks, Queen.
P.S
If anyone cares, my favorite Taylor Swift albums in order are
Folklore
Evermore
Red
Fearless
1989
Speak Now
Lover
Reputation
Debut/Self Titled
Leave a Comment
About the Contributor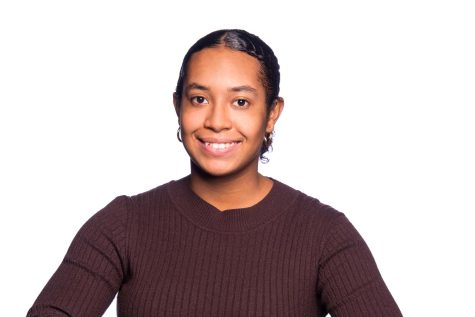 Britney Guzman, Impact Staff
Britney Guzman is a Senior at Mercy College. She writes a column called Quali-Tea News where she discusses her love for cats, Taylor Swift and mental...