Its A..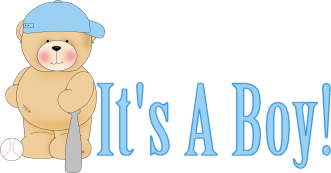 Its a boy!
A precious, little, amazing, boy.
I know what you're thinking, and no I am not having a kid.
My sister is the proud mommy to be!
I couldn't be happier and I know the rest of our family feels the same.
Its all kind of funny because after having 3 other children, my sister made it clear that she was never having any more.
Serina, thats her name; she is in her mid 30's and kid number 4 is in the oven.
Her eldest son, Lemar is 15 years old.
Her middle child Shamani, is 11 and her youngest, Kaiden, is 9.
I feel like any one who has a child is blessed and babies are precious.
Children on the other hand, are extremely annoying.
To me, once a kid is 2 years old they start to change.
All the cute things they did before, are suddenly tiring and shouldn't be allowed.
The coddling and spoiling that occurred are no longer acceptable to me.
Anyway, back to the joy of my sisters new love; this baby has come at the perfect time.
Right around the time that our grandmother and her husbands grandmother died, my sister found out she was pregnant.
It was almost as if the two of them knew our family needed to fill the gaping void, that was their presence.
I feel like a baby is the perfect thing to bring some joy and love back into our family. Although not having our grandmother with us, to welcome the baby in will be painful and sad. However, it is something that I am sure she is smiling in heaven about.
My sister and brother in law are going to name him, Kameron Scott Young. I cant wait to kiss, hug and spoil my new nephew. I have a close bond with all of my nieces and nephews, however each one is special in their own way. I look forward to watching this baby grow and being another positive force in his life. As a family, it is our duty to be there for my sister in every way, not only at this moment; but beyond.
I probably wont be in the delivery room, because we all know it gets crazy in there. However, I will be some where in the hospital; awaiting the arrival of our new prince.
I think its a big deal to be responsible for a whole other human being. The thought of me ever having a child is scary, yet exciting and comical. Its safe to say, I've had a lot of practice. My sisters would let me baby sit all my nieces and nephews at the same time, when I was younger. I would have my other sister Stephanie's son, Dylan with me every week; during the summer. It was like a trial run and I think that is why I don't have any kids. My nieces and nephews are the only kid's I need for the next few years.
To my soon, new and beautiful nephew, I do not know you.
But I love you, already.
I know we have a undeniable bond, just from the way you kick when I touch my sister's belly.
See you soon.