A trip to Brazil without leaving the country
Interested in spoiling your sweetheart with an expensive dinner and unique dinning experience?
Texas de Brazil is the restaurant to go to. Texas de Brazil is a new restaurant in the Ridge hill Village. Ridge hill Village is in Yonkers, New York.
Here at Texas de Brazil, it is a classy form of eating endless amounts of food. For a flat rate of 49.99 a person, guests are allowed to eat as much as they want from the salad bar and a wide selection of meats.
The Brazilian Steakhouse offers fourteen delicious meats to select from. Not that you have to pick and choose when you sit down. No, experience at Texas de Brazil is the same experience as if you traveled to the rural area of Brazil.
Gauchos (carvers) walk around with swords of beef, chicken, lamb, pork and sausage (all cooked in different ways). Don't be scared, the Gauchos let guests know what is on the sword before eating it. Just in case you're allergic or prefer not to eat innocent animals (except those mean cows and chickens).
To make the experience different (if it wasn't already) the host explains to guest when they first sit down, that the Gauchos listen to this little two faced sticker. The sticker has a red side and a green side. The red side means that the Gauchos could stop bringing meats to the table. The green means keep the food coming.
It's best to keep it on green if you want to make sure you try everything.
The salad bar has fifty seasonal items that guest get to choose from. Guest first order drinks, then choose from the salad bar then the Gauchos come with the endless amounts of meat.
The host will recommend "Caipirnha" a drink that is supposed to open an appetite. It's a tasty drink, but not really worth it though.
Everyone who works at Texas de Brazil is really welcoming. The servers are friendly and great at cutting meat.
The overall experience is amazing. Be prepared to spend money because drinks and desserts are not included in the flat rate. Neither is tax.
Still the place, food and service are worth it. Whoever you decide to take here, will adore you when the experience is over.
Leave a Comment
About the Contributor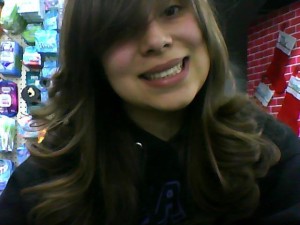 Rebecca Espinosa, Staff Writer
Rebecca Espinosa is a senior media studies major. She has been a staff writer for the Impact but was then promoted to Online Editor. She loves to write...