Heading in the Right Direction
As Basketball season starts up again there is a lot of intrigue and interesting storylines around the league. LeBron starts his Lakers career, the Warriors look to win their third straight championship, and the Celtics are in the beginning of what looks to be the next Celtics dynasty.
What the NBA is missing is the New York Knicks being a relevant basketball team again. Once again, it is going to be a long season for Knick fans as the Knicks are yet again expected to be a team that is not in contention for a playoff spot. This season has a different feel to it though.
They have gotten rid of everyone from the previous regime that created nothing but a toxic environment and made bad signings that set the franchise back for years. They hired Scott Perry as their GM and have fully committed to a rebuild.They are no longer patching a team together that they think can make a the playoffs only to have it fail in the end.
The Knicks have a bunch of young players on their roster that are looking to prove themselves and show why they belong in the NBA and not just in the Development League. In fact they are the youngest team in the NBA. They also have Kevin Knox and Frank Ntilikina who they took in the last two drafts to pair with Porzingis. Both players are looking to show that they are going to be part of the Knicks future.
They may have even found a hidden gem with Trey Burke at the point guard position. Burke was the ninth pick in the draft five years back and didn't live up to expectations, but by his own admissions is grateful for another opportunity to prove himself and appears fully committed.
During the off-season the Knicks went out and hired David F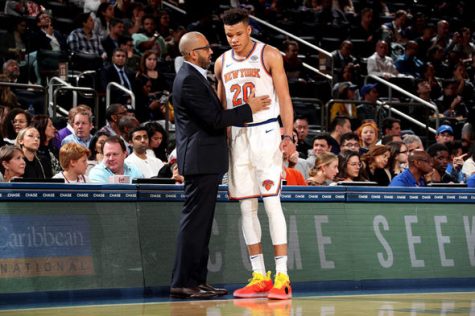 izdale as their new head coach which seems to have been the right decision. He is a guy that is well respected across the league by guys like LeBron James and Dwyane Wade. He is a players coach and is always going to have the backs of his players, making sure that they always give maximum effort on the court. He is holding guys accountable on defense and is not going play guys just based on the name of the player but based on their effort and production.
Fizdale's imprint on this team has already shown through the first three games of the season. Even though they are only 1-2 they have had back to back games come down to the final possession including a well hard fought game against the Celtics who are believed to be the best team in the eastern conference.
They were down for much of the first half but never quit and ended up making it a very entertaining game…something that last years team would not have done.
The players seem to care about playing defense because they know that if they don't it will lead to them sitting on the bench which wasn't something that Knicks teams in recent past showed.
We know that the Knicks don't have the talent to win many games this season, but with a competent front office and a coach like David Fizdale, it will give impending free agents across the league a reason to consider the Knicks as destination in free agency.
Kristaps Porzingis has shown flashes of being a transcendent player and if he can come back healthy this season after tearing his ACL, he can prove that he is fully recovered and is someone that other players would love to play with.
This all comes into play because of reports that have said that guys like Kyrie Irving and Kevin Durant would consider playing for the Knicks next season.
Of course we have heard this before so I'll believe it when I see it, but if guys like Knox and Ntilikina and other young guys play well this season, it's a reason to have hope that they are able to sign a big time player in free agency next summer and that the light at the end of the tunnel is near.
The NBA is a better league when the New York Knicks are part of the playoffs.
Leave a Comment
About the Contributor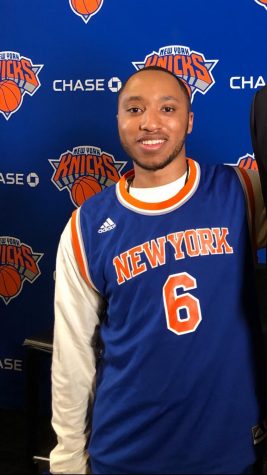 Ellis Joshua, Impact Staff
Ellis is a Senior Media Studies major who is looking to become either a sports writer or sports broadcaster after he graduates. He has a passion for writing...