It's Time to Get AB the Help He Needs!
Antonio Brown may have just played his last game in the NFL and it's time he takes a look at himself in the mirror.
NFL wide receiver Antonio Brown has been in the news for all the wrong reasons over the past six months.
It started back in March when Brown was traded from the Pittsburgh Steelers to the Oakland Raiders after reportedly requesting a trade because he was unhappy with his role on the team and was not seeing eye to eye with quarterback Ben Roethlisberger and head coach Mike Tomlin.
After it appeared things had settled down, Brown made headlines again in early August when he posted a picture on his Instagram of his fe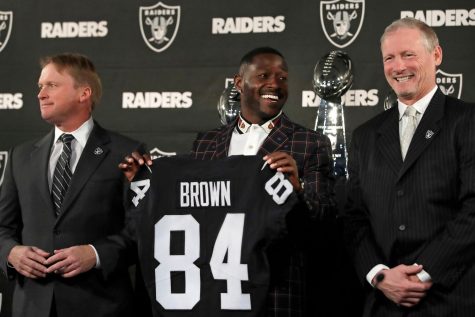 et after a cryotherapy session gone wrong. It forced Brown to miss 10 out of 11 training camp practices with the Raiders because of his lack of awareness to cover his feet during the therapy which caused his feet to suffer from serious frostbite.
Brown who said in his introductory press conference with the Raiders that he would be "a great teammate" was in fact not being a great teammate at all by suffering from an injury that was easily preventable and would not have set the team back going into training camp.
The saga with Brown continued as he then got into a battle with the NFL after filing a grievance to keep wearing his old helmet despite it being banned for safety reasons. Brown even threatened to retire if he wasn't allowed to wear his old helmet. Despite the Raiders organization being in full support of Brown, it felt like it was only a matter of time before they started wondering what they had gotten themselves into when they traded for him.
After losing the first grievance with the league he filed a second one which he lost.
With the start of the season right around the corner and Brown finding a helmet the league approved that, it seemed like he was ready to take the field and just play football. But as we know with AB that's just not possible these days.
The Raiders GM Mike Mayock fined Brown $54,000  because he continued to miss practices. What was even worse was that he made the information about his fine public by posting the fine letter on his Instagram account for the entire world to see.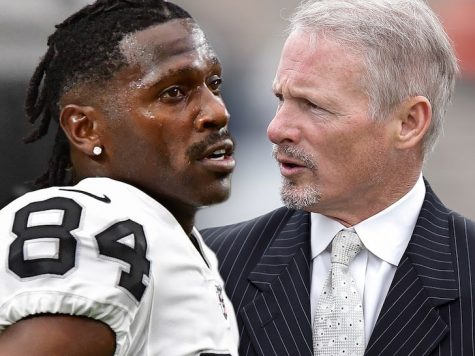 With Brown's behavior spiraling out of control, he got into an altercation with Mayock with reports out there saying that he called Mayock a "cracker" and threatened to hit him. It got so heated that Brown had to be held back by multiple teammates including Vontaze Burfict of all people.
At that point, the only reason for keeping Brown on the team was because of his uncanny ability to catch the football and nothing more. If this was just another average football player conducting themselves this way, they wouldn't have lasted more than a day.
Although it was rumored that Brown would be suspended, after he issued an apology it looked like he would take the field in their home opener against the Denver Broncos.
Everything seemed good right? Wrong.
Brown requested to be released by Oakland less than a week after they announced it he was expected to play week one. Oakland smartly voided the nearly $30 million in his contract to cut ties with Brown who had been nothing but major headache since they traded for him back in March.
Talent is the great deodorizer for sports which meant that despite AB acting like a clown and posting a childish video on YouTube of his reaction to being released, it took just THREE HOURS before the New England Patriots signed him. This move seemed to be on the level of when Kevin Durant went to Warriors a few years ago, just unfair.
With AB going to the Pats I saw this as possibly his last shot at staying in the NFL because if playing for a perennial championship team and having a coach like Bill Belichick can't straighten you out, then there's essentially no hope for you.
Shortly after being signed by the Patriots Brown was accused of sexually assaulting Britney Taylor who was his former trainer. Even with these allegations looming Brown still suited up for the Pats in week 2 against the Dolphins.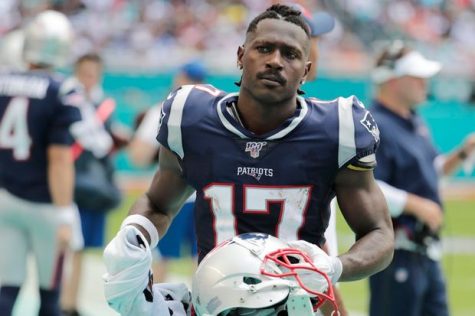 One game is all AB would play with the Pats after they released him when another woman accused him making unwanted sexual advances toward her back in 2017.
This may very well have been Brown's last game in the NFL as it seems every day something new comes out about him that would further tarnish his reputation. He went from being guaranteed nearly $30 million back in March to now possibly earning just two game checks which amounts to about $160,000.
AB was a guy who was once regarded as one of the nicer guys in the NFL but has rapidly turned into a guy who only cares about himself and has done nothing but acts like a fool and embarrasses himself and his family. Even after being released he continues to post questionable pictures on Instagram including a post auctioning off the football he caught his one touchdown reception with.
He seems to have no one in his corner to ask what the hell is wrong with him and why he's acting this way. Where are the people in his life to tell him he needs to seek some help?
His agent Drew Rosenhaus is doing no favors by tweeting about how AB is looking forward to his next opportunity instead of first trying to get him the help he needs.
Some suggest that Brown's personality first started to change after getting clocked in the head by Vontaze Burfict back in 2016. Whether it was at that moment or something else that set Brown off the rails, it looks like this very well could be the end for the future hall of fame wide receiver.
Leave a Comment
About the Contributor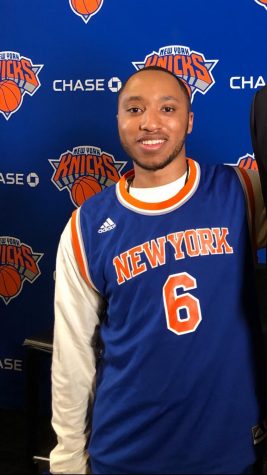 Ellis Joshua, Impact Staff
Ellis is a Senior Media Studies major who is looking to become either a sports writer or sports broadcaster after he graduates. He has a passion for writing...