There Was An Upset in the YouTube World
A few months ago I wrote about Charles Trippy and how he filmed his brain surgery. The CTFxC went insane when this video came out and it went viral. On April 8th Charles released another video that has caused some uproar in the YouTube world.
Everything seemed fine in the everyday vlogs. They found a new puppy, Charles was on tour and it seemed as normal as the last time he went away for tour. Charles came home and Ali didn't seem to be in the vlogs as much, but no one asked questions that I saw. On the 7th of April, Charles spent the day with his family, and before you knew it, it was the 8th. The name of the daily video was "We need to talk…."
The video was 9 minutes and 47 seconds long. Charles stated that he didn't want to lie to the internet anymore. He said that he had always been honest with the internet. After six attempts of trying to make a video he finally said to the internet "It was unfair for both of us to keep moving this direction if we are both unhappy and stressed, so we have decided that we will be separating."
Charles struggled to say this and even to finish the video. After that video, Alli disappeared out of the vlogs, and there was an uproar in comments, on Twitter, and Facebook.
People began bashing Alli, starting rumors and "tarnishing the name of the CTFxC" as Charles said.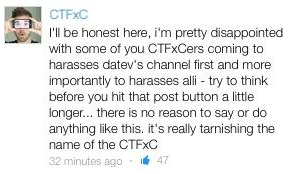 Rumors were that Alli cheated on Charles (Charles said these rumors weren't true). Comments were being posted on every video and every fan page. The CTFxC was trying to figure out what was happening. People they looked up to, people they believed in had broken up.
Charles asked that people stop bashing Alli and even before that, some people were standing up and telling people to stop bashing her as well. There was an account on Twitter that was even suspended because so many people reported the account for harassment to Alli and her mother.
Comments were more positive supporting the Trippy's than negative but there were the few who didn't support them. People would say things like they couldn't believe in true love anymore. Charles tried to convince them that just because it wasn't working out with him and Alli didn't mean that true love didn't exist.
The CTFxC stuck together to "thumbs down" and report negative comments. Most have been removed and some accounts suspended. Other Youtubers made videos and tweeted about the Trippys split and have all been very supportive, encouraging viewers to be as well.
Charles has continued to vlog everyday as promised, Alli has been out west with her best friend. She hasn't made a video, or tweeted saying much about the split. She did tweet once saying "I love you all very much. I'm not abandoning, I'm adjusting. We all deserve time. We all deserve respect".
Charles and Alli are going to go their separate ways even if the internet doesn't like it. It is going to happen. There was a video posted by another Youtuber on how to deal with the breakup.
The CTFxC is a family. As simple as that. People can think oddly of it but it's the truth. You become connected to Charles' and Alli's lives and you get to know them.
Even though it is a family, there are going to people who don't understand. There are always going to be people who post negative comments.
I do personally believe that anything that is happening with their divorce should stay between them. They have the right to tell us what they want to tell us. They have for the past 5 years. Negative comments aren't needed and people don't need to pry. When Alli is ready she'll come around. For now, CTFxC needs to give their family some space. Time to breathe. If things keep going negatively it could end up driving Charles to stop vlogging all together and there would be an even bigger upset in the Youtube world.
From the very first vlog, to the surprise marriage proposal in Spain, to the wedding, to one million subscribers, to the battle through cancer, Charles and Alli inspired so many people. They helped and saved so many people through tough times.
One CTFxCer put everything into perspective. In my opinion there is no other way to say what had to be said. I couldn't have said it any better: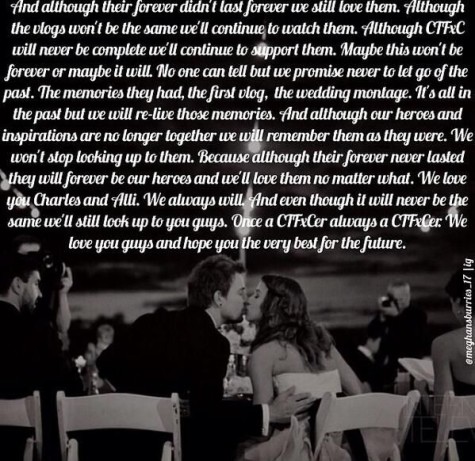 Leave a Comment
About the Contributor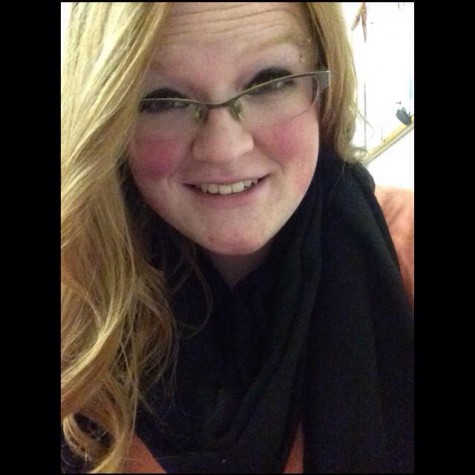 Karissa Allen, Associate Editor
Karissa is a Senior majoring in TV/Radio Production. Writing hasn't always been her calling but within the last couple years she has found a passion for...