In Times of Need, A Community Comes Together
I come from a small town where everyone knows everyone. Surrounding my small town, are some more small towns, which are known as "The Valley". The community has always been strong, and recently it has gotten even stronger.
These towns have their rivals, as all of them do. Friday nights can get pretty intense during sports seasons with these rivals, but at the end of the day, these towns will do anything for each other. If something tragic happens, these towns come together and form a bond that is unbreakable.
Last November, The Valley began to come together to support a talented seventeen year old cheerleader and gymnast from Seymour, CT. Nina Poeta was diagnosed with brain cancer last November. She was having headaches while preforming her routines, so she went in for an MRI. The next day she was sent to Smilow Cancer Center at Yale-New Haven Hospital where she was diagnosed.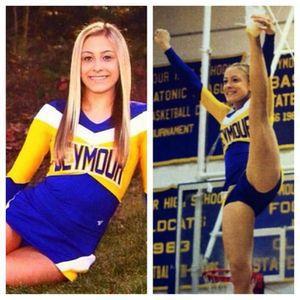 Nina had a mass on her brain that couldn't be removed because it was on her brain stem. Starting on November 25th, Nina was going to be treated with radiation five days a week, equaling a total of 30 visits to Smilow. Depending on the outcome of the radiation, chemotherapy was another thing that had to be considered. The oncology team that was working with Nina and her family was hoping all of this could shrink the tumor, but it wasn't a cure.
A Go Fund Me page was set up for Nina and her family. A close family friend found out the news and began working instantly to help the family. The Poeta Family Fund raised more than $25,000 in less than 24 hours. Creating this page created a domino effect. One person shared the page, and now there are over 15 thousand shares which helped raise $89,400 as of October 19, 2014.
In eleven months, 1,632 people raised more than half of their 100 thousand dollar goal, which wasn't that high to begin with. This money that has been raised has gone toward Nina's medical bills, the rental of a wheelchair accessible van, and most recently a computerized communication board.
Over the summer, Nina's condition took a turn for the worse. She lost the ability to walk, and speak. The computerized communication board gives Nina the ability to communicate with her friends and family.
Over the past year, Nina's community has come together to support her through everything. #PoetaStrong has gone viral in the valley, but even bigger than that, it has spread throughout the state.
Using the hashtag #PoetaStrong or #NinaStrong on social media outlets, you can see the support from all around the state. From all types of fundraisers to community prayers, to apparel that shows support for Nina, so much is being done to support a young girl from a small town.
All parts of the community have come together to help Nina and her family. The local EMTs even helped bring Nina to the home football games to be there to watch her teammates and the football team.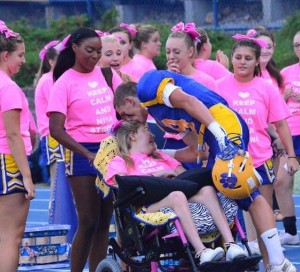 The Valley has come together to do everything they can to help and support Nina. Even though I'm not home to witness this support, I do everything I can from here in NY to show my support for Nina and her family. I couldn't be any more proud of my community and what they are doing to support the Poeta family during this tough time.
To show support to Nina and her family, I have provided links to her GoFundMe page, Facebook and Twitter. Join our community and help pray for Nina.
https://www.facebook.com/PoetaStrong?fref=nf
http://www.gofundme.com/NinaStrong
https://twitter.com/PoetaStrong
Keep Calm and Nina Strong.

UPDATE: As of October 21, 2014, the first selectman of Seymour, CT named October 24, 2014  Nina Poeta Day in Seymour. 
UPDATE 11/2/14: Unfortunately, last night 11/1/14,  Nina passed away in her home surrounded by her mom, dad and sister, Cara.  The valley coninues to show support for the family in a tough time like this. You can see all the support by searching #ninastrong and #poetastrong on social medias. So many people from around the state are posting amazing things about Nina and her battle with cancer. 
My heart and thoughts are with The Poeta family. 
RIP Nina. Heaven gained a beautiful angel. Tumble your heart out up there. Keep smiling, and always fight.
Leave a Comment
About the Contributor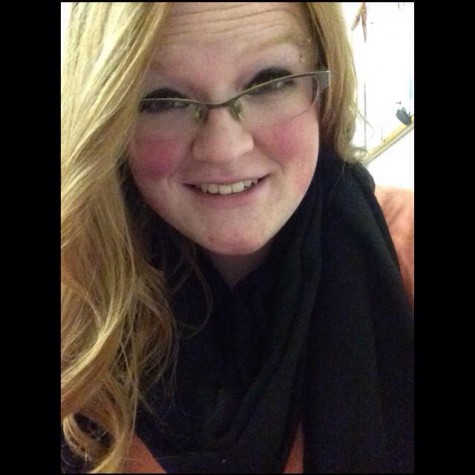 Karissa Allen, Associate Editor
Karissa is a Senior majoring in TV/Radio Production. Writing hasn't always been her calling but within the last couple years she has found a passion for...