The Los Angeles Lakers: Why they need to act now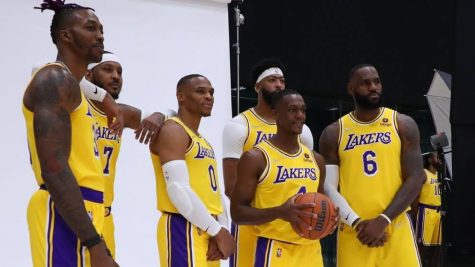 The Lakers are right now a top five team in the NBA. At least that's what you would think when you take a peek at the roster, correct? Take one good glance at the photo and you recognize some stars and great players. Lebron James, Anthony Davis, Russell Westbrook, Carmelo Anthony, Dwight Howard, and Rajon Rondo are all apart of the same team.
This team is even in the fifth seed as of right now, yet something is wrong.
I understand the slow start and even right now they are on a three game win streak. But even so, their is a glaring issue.
If you look throughout the roster like I said before you will see some great players and some role players that have some good value such as Malik Monk or Wayne Ellington. But the problem is that most of the starting five including some other pieces of the team is over 30 years old. Lebron is still a superstar but he is 36 years old, father time is creeping up on him, if you look at some of the highlights from last years playoffs and even in the beginning of this season, he seems to be slowing down on defense and not being as reactive as he should be. To understand what I mean, look at this clip right here.
Besides Lebron you have Anthony Davis who is great but you barely see him in the playoffs due to injury. The only time I ever saw AD play in the playoffs from beginning to end was the 2020 playoffs, the bubble season in which every player had an ample time of rest before playing again in Orlando to finish the season. Guys light Dwight , Carmelo, and Rondo are simply no longer in their prime, they can put up some numbers and are of course great pieces but they are no longer considered star power.
So that leaves Russell Westbrook, which this might come off as a hot take but he should not have been picked up by the Lakers at all.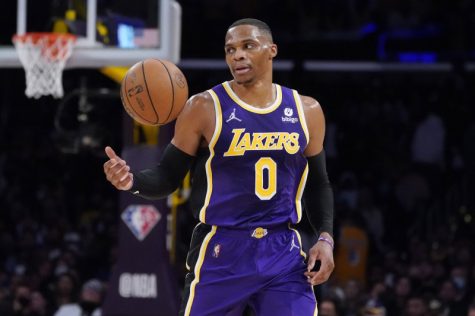 Yes he averaged a triple double last season averaging about 22 points, 11 rebounds, 11 assist, great numbers and of course he averaged that for a couple of seasons. But what about the post season? Last year he averaged 19 points, 11 assist and 10 rebounds versus the 76ers in 5 games. On paper that is impressive but when looking at his field goal percentage he averaged a 33.3% with a 25% three point field goal average as well. In Houston he averaged 17 points, 7 rebounds, and 4 assist with a 42.1% field goal and a 24.2% three point's made over eight games. He's great do not get me wrong but Westbrook's issue lies within the post season. He's a all time regular season guy but then he's also a post season nightmare too.
So now what? What can the Lakers do from here till the trade deadline in order to secure a championship?
The answer? Nothing. They had a great offseason in some aspects, getting rondo to come back on a minimum contract and getting Dwight were good choices by the front office. But the issue is the Lakers think that by adding Westbrook they improved their star power and therefore can make that push when in reality its all about chemistry.
How well does a player fit into a team? That matters more than just adding a guy who simply has talent.
I like Russell Westbrook, I don't mean to throw shade but the numbers do not lie. Just as much as people argue about him averaging a triple double, can also refute it by showing his post season averages.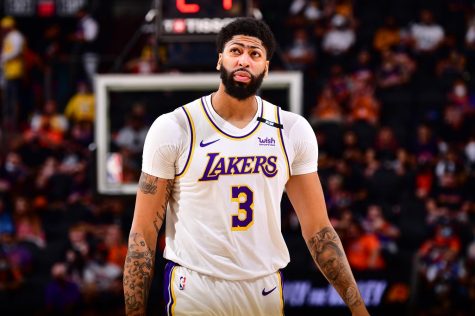 The good news is it isn't too late. Carmelo Anthony is providing good numbers off the bench (16.5pts, 3.6 reb, 0.9 ast), Anthony Davis is leading the team in points and rebounds while also shooting a field goal of 51%. Lebron is still putting up good numbers (24.8 points, 5.5 reb, 7 ast) but needs to work on his field goal and three point percentages.
Is the season doomed for them? No not at all. But know this: The Lakers are still in trouble and they need to act now. This post season should be exciting.
Leave a Comment
About the Contributor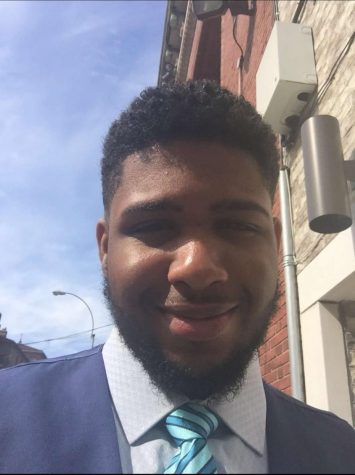 Julian Sykes, Impact Staff

Julian Sykes is a senior/media studies: Tv and Radio productions major at Mercy College. If I am not home taking care of my pets or drawing illustrations-...