Best Friends With a Mother of Two
Last year, I decided to start going to church more often than I used to. I needed spiritual and emotional help in my life. I needed to do my Confirmation in order to prepare myself to start a family, even if it is not a perfect family. I signed up for Bible Study to prepare myself for Confirmation and to change my outlook on life.
 I took the Spanish-language class because I was so used to going to Spanish mass. I didn't know a lot of prayers in English and wasn't use to speaking English at home.
The class I was taking was at a Catholic school and I usually left my house around ten in the morning, and I would usually arrive at 10:15 a.m. The class would begin at 10:30 and would normally last an hour. Along with the class I attended there was a Spanish mass, which would start around noon. About an hour and a half later the mass would end and those of us who were at the mass would go eat lunch downstairs in the gym, or as the priests called it, "the plaza." Depending on how long it took me to eat the food or to even get food, I would leave and take the bus home at either two or three in the afternoon.
For the first three months, I lost my patience because my usual Sunday routine got disrupted. There have been a few occasions where I missed the bus because I didn't feel like leaving the house earlier or the bus came too early which in turn caused me to arrive late to Bible study. With that being said, my mom noticed I was late because I didn't call her when I got there. The class would sometimes end late at around 11:50 a.m. causing me to be late for the mass. My mom started to get worried again, because I didn't call her at 11:45 on the dot, which was when I would usually arrive to the church.
To make matters worse, there was one occasion where people didn't sell tickets to exchange with the food. I went up to a young woman who sold tacos. She came up with an excuse that the tacos sold out. There were 5 of them left in the aluminum tray. I pointed at the tacos and she told me that those were "already paid for." I walked away from that table and left the church. I walked up the block to try to find a place to eat. I found a restaurant, but I didn't have enough money on me. I walked out really upset, and I wanted to cry. I felt like running away and hiding from everyone. I was so angry because people were so disorganized and hypocrites at my church. I was living a nightmare.
One day, I received an invitation to join a young adults group from a Bible Study classmate. Standing next to him was another classmate who joined the conversation both of us were having about the situations I was facing the past few weeks. I had difficulty accomplishing two requirements for my Confirmation, registration for a young adults retreat and attending a ritual. The ritual was more important because rituals don't repeat but I was able to attend a young adults retreat the following month.
They had joined the young adults group at the church and I decided to join them for the first time. That other classmate was a mother of two children who offered me a ride home after that meeting. She told me that I can confide in her about my anything I was going through anytime. She told me I have a friend in her.
The following weekend, we decided to go to mass together, but it was a Spanish mass before the Bible Study class. It was my first time going to confession in a long time. With going to confession, I was able to sign the book, I was supposed to sign at the ritual. 
Ever since I became friends with her, my routine has changed. At 8:10 a.m, she picked me up near my apartment building to attend mass at 8:30 a.m. At 9:45 a.m, the mass ended and us church goers either eat breakfast or have coffee downstairs in the "plaza." At 10:15 a.m, she drove us to the nearby Catholic school for Bible Study class. Honestly, I didn't care what time the class ended because my bestie drove me straight home afterwards. Then, she would pick me up from home at 2:30 p.m. for our young adults group meeting at 3:00 p.m.  
My best friend is a mother of two in her 30s working as a bartender and aiming for her GED. I'm a 20-year-old college senior interning for a magazine. We do different things outside of our church, even though we were raised in similar households. Both of us were raised in Catholic families and we each had distanced from there before going back through Bible Study. We met at the Spanish-language class and were used to speaking Spanish to each other when we met. However, growing up, she spoke mostly English at home and I spoke Spanish. I remember when we had our young adults group meeting, I would help her translate anything she said because our group was yet to be bilingual.
Over the summer, I helped her fold her family's clothes at the laundromat. Her then 13-year-old daughter and 11-year-old son would have clothes to take with them on vacation to Dominican Republic. Then, I helped her set up her daughter's 14th birthday party at her house. That was the first time I saw her kids after they came back from vacation.
I did all this not just because she was a mother who needed help. I did it because she was my best friend who is always helping me ease my personal and family struggles.  She picked me up from the ground and I learned things about myself that I never knew. I probably would have never done my Confirmation with her this past Easter, if it wasn't for her. I'm blessed to have met her and be best friends with her.
Leave a Comment
About the Contributor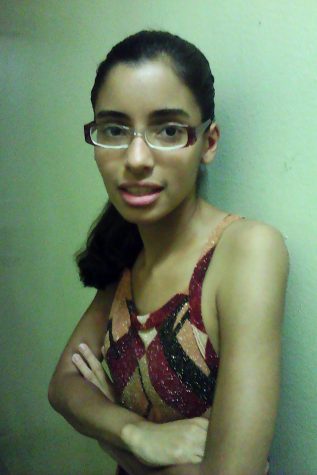 Sarai Acevedo-Charon, Staff Reporter
Sarai was born in Yonkers, New York and is majoring in Media Studies/Radio and Television Production. Her hobbies include listening to music, singing,...