One of My Deep Songs
Your home girl, Tatiana Inez has different songs for different occasions. Like school, work, family, and times where she has flashbacks. She has male lover playlists dedicating one to each guy she crushed on or dated. Most importantly, she also has deep songs.
The song, "Quédate" by Axel is one of the deepest songs ever listened to. Listen to the lyrics carefully. They will tell you that there is a long road ahead of you. Tatiana advises you to walk slowly down this path, mentally and physically.
This singer from Argentina, recorded the song in a way that people would feel as if something was missing from their lives. The words are of enlightenment based on someone who was gone forever.
"Quédate" tells of a husband who was widowed at the time their daughter was born. He never questioned why his deceased wife was the way she was until she died. Then, he wishes that she was still here to make him realize that she is worth it. That she had always been the perfect woman for him. He always wanted to follow her and cater to her will. It is also a flashback that brings him to "How did I end up here?"
The music video was filmed in Buenos Aires, Argentina under the production of the Dawidson Brothers and premiered on August 22, 2014. The song itself was produced by Axel and Nicolás Cotton in Buenos Aires and Los Angeles under Sony Music Entertainment. The second track of his album, "Tus Ojos Mis Ojos" reached number one on different radio stations marking the beginning of his tour since the album's release.
Tatiana listened to this song for the first time on 93.1 Amor FM. She put herself closer and closer to the radio because the tone sounded really sad for a slow romantic song. As she heard the chorus part of the song, she slowly closed her hand making a not so tight fist. She imagined herself walking hand in hand with a guy still alive and loving her dearly. At that precise moment, the last part of the chorus kept replaying in her head.
"De tu mano quiero caminar. Solo quédate."
Seriously, solo quédate, just stay. Come to me and just stay. Everyone would want that, even Tatiana herself.
Everyone including the fans themselves here in the United States. They were so excited to see him perform after listening to the song on the radio for months. On December 20th that year, he came on Sábado Gigante after he had finished his tour. Sábado Gigante was a variety entertainment show that was taped in Chile and later in Miami, Florida every Saturday for over half of a century. The longest running show in history was down to its final season and Axel himself knew he had to take this opportunity to reach out to his fans.
Even though Tatiana couldn't physically go to Miami to see him perform live, she knew she had to see him at eight o'clock at night when the show went on the air. In her living room, she sang along to "Quédate" and watching his cute manliness play his guitar. The words to that song hit everyone sitting in the audience whether they were widowed or had a different interpretation of the song.
At that point, Axel has had many accomplishments during the stardom period of his music career despite reaching stardom at around the age of thirty unlike most artists. He started his career at twenty-two years old and took a long time for his music to become popular worldwide. With his wife, Delfina Lauria, he had two daughters and were expecting a son. He performed at a massive concert in Río de Janeiro, Brazil to honor his compatriot, Pope Francis on World Youth Day. As a Catholic, Tatiana got very emotional over this event.
We have to walk and hold hands together as one. You're doing it for a cause. You're doing it because you lost a loved one, because you lived through a bad crisis, because you faced rejection or simply because you love that person.
The main interpretation of "Quédate" is the reason why people hold hands. They hold hands with widows and widowers who are trying to overcome their spouse's passing. Everyone, Catholics and non-Catholics know that death has no remedy. This would be the longest road someone would face during their entire life.
The only thing people will keep is their spirit that keeps on moving within their bodies throughout the years. This is one of the deepest things people can imagine and have to live through. This is one of the deepest things to think about in a deep song. This is one of Tatiana's deep songs, even though she thankfully never lived through this. For all of you widows and widowers out there, we think about you. You can relate to this!
Leave a Comment
About the Contributor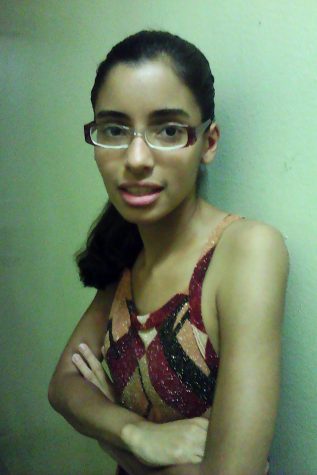 Sarai Acevedo-Charon, Staff Reporter
Sarai was born in Yonkers, New York and is majoring in Media Studies/Radio and Television Production. Her hobbies include listening to music, singing,...