Everyone Has a Twin
I was born by myself on December 15, 1995. My cousin was born five days after me. Her mom was a teenager while my mom waited a very long time to have me. We knew what it was like for each of us to be an only child.
Growing up, my cousin and I would bond together to the point that we call each other sisters. When I go up to people, I tell everyone that she is my sister. She is the cousin who is the closest to my age. Therefore, she was my sister, my twin sister.
My mom accepted that and so did my aunt who is my mom's sister and my cousin's grandmother. Every time our birthdays came, she would call each of us and compare one of us with the other.
I never met anyone who has a cousin become their twin. Everyone I know has a twin who is their best friend who looks like them or someone with the same name as them. They expose themselves as "twins" on social media, but expose themselves physically on Twin Day.
Twin Day is a day that occurs during spirit week. Students and their "twin" best friends dress the same exact thing. A day that is supposed to help students get hyped up for Pep Rally at the end of the week.
When I was in 10th grade, I received a friend request on Facebook. It was a Portuguese male Lincoln High School student with the same date of birth as me. There were other things I found of him on his profile. The only thing was that his profile picture was of his country's flag.
We had so many mutual friends. I didn't know how he looked like, but I had to meet him.
Early 11th grade was when I met him in person for the first time. I met him through the mutual friends we had on Facebook after asking them about him for the past few months. We were so happy to meet each other, but never had class until senior year.
My new twin best friend was a cool, laid back person. He was a New York Yankees, Mets and Jets fan like myself. He was already dating a girl while I had just started dating the guy I was with. Most of all, he was skinny, light skin with brown hair and brown eyes. We were almost a perfect match to be twins.
That senior year, a guy who moved to Yonkers from Orange County became a new student in our grade level. He had a different class with each of us and became friends with us on Facebook.
Becoming friends on Facebook at the same time was not planned. The phrase, "You guys are twins" was also not planned. That student saw us together outside of our Economics and Government class with our friends and said those words to us. He told us that he saw both of our Facebook profiles which was how he knew. It's funny how people never came up to us addressing us as twins.
My new twin and I would talk about anything, even though we never saw each other frequently during the day. We would hug each other every time we were about to enter class together.
One day, I received a message on Facebook from him. I didn't have time to log in, so my mom read my messages for me.
"He sent you a message telling you to not to hug him every time you see him. You hear that? Don't hug him anymore when you see him. Just say 'hi' the next time you see him."
Ouch! That hit my heart. He was my twin brother. I hugged him every day going into 3rd period. He was family to me. Suddenly, he dipped on me!?!?!?
I explained to my mom that he was my twin. After that, I didn't speak to him and sometimes I only said "hi" just like my mom suggested.
Then, the yearbooks came. I wanted him to sign my yearbook. He was nice enough to sign it.
"Finally reached the end of high school. People you use to know move on and become better. I hope the best for you in your future and that you have a successful and joyful life."
We haven't seen or heard from each other since.
This past weekend, I went to bed really late. I had a long dream with my twin cousin. She cut her hair short and went surfing while wearing a pink one-piece swimsuit which were really rare things for her to do. Then, I told her about my problems.
"My mom is being too bossy. My mom ignores me. I don't understand why my family is the way it is. She needs to leave you and the family alone. I wish she can appreciate her own family."
That was my entire dream. The reality here is that I never spoke to her about my problems no matter how much I wanted or needed to. I almost never see her and I constantly think about her. The family issues that go around are making it harder for me to keep in touch with her. Apparently, I could have her on Facebook, but not talk to her. I can't believe my family wanted that from me. They wouldn't let me talk to my own family probably because supposedly I was scared of rejection and was emotionally dependent on other people. They hope I see her again just to act like I never did.
I'm tired of staying quiet. I want to see her again. Deep down, I know she might be thinking about me too.
My cousin will always be my sister, twin sister, twin cousin or "gemelita." Whether your twin is your best friend or your cousin, that twin is always someone who is just like you in so many ways. Being a twin is not always about having a biological sibling sharing space in the mother's womb. My twin best friend and I don't talk anymore because of one small thing, but I still have my twin cousin who I know my entire life.
Leave a Comment
About the Contributor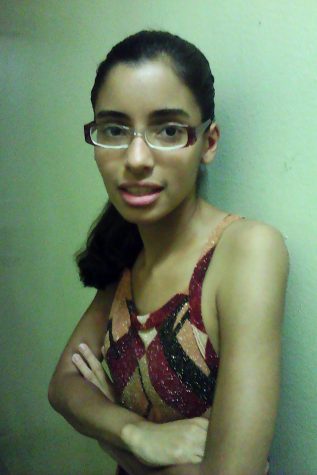 Sarai Acevedo-Charon, Staff Reporter
Sarai was born in Yonkers, New York and is majoring in Media Studies/Radio and Television Production. Her hobbies include listening to music, singing,...