Halloween Will Never Get Old
Cool weather, colorful leaves, and scary decorations all around. It's Halloween time!
Some of the best things to do during this time of the year is go to a haunted house. Even if you're not a fan of being scared, it's worth it. It may be a little pricey but most of the time, the more expensive it is, the scarier it'll be.
I like being scared. It's all part of Halloween. I know a lot of people that won't go to a haunted house because they don't like being scared but yet, they'll watch a scary movie at any time. Doesn't make much sense if you ask me.
I think going to a haunted house is actually more fun than watching a movie. It's interactive and it really gets to you. When you're at a haunted house, even if you're not scared you should act it. The actors at the houses feed off of your emotions. If you aren't scared then they'll just leave you alone and you won't have fun. But if you go along with it, the actors will haunt you around the entire place. Some will use your name and try to scare you even more.
Even if you go through all the houses and aren't completely sacred a lot of places offer "extras" for a couple extra bucks. The other day I did a knife throwing activity. I paid $5 to stand against a wall and have two men throw knives at me. It was great, it definitely put some fear in me.
After that, I did another extra for another $5. It was a coffin ride. You lay inside a pitch black coffin and they literally shake it so you roll all over inside and then they have these features that make it feel like snakes and spiders are crawling up down your legs and on your face. If you're scared of the dark, spiders, and snakes, this is for you.
After all, if you aren't a fan of the scary part of Halloween, there are plenty of other things to do in this season. Pumpkin carving is a popular thing to do. I typically don't carve pumpkins till about a week, sometimes two weeks before Halloween. The earlier you carve the pumpkins, the quicker they go bad.
The best part of carving is you can make a great party out of this. Invite friends over to bring their own pumpkin and see who can carve the best looking pumpkin. You can do scary Jack O'lanterns or anything else that might come to mind. There are some people who will carve Christmas themed carvings into pumpkins because they just can't wait for the happiest time of the year.
After pumpkin carving, you can do apple bobbing with your friends. You can do the usual one where the apples are inside a bucket of water or you can to dry bobbing. Dry bobbing is when you tie the apples to strings and hang them somewhere. Everyone has to stand with their hands behind there back and try to eat an entire apple, as the apple is flying back and forth and having no hands. It's a hard version but it's fun.
Other fun Halloween activities are also considered just fall activities. But they're still tons of fun. Some of them include going to the farm to apple or pumpkin pick. And while you're at the farm, there are family activities at the farm. Some have petting zoos, corn mazes, and playgrounds for kids. Even a few farms have their own haunted houses. While at the farm don't forget to pick up your apple cider donuts or try the soft serve ice cream they have. Typically the farms have their own ice cream stand with different fall flavors of ice cream like, apple, pumpkin, caramel, and maple.
After all, the Halloween activities are completed leading up to the big holiday, you need to make sure you have your costume prepared. Whether you're going trick or treating or going out to a party, you have to be dressed for your occasion. I find going trick or treating is appropriate for all ages. If you're on the older side maybe go with a kid so it doesn't look as weird. Just make sure you encourage the kid to go to every house possible so you have plenty of candy to choose from. I think if you are still in your teens, it is acceptable to go out and trick-or-treat by yourself. Most adults feel that if you still want to be that kid, dress up and make the effort, they'll give you the free candy. But if you're going to a party, you better be dressed the best there. Everyone will judge your costume.
All of that is part of Halloween. The candy and haunted houses is probably the best part of Halloween. It makes me wish I could stay a kid forever to trick-or-treat for the free candy. But sometimes you just have to suck it up and hand out that candy to those children.
Leave a Comment
About the Contributor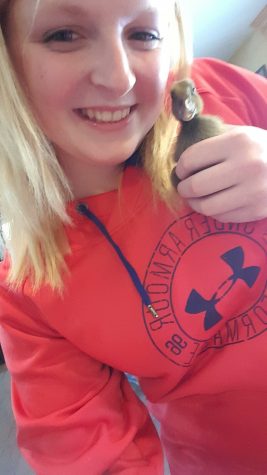 Amanda Depew, Staff Reporter
Amanda Depew is a Radio/TV Production major at Mercy College. Her hobbies include working all the time along with eating all the time. She has many jobs...