For the Love of Baking
Baking is one of my favorite things to do. I do it all the time. My favorite thing to bake is cupcakes.
I really enjoy it to the point where I almost decided to do it for the rest of my life. I applied to the Culinary Institute of America. I was also accepted. I browsed around the campus after visitation and saw how beautiful it was.
The only part that I didn't realize was for the baking program all your class hours are thrown completely off. Being in the baking program meant your classes started at 11:30 pm, and continued through the entire night till around 6 am. That definitely isn't for me. I can stay up at night but not the entire night working.
Also another thing I found out was that if I were to go there it doesn't count as an accredited college. I will get a degree in baking but that would only be for baking. None of the other classes I would take there would count towards anything. If I decided after I graduated I didn't want to do baking anymore, I would have to go back to school and start all over again. I didn't find that worth my money and time. Unless I was getting credits that can go toward another college, I wasn't going there.
As much as I loved baking the Culinary wasn't for me.
I still love to bake, it's one my favorites. Every holiday or birthday or any type of special occasion everyone looks to me to get it done.
For Thanksgiving to years ago I made turkey cupcakes. They took a total of 6 hours to complete because of the detail in the turkeys. The turkeys were made out of Oreo's, candy corn, and …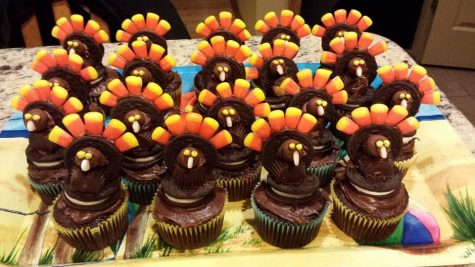 For my cousin's birthday I made minion cupcakes. They were blue icing with a half of a Twinkie on top, with eyes made out of frosting.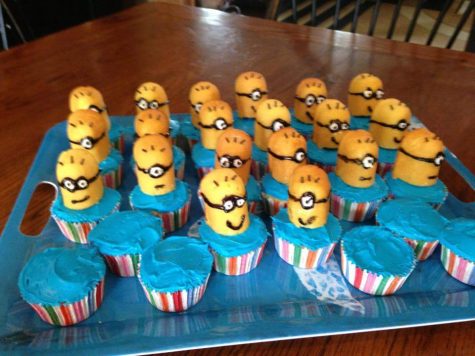 Next while I was in 12th grade, I was still in girl scouts. So I decided for a nice snack I would make a cake and design it just for fun. I made a circle cake, frosted it, then put homemade fondant over it. Once the fondant was on I free handly piped the cake with a design. This was my first piping job, I have done simpler versions of it, but never as a design. The fondant was made out of marshmallow and sugar. Personally homemade fondant tastes way better than store bought fondant.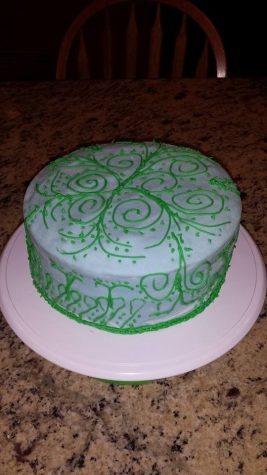 While I was so into baking throughout my high school years I continued to ask for baking materials for Christmas and my birthday. One year for Christmas I got an abundance of stuff. I got everything from different types of baking pans to different cookie cutters, recipe books, and my favorite a giant toolbox of every piping material.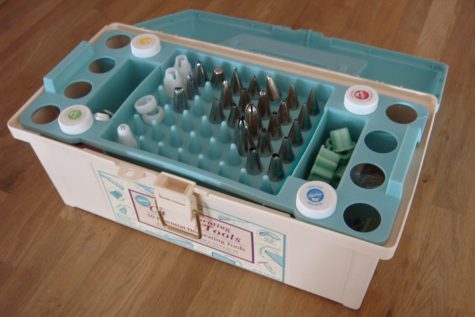 Also for Christmas that year I got an edible spray paint tool kit that allowed me to design cakes and cupcakes in a totally different way. For my cousin's birthday I made him a treasure map box since it was a pirate themed party.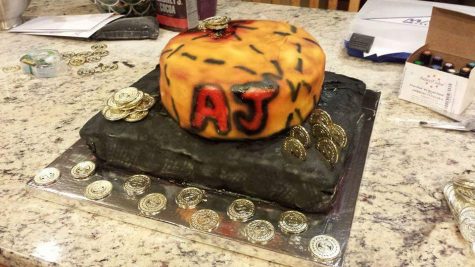 Easter was next on the list! The year of 2013, I made a basket cake. It was made out of Kit Kats, Easter color M&Ms, along with some peeps.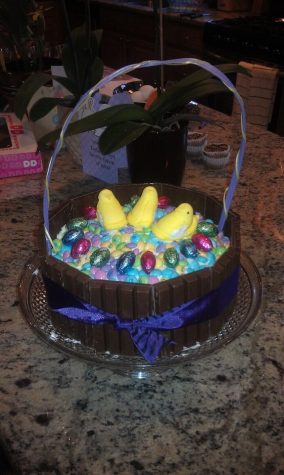 The next Easter, I made a rainbow cake with a chocolate bunny on top.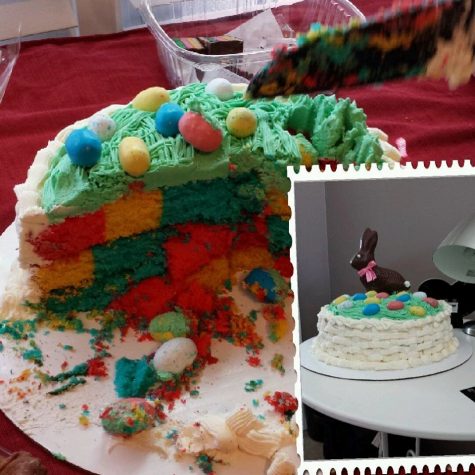 Another rainbow/ checkerboard cake I made for fun was made using a circle like tool. It is a three layer cake. When pour the colors into each layer you have to rotate the colors differently each time in order for it to match up correctly after it's done baking.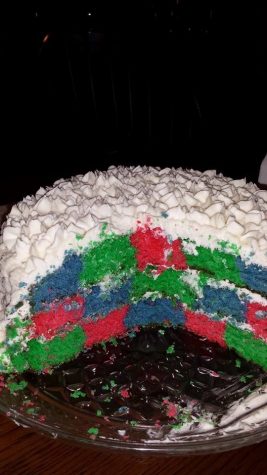 I still bake all the time but not as often. Once the holidays are around though I am baking basically every other day. Sometimes I wish I went to the Culinary but then again I'm glad I choose to be in the media studies field. It's what I've always wanted to do so it feels great pursuing it. I'll never stop baking just because I didn't go to school for it.
Leave a Comment
About the Contributor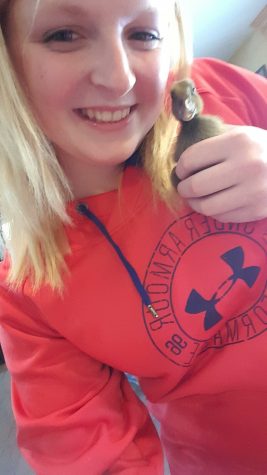 Amanda Depew, Staff Reporter
Amanda Depew is a Radio/TV Production major at Mercy College. Her hobbies include working all the time along with eating all the time. She has many jobs...