MTV Brings Back TRL
After almost 10 years of being off the air, MTV has decided to travel back in time and bring late 90's most popular live show TRL a.k.a Total Request Live back on air. On April 18, they announced their revival and their plans to change TRL's famous studio located in Times Square, New York. The first live show started on Oct. 2.
TRL was hosted by Carson Daly in the late '90s and early 2000s. Celebrities came to the studio to promote their albums and perform their songs. They would feature daily guest such as celebrities, musician, athletes and actors. In the fall of 1999, live audiences would be shown in the studio. The audience and the host would do countdowns of the best music videos of the week. They would play the 10 most requested music videos of the day which were voted by viewers either by phone or online. It was taped from Mondays to Fridays for an hour and aired between 1998 to 2008. Many voted for the original favorite stars like Eminem, Britney Spears, Christina Aguilera, NSYNC, Backstreet Boys. Daly stepped down as the host in 2003. It was rumored on  2007 that TRL would no longer air. Nov. 16, 2008 was the last day that TRL was shown on television, the last music video shown was "…Baby Hit Me One More Time" by Britney Spears.
But don't be discouraged because now you can get tickets to be part of the studio and live audience. I managed to get tickets to the show for Oct. 6, five days after it's first live show. I obviously did not get to see the original studio but looking up pictures online, I can tell for sure that MTV really stepped up their game. The new studio was bigger and better than it's originally studio. They had multiple video screens including one on the floor, two performance stage, TRL shaped couches, three hanging chairs,  headphone shaped DJ booth and tons of lighting. The audience were able to see the outside of the studio as well. I arrived at 2:30 p.m. and there was already a long line of people waiting to get in. The show starts taping live at 3 p.m. so they were rushing to check in people. The securities scanned every person and their bags quickly, leading them up to the second floor of the Viacom building to get them ready for taping.
We were told to leave our bags, purses and jackets in a room and place it in a locker. We were given a paper with a number on it so we can get our stuff back when the taping was done. There was a woman whose job was to keep the audience entertained and engaged. She gave away free shirts but only to those who caught her attention and were dancing. Amy Pham, who was the DJ, kept playing "Bodak Yellow" by Cardi B making the crowd go wild. They started to dance and rap along, it was actually really nice to see them rapping to the song because everyone knew all the lyrics. I went alone (that's what reporters do, kids) and felt somewhat awkward when I was there but seeing that everyone was dancing and singing along just made me feel a little bit more comfortable. I still didn't really dance and sing – I couldn't help but stand where I was and whisper the songs.
There were some things that needed to be improved. The downside is that a room full of fancy sofas and seats should be enough for the people in the studio to sit on. Yet the majority of the people who came were standing up, sometimes for two hours. I, unfortunately, was one of them. I've gone to many shows in NYC and I've never had to stand up for any of them. Unless you count the waiting time.
It seemed that those who got a seat in the TRL studio were gorgeous people with great hair and fancy style. If you want to grab a seat then you must dress to impress and really bring your game on, anything to show off on camera or arrive really early.
Also because I was in the back I couldn't see any of the celebrity guests because the people in the front were now standing, and the cameraman kept getting in the way.
Once the live taping started, three hosts came inside the studio. DC Young Fly is the main host and he Brough several other hosts on different days to join him. The day I went he was there with Tamara Dhia and Matt Rife. For that episode, they focused on speaking about the natural disaster in Puerto Rico. They presented the first guest. Romeo Santos, a Spanish bachata singer was there promoting his music. The host had competitions for the audience to do so when Santos was there, they had three ladies show him some bachata moves and he had to decide Santos couldn't decide who the winner was.
Fat Joe also came to the studio and three young guys rapped in front of him. Their rapping skills were incredible as Santos couldn't decide who was the winner. He applauded them for their talented skills. The hosts also spoke to Jennifer Lopez and Camila Cabello on the phone. La La Anthony was also a guest in the show and the co-host of TRL back in the days.
Joan Smalls, a Puerto Rican model, was also there, as was Victor Cruz, who was once on the New York Giants. Santos and Fat Joe performed in the streets where more people were. We were available to see them through the big screens. All the celebrities spoke about their sadness that Puerto Rico is facing and how people can help. Once the show ended, the host left the studio to greet the fans who were outside for the concert. While the cameras stilled rolled outside, the studio was quiet, everyone was putting their equipments away and leading the audience to room where they left their stuff. It was closing time, the lights were turned off and the music was no longer playing.
The taping was done.
It was a fun but painful for my feet. When they were interviewing Cruz, I was behind him so I might have been on TV, (who knows) but that was the only time I got to see a guest up close and I didn't even know who he was. Sorry, I don't watch sports.
I tried taking a picture of Romeo Santos since everyone had their phones out taking a picture of him and recording but of course a staff there saw me and told me no pictures allowed. Just my luck, I put my phone down with while I saw others still recording and taking pictures of him. I managed to take the picture you see above before the show started. Your welcome.
Will I go again? Absolutely. I mean it wasn't worst thing standing up for two hours with high heel boots. Actually it was, but I would still go again, I thoroughly enjoyed seeing the audience dance to the music and at least having a glance of the celebrity guest. It's free, it's nostalgic and it's keeps you moving.
I'll be back.
Leave a Comment
About the Contributor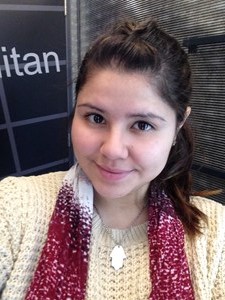 Andrea Loaiza, Staff Writer
The name is Loaiza, Andrea Loaiza. She is currently a junior in Mercy College on her way to getting her bachelors in Media and Journalism. She...