Dance Your Ass Off, Literally!
For me, working out used to be painful, boring, and tedious. Thankfully I found a new way of working out that will make you get up and dance, literally! It's called Zumba Fitness and it is here to save us from our misery. Zumba or "Fitness Party" is an exercise class that comes from a Latin-inspired dance program that combines international music with popular up beat songs we hear today. According to ZumbaFitness.com, Zumba started in 2001; it has become the world's largest and most successful dance-fitness program.
When I started Zumba it didn't accord to me that I was actually burning calories or building muscle because I was dancing to the music and having the time of my life. From taking three classes, I think Zumba can be a way of relaxation because dancing in general makes me and the women I dance with happier. It puts a smile on my face and I feel stress free. Francesca Aversa, our Zumba instructor informed us we would burn 500-1000 calories per hour from our Zumba class.
For me Zumba was easy to learn. The steps are repetitive, so I learned the moves quickly. The music is modernized and catchy. I was singing alone with the music. And once I found my groove I remembered what steps I had to take next. Some of the recent and most popular songs I have danced to were, I'm Sexy and I Know it by LMFAO, Let's Go by Neyo and Calvin Harris, and Pause by Pitbull. There are Latin songs that Aversa plays also. The most popular song that gets played is danza kuduro by Don Omar.
For the first classes I brought my mother with me, Aversa greeted us. We then were greeted by other women in the class. We enjoyed the class so much that my mother and I went to another. We have gone to two more classes! It's funny, one day while I was dancing from the corner of my eye I noticed that two grown men operating their stair masters were staring though the class wall. I know, I know you guys had to sneak and peek, but Zumba is not for women alone. Yes a lot of women do attend Zumba classes, but men can join the fun too.
The place where I started Zumba was at Pyramid Squash. I live by Pyramid Squash, a gym in the town of Tuckahoe. The reason why I found out about Zumba was they had a new Zumba deal for four classes. The deal was the first class would be free and any following classes would be $25 a person. Once the four weeks have passed the classes are $15 walk-ins. Pyramid Squash also has workout packages for the month. This entitles the person to work out as much as they want you for an entire month.
I enjoy Zumba fitness because it 's not your average work out it's a dance party!
View Comments (1)
About the Contributor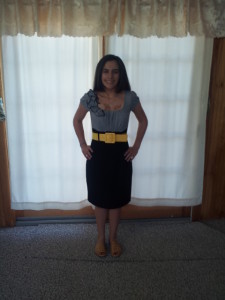 Molly Stazzone, Impact Staff
Molly Stazzone is a transfer student at Mercy College. Molly is a senior studying Journalism and Communications. She has interned at Westchester Magazine...