Arrow 10-11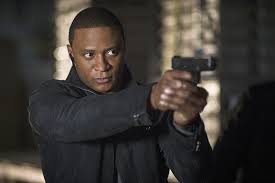 This episode of "Arrow" opened with a fireman attempting to retrieve any remaining people in a building. A mysterious man revealed to be Garfield Lynns, threw gasoline on him, killing he man.
The story then moves to Oliver, who, after losing his battle against the mysterious hooded man, has decided to avoid his duty as the vigilante. Diggle does not agree with this decision, stating how important he has become to the city.
Laurel then uncovers some information regarding the fire, stating that the fire that burned the building was not as hot as the fire that killed the firefighter. This was due to the gasoline used by Lynns. With this information in mind, Laurel steals the phone that her father gave to the Hood to call him for his assistance.
Oliver receives the call, but is apprehensive because his skills experienced a decline after his first major loss in an important fight. In addition to this loss, he admits to Diggle that he couldn't fully recuperate because he now has people that he cares about to protect, which was not the case after leaving the island where he had time to himself to become detached to his family. Diggle, however, argues that this should be more of a motivation for him, now that he has incentive with something to protect.
Oliver learns that Lynns allegedly died years prior in a fire when his chief failed to send backup during a fire that he didn't deem dangerous.
A party took place and had been interrupted. Lynns, who was previously a firefighter, showed up at a commemorative banquet for his peers. Lynns lit the building on fire to remove all of the guests, and get his previous chief alone. Lynns revealed himself for the first time to the chief, having been presumed dead from a fire years before. The fire left severe burns over Lynns' body. The fire was nearly fatal, and only became so powerful because the chief refused to send backup, believing that it wasn't necessary at the time. Lynns then attempted to light his chief on fire with gasoline after a brief exchange of words, specifically the chief pleading for his life. Oliver arrives, and saves the chief, however, Lynns walks directly into the fire, killing himself because he felt he had nothing more to live for.
The next episode opened with the robbery of an armored truck full of money. Oliver believes it was a man named Ted Gaynor, who was Diggle's commanding officer in Afghanistan. Diggle dismissed the idea, stating how close they were, and believing that Gaynor, who once saved his life, would never do that.
Oliver believed that this was incorrect, because Gaynor's name was on the list. Without a second thought about Diggle's emotions, Oliver begins to collect information on his new target. He goes and steals data from Gaynor's computer, which turned out to be schedules for armored trucks.
Oliver discovered that Gaynor's people were responsible for the robberies.
Diggle met up with his old commander, catching up on old times, but Gaynor reveals the truth about the robberies, stating that he needs more money, and would like Diggle to help with the next heist. Diggle initially refuses, however, Gaynor took his sister-in-law hostage.
The heist starts, but Diggle turned the gun on Gaynor's men, killing them before anything can go wrong. This causes Gaynor to try and kill Diggle, but Oliver intercepts, killing Gaynor before he could harm Diggle.
Oliver apologized to Diggle for not trusting him more, stating that he was betrayed by Yao Fei on the island, inspiring trust issues.
While this story arc took place, Tommy's father requested to have dinner with him to meet Laurel. He actually came with an agenda to shut down Tommy's deceased mother's hospital. He disagrees, and asks his father to leave.
Also during these story arcs, Thea and Moira had confrontation about Moira allegedly cheating on Walter. She eavesdropped on two business conversations and jumped to the conclusion that Moira was in a relationship with Merlyn. Having no evidence, she approaches her mother at her 18th birthday party. The two argue, then Thea takes a new drug called vertigo, and decides to drive for some reason. The idiot crashes her brand new car that she just got for her birthday.
She recovers in the hospital, and is immediately arrested.
There were also flashbacks from the island were Oliver attempted to release Yao Fei from captivity. However, when Oliver arrives, Yao Fei turned him in for unknown reasons.
These two episodes contained plenty of information. The plot was well developed in both episode, and each character grew in some way, for better or worse. Oliver displays his disregard towards other people, and Thea moves to a new level as the misunderstood teenager. Between the two, it is surprising that the Queen family had any redeeming qualities, however, Moira saved the day. She accepted Thea's false insults to her character without revealing the harmful truth that she was never unfaithful, but Thea's father was.
Moira and Diggle have grown the most in my opinion. In Diggle's case, he made a stronger example of himself as a source of guidance for Oliver. Although his role in episode 11 was misguided, he hadn't made any choices without complete logical thought prior to that moment because he had a personal connection with the latest target.
These episodes were filled with plot heavy information and character development, and were some of the best episodes thus far.