Jerry Lewis – A Stand-up Guy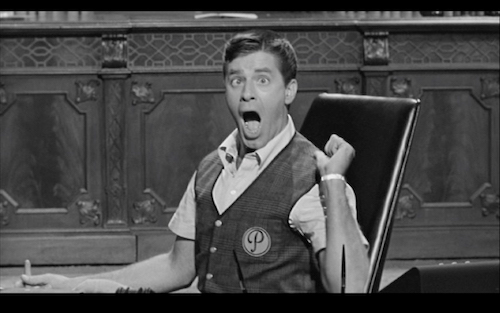 94-years-old he would've been today.
The King of Comedy, Joseph Levitch – universally known by his stage name, Jerry Lewis – was a man of many faces, and silly ones at that.
In the words of Johnny Carson, since he was a "little teeny boy," Lewis was known for being an unrestrained comedic character in every good way possible. In fact, he was born into a vaudeville family in 1926 and by 12-years-old he'd already created his very own comedy act.
Alongside his pantomime, Lewis was known for his voices, accents, sound effects, and especially his facial expressions. He was a constant comedian, not just on the silver screen. He lived his life that way, even in his old age.
One positively fateful day in 1945, he met future Rat Pack member, Dean Martin, during a walk down the street.
"I turn and I see this handsome guy in a camel's hair coat. You can die from how handsome he was, sporting his new nose. And we became very friendly. He looked like he needed a friend and I certainly did. And that was really the start."
One year later, the King of Comedy and the King of Cool performed together for the first time; the beginning of their iconic showbiz partnership.
"We had pastrami sandwiches brought in after our show. I took the bag and ripped it in half and with a makeup eyebrow pencil, I wrote a list of bits that I remembered that my dad did in burlesque. We had two hours before we did the second show. We went on and he didn't miss a beat. We did everything we had talked about and wound up doing two hours and 20 minutes."
The two went on to bring 10 years of laughter and joy to the nation.
In 1948, NBC built a radio show around Martin's musical talent and Lewis's comedy, but because of how visual most of their act was, the radio show wasn't as successful as they'd hoped. They later debuted the television version of "The Martin and Lewis Show" and shortly thereafter were signed by Paramount Pictures which led to their 17 films together.
The duo appeared regularly on NBC's "The Colgate Comedy Hour" ("The Colgate Comedy Hour with Dean Martin and Jerry Lewis") which consisted of sketch comedy with slapstick and satire from films and tv shows, musical numbers from their own films and nightclub acts, Martin's solo songs, and Lewis's signature pantomime.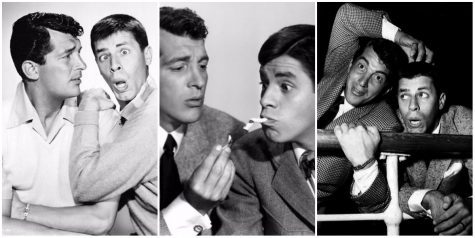 Martin and Lewis were a huge hit. There wasn't a thing they didn't incorporate into their Comedy Hour shows. From improv to breaking the fourth wall to making each other laugh during skits, they had viewers wrapped around their fingers.
In 1956, the greatest comedy team in history split up. Amongst many rumors, it's been said that their respective work ethics eventually got in the way.
After Martin's death in 1995, his daughter, Deana Martin, spoke to her father's love for the man who was a brother to him, her Uncle Jerry. She told of the many regretful moments he'd had after parting from Lewis, but she made it a point to clear up any doubt of the undying love they'd felt for each other regardless of the split, on his behalf.
Lewis promoted his memoir "Dean and Me (A Love Story)" in a "Today Show" interview in 2005 and spoke very highly of his late friend and their 10 years together, also offering some clarity on the duo's split. He called their friendship 'magic.'
"I had said to Dean when we knew it was over, it would've only been another couple of years and then we would've been knocked out of the ring like Joe Louis. Going now is going to sustain what we had. If it's going to happen, let's do it while we're flying."
Lewis's victories with Martin were just a portion of his many accomplishments throughout his 91 years. He went on to have a successful solo career as a writer, producer, and director of his own films and tv shows, and between his two marriages, he had eight children.
In his later years, Lewis created the Legionnaires of Laughter. This event is set to be the most prestigious honor award night in comedy and a legacy he was proud to leave behind. The Legionnaires of Laughter are the most influential and successful comedians, comic actors, writers, artists, and entertainers, whose work in the art of comedy makes a global impact on humanity.
So far, there are 131 legionnaires, including Jim Carrey, Martin Short, Steve Martin, Jerry Seinfeld, and many more who have all been taught or influenced by "the genius that was Jerry Lewis." Lewis especially honored Robin Williams and his unique talent at the event in June of 2017, and soon after his passing that August, Lewis's very own legionnaires gave him the Lifetime Achievement Award.
All profits from sponsorship of the evening are donated to Lewis's charity, Jerry's House. Jerry's House was started in 2009 after 7-year-old founder, Lochie Graham, met his idol, Lewis, and shared his idea to help children suffering trauma or illness by using comedy. Lewis already dedicated most of his life to making certain that children in need received the best care, so he ran with it.
In Lewis's words, "Jerry's House is comedy, humor, and play. It is designed to bring joy, fun, and laughter into the healing process for children and young people challenged by an illness or their environment. It is supported by research that demonstrates how health is positively affected by humor, laughter, and joy."
He was a wealthy man when it came to talent and he spent his entire life sharing his riches in every way he possibly could.
"It'll keep you alive for another 10 years if you get yourself a laugh once a day. Either provoke it or look around in the wildest laboratory in the world: the public."
Once upon a time, comedy was simple. Producing laughter didn't require vulgarity, politics, darkness, etc. A child and an adult could laugh together at the sight of a funny face, a silly dance, or innocent dialogue.
As time passes by, I can only hope that the world never loses sight of the original funny guys; the ones who'd set the stage for the rest.
Happy Birthday, Jerry Lewis!
They surely don't make 'em like you anymore.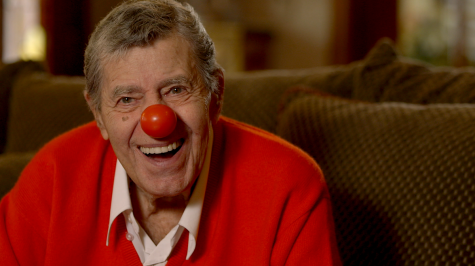 "People say, 'How would you like to be remembered?' I don't want to be remembered. Gimme a break. What I want is to hear what's great about me now. Let me hear it! In the box, you don't hear these eulogies."
Leave a Comment