Derrick Rose is Back
Everyone remember the return of Derrick Rose? Well a second coming of that return is here. The Timberwolves gave rose another shot by giving him a one-year deal to rejoin the team. And so far, it has been a good move.
Derrick Rose has averaged 18.6 points per game and 4.6 assists per game. Rose has been a great fit for the Timberwolves this season. When he enters the game, he is instant offense attacking the basket at will.
He is a perfect side kick to Karl Anthony Towns and Jimmy Butler. Most teams have to game plan for these two all stars and now Rose has shown that he has the ability to stuff the stat sheet.
Rose did something this season that he has never done before in his career. He scored a career high in points scoring 50 points against the Utah Jazz. Watching this game made flashbacks of his 2011 MVP campaign arise.
In 41 minutes of action Rose hit four threes, grabbed four rebounds, six assists and a game saving block to clinch the victory for the Timberwolves. This was the best game of Rose's career and he was magnificent all night.
He attacked the basket every opportunity that he could and also showcased his new consistent three-point shot. Rose was emotional after the game crying in an interview with a towel covering his face.
There is not one player in the league that has more heart than Derrick Rose. In 2011, Rose was a top 3 player in the league. He was at the top of the NBA and led his team to the number seed and a playoff berth. Rose became the youngest player to win the MVP award.
The Bulls were 62-20 and Rose averaged 25 points per game and 7 assists as well. With all this success Rose was at the top of the league. After all this success there was no where to go but down.
In 2012-13 season Rose tore his ACL and was forced to miss the season. Rose tore his ACL again in the 2013-14 season. Over eight season Rose has missed 257 games and injuries have plagued him ever since.
Rose lost his explosiveness and is not able to do the things that he used to do. He can not dunk on any player in the league anymore but he still has the ability to get to the basket. Another thing rose has not lost with all these injuries is his heart.
The frustration of not being able to stay healthy is a tough pill for a player like Rose to swallow because he knows he has the ability to compete at such a high level. This did not stop him from rehabbing and doing what he needed to do to get back out there on the court.
Look at Rose now scoring 50 points on a team that cut him after one day. Rose showed the Jazz that he still has the ability to play at a high level and they learned that the hard way by taking a loss.
Derrick Roses play did not go unnoticed in the league. He received support from LeBron James, Karl Anthony Towns, Dwayne Wade, Vince Carter etc. Rose is starting to look like his o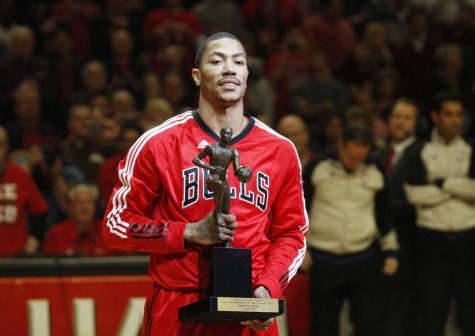 ld self again making plays for himself and his teammates.
Rose has his eyes set on winning the sixth man of the year award and from the way he is playing he might just get that award.
Rose said "It means everything man, I work my ass off". "I played my heart out". Derrick Rose has been playing his heart out ever since he joined the league. Nothing is going to stop this man from playing the sport that he loves. Rose blossomed and from the level he is playing at it should blossom for years to come.
The Timberwolves will continue to roll with Rose as they look to improve their 4-8 record.
Leave a Comment
About the Contributor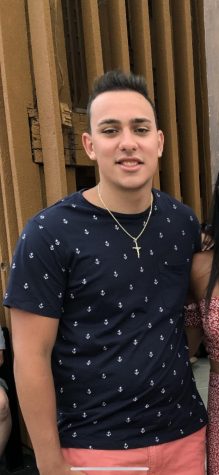 Michael Panteleo, Impact Staff
Michael Panteleo is a senior and studies journalism at Mercy College. He enjoys writing, watching, and playing football and basketball. He is a member...