When Will the Vikings Score Some Points?
Week five is here for the NFL and the Vikings offense still cannot figure it out.
Why can't they put points on the board?
Well, that's a good question considering their offense comprises one of the best wide receiver duos in the league.
Adam Thielen and Stefon Diggs are both kick-ass wide receivers. Last season, Adam Thielen went nuts for the Vikings. He had 113 receptions, over 1,300 yards, and nine touchdowns; an absolute stud. Diggs was not far behind Thielen, as he had 102 receptions, over 1,000 receiving yards, and nine touchdowns.
With both weapons, the Vikings should put points on the board in their sleep. Unfortunately, they haven't been pulling through. They lost 16-6 to the Chicago Bears, who have one of the best defenses in the NFL, so lighting the Bears up for 30 points is probably out of the question. Scoring six points with an offense that has Thielen, Diggs, and now healthy speedster, Dalvin Cook, is ridiculous. Kyle Rudolph has five receptions for 32 yards; he's been a nobody this season. There must be a problem with the current offense since they weren't this inefficient last year. It seems as though Kirk Cousins is to blame.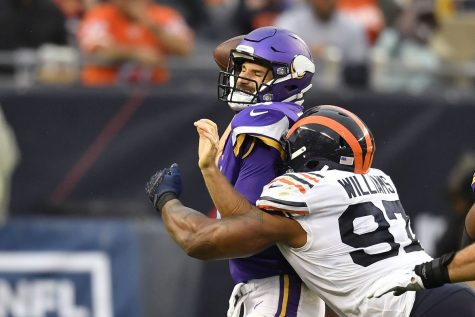 To put it simply, Cousins is a terrible quarterback. With only three touchdowns and two interceptions thrown, this year isn't looking up for him. The Vikings recently inked Cousins by giving him a three-year $84 million-dollar deal. With the numbers he puts up, that money is well-deserved. Dalvin Cook's injuries caused him to spend most of last year benched. Case Keenum, although not the most spectacular player, led the Vikings to the conference championship game in 2018. He and Diggs shared one of the craziest plays in history. The Minneapolis Miracle will never be forgotten.
It's still early on, but if Cousins doesn't start playing better, the Vikings might do some trades soon. Speculation occurred after Diggs made a social media post referring to Adam Thielen as his "brother for life". Maybe it's just noise, but it sounds to me like the Vikings might look to move Diggs.
Thielen showed some frustration in an interview after their 10-point loss to the Bears. He posted his worst stat line in two seasons, only catching two passes for six yards. Thielen emphasized that the passing game needs to improve in order for the offense to be successful. He stated that running the ball too much is too predicable and that they must well. Obviously, he was referring to his quarterback, Cousins.
At 2-2, the Vikings are in the worst position. If they don't shape up soon, they'll fall behind in the playoff race. The Vikings will have an opportunity this Sunday when they go on the road to face off against the New York Giants. A couple of weeks ago this game would've been rather easy for Minnesota.
The Giants are 2-0 since Daniel Jones stepped in. They'll be playing without star running-back, Saquon Barkley, but they'll get Golden Tate back from a suspension; another weapon for Jones to have at his disposal. They're red hot.
The Vikings still have so much offensive talent, but if Cousins can't get the ball to his playmakers, they'll be in for a troublesome season. The Vikings might have to test the trade market. They either need some new talent on offense or maybe even a new quarterback.
Leave a Comment
About the Contributor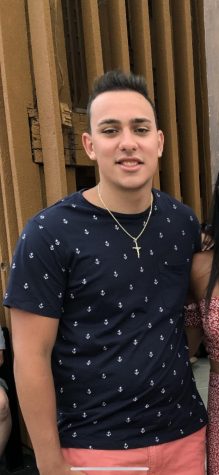 Michael Panteleo, Impact Staff
Michael Panteleo is a senior and studies journalism at Mercy College. He enjoys writing, watching, and playing football and basketball. He is a member...