Are the 49ers Just Fool's Gold?
This may be a stupid question given that the team has a 7-0 record overall. I know I am not the only one who remembers that San Francisco's record was 4-12 a year ago. In their defense, the Niners were a different football team a year ago. They did not have newly drafted defensive lineman Nick Bosa, who is dominating on defense. other than drafting him and a few others this team is like last year.
Any team that wins their first seven games should feel accomplished. That is not an easy thing to do, especially in the NFL. If you look closely at some teams, the Niners have beaten you can kind of see a trend. They have beaten the Bengals, Buccaneers, Browns, and Redskins.
With all due respect, these teams are all garbage.
These are teams that if you lose to you should be embarrassed. Just a year ago San Francisco was in this tear of NFL teams. However, not all of their wins have been because of easy matchups. The Niners have beaten the Rams and Panthers. The Panthers are without their starting quarterback Cam Newton which makes the win a little less impressive. This makes you wonder what the Niners will do when they play some legitimate teams.
Down the stretch, they will play teams like the Packers, Seahawks, and Saints. If the Niners rack up some wins against teams like this I might buy into them being a contender.
Another thing that could be of concern is their quarterback play. Can Jimmy Garoppolo win them playoff games? The defense and running game works very well, but it comes playoff time they will need their quarterback to step up and make big plays. I do not know if Jimmy can be that guy down the stretch of a playoff game.
This season he's been decent but is not doing anything spectacular. He has nine touchdowns and has thrown seven interceptions. These numbers are not necessarily bad but they can be a lot better. I think gaining Emmanuel Sanders was a move they needed to make. The Niners have one of the best tight ends in the league in George Kittle but pairing him with Sanders makes the offense much more dynamic. Besides Sanders, the receiving core is very young but talented. Deebo Samuel and Dante Pettis have some potential but are not quite their yet. Adding Sanders, who has caught 40 touchdown passes in his career is definitely a plus for this team.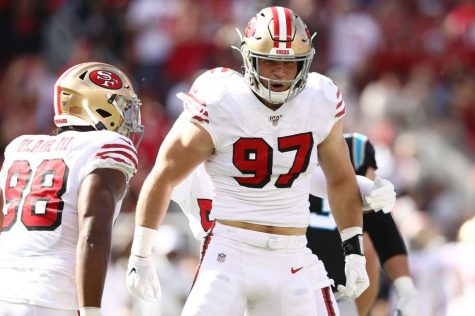 While the offense has been solid, it really is the defense that is making the difference. Richard Sherman is back to his old ways not giving up any big plays outside. The front seven is just dominant and is headed by defensive end Nick Bosa. Bosa has seven sacks on the year and just caught his first interception of his young NFL career. Arik Armstead and DeForest Buckner are also having very good seasons for San Francisco. They say defense wins championships and if their defense keeps this level of play up, they will be a tough team to beat. I am just not sold that this offense can sustain good production against top tier NFL offenses.
It's not often that a team goes from being 4-12 to a title contender. With them being 7-0, the Niners will definitely clinch a playoff berth over the next few games. Their next contest will be this Thursday night when squaring off against the Arizona Cardinals. This is another favorable matchup for San Francisco and they should walk away with a victory. After Arizona, the schedule gets difficult which is when we will really see if the 49ers can continue their win streak. My prediction is that the Niners will lose their first game of the playoffs. San Francisco will win their division but I do not believe they have the quarterback play and experience to make a title run.
Leave a Comment
About the Contributor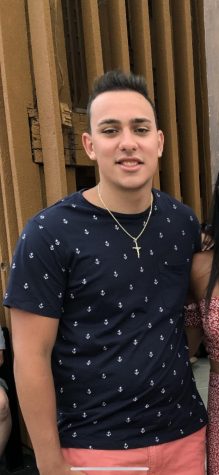 Michael Panteleo, Impact Staff
Michael Panteleo is a senior and studies journalism at Mercy College. He enjoys writing, watching, and playing football and basketball. He is a member...