Young Thugger Put On A Show
About a month ago, I finally went to my first concert. It is a little ridiculous that I am 21 years old and still had never been to a concert, but I decided it was time to end that.
I was at work scrolling on my phone and I saw that my favorite artist Young Thug was going on tour with Machine Gun Kelly. I do not give a shit about Machine Gun Kelly, but Thug is my favorite artist, and I saw this as the perfect opportunity to break my concert virginity.
At the time I was also looking for a birthday present for my best friend Aj. Getting these tickets would be the perfect gift because Young Thug was his favorite artist just like me. I bought the tickets and told my friend and we waited anxiously for the day to come. After waiting for about two months, the day was finally here. It was on a Friday night in Hartford, which was about an hour a half away. We got some Wendy's and then we hit the road.
The drive was miserable. We left around five o'clock which is rush hour. This was not an opportune time to leave, but we had no choice since I had work until four that day. We listened only to Thug on the way there to try to keep our spirits up. Finally, after almost three hours of being in the car, we arrived. We were excited and ready to see our favorite artist steal the show.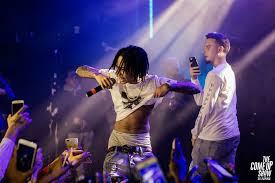 The first thing we did when we got there was grab a pretzel and a twisted tea. This way we would not be hungry and also a little alcohol would make the experience even better. Sadly, two artists needed to perform first before Young Thug performed. Ybn Nahmir would perform first to get the show started. He did a good job; he got the crowd hype and even performed some unreleased music which was a nice treat. After Nahmir performed, there was a short break. Next up was Machine Gun Kelly.
Let me just say he was garbage. This man doesn't know whether he is a rapper or rock artist. His music varies and is just not good. The lyrics he sang were straight garbage and listening to him was the worst experience of mine and my friend AJ's lives. He made like a cool entrance but that was the only cool thing about his performance. He sucks and I never want to hear his songs again. He is white trash and posses zero musical talent.
After the plague of Machine Gun Kelly, it was time for the greatest artist of all time. It felt like an eternity waiting for Thug to perform but eventually, the time came. He came out to his hit song "on the run" and I just lost it. He was magical. I knew every song that he performed and my friend and I sang until the very end. His outfit was stellar. Thug wore purple pants and a shiny silver jacket. He was a combination of Fergie and Jesus Christ. Thug performed a lot of his songs from his new album "So Much Fun". He also brought out one of his boys, Lil Duke. They performed there hit song "with that" which made me lose my mind.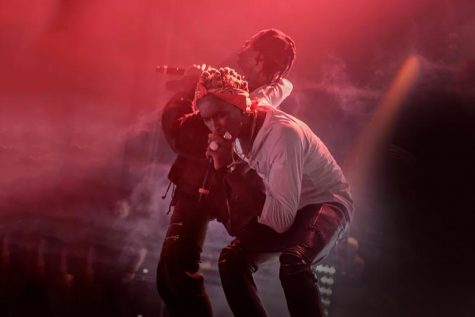 What I liked about his performance as he did songs from all of his albums. He even did some of his most famous feature work like on the song "pick up the phone" by Travis Scott. It's safe to say Young Thug was worth the wait. He met all my expectations and made my first concert magically. It was even better because I had my best friend right with me signing his heart out until the very last lyric. I did not want it to an end but eventually, it did. I hope to see Young Thug again so I can experience this joy all over again.
Leave a Comment
About the Contributor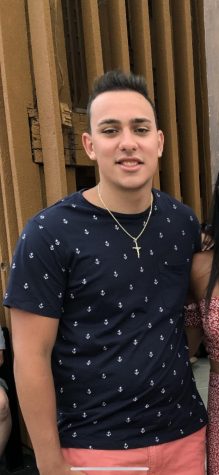 Michael Panteleo, Impact Staff
Michael Panteleo is a senior and studies journalism at Mercy College. He enjoys writing, watching, and playing football and basketball. He is a member...