Fifteen Says Goodbye
For the first time in four years, I will be watching my team play from the sidelines.
For the first time in four years, I am not part of the starting lineup.
A couple of months ago, on November 11, I played my last game as a collegiate athlete for the Mercy Mavericks.
It is a day that I hate looking back on. We lost in the semifinal for the East Coast Conference Championship from the Deamen Wildcats up in Buffalo. Not only did we lose, but we also got our asses kicked. We must have looked hopeless, not knowing why we were not playing at our level. And then, in the last set, I got subbed out. Something that had not happened throughout the entire season.
I have to admit, it was humbling and not at all what I expected. After four years, I did not think that I was going to end my college career on the sidelines with tears rolling down my cheek.
That loss meant the end of our season and therefore, the end of my time as a Mercy Maverick.
It was over, just like that.
Volleyball took me to the United States. I am at Mercy College because of volleyball.
In my senior year of high school, I thought studying Criminology at the University of Leiden, Netherlands was what I was supposed to do. However, the more I visited the University of Leiden and the more I got to know about the major of Criminology, the less I wanted to go.
My father advised me to take a gap year. He told me to consider studying and playing sports in the United States since the culture around college sports is so big.
So, after countless emails back and forth with my recruiting agency KingsTalent, it was time to wait patiently for an email or a call from a coach somewhere in the United States, hoping they would recruit me.
It was April 2019, Easter weekend. I sat alone in the backyard, studying for my final exams. My father and brother were in Germany and my mother was on a trip to Iran. That's when I got the call from KingsTalent that a college close to New York City was desperately looking for a middle hitter.
I heard New York City and I was sold. With no one around to share the news with, I think I screamed and yelled at my dog: I am going to the Big Apple!
It is now four years later and I am about to have my last practice with the team.
Watching my team scrimmage from the sidelines feels weird.
It makes me sad knowing my time as a student-athlete will be over soon, it does.
I can't imagine saying goodbye to the sport I have played since I was nine years old.
That is why I am not entirely sure if I want to play once I am back in the Netherlands again. Being a student-athlete at a Division II college has shown me how competitive it can get.
Practicing every day, lifting weights at 7 in the morning at least twice a week, and having games 6 hours away made me realize that the only way I will play volleyball again is if it's on that same competitive level.
I can't play for a crappy team that doesn't care about winning or losing or only practices two to three times a week. It will not give me the same satisfaction; it will not be enough for me.
I know I will always compare my possible future volleyball career to my time at Mercy College while I know it will never be like that again and that right there is also the perfect reason why it is time to let go.
I ended my season as a senior on a good note (if we leave out the part where I get subbed out during my last game ever) and I am forever grateful for all the beautiful memories but it is time to focus on other things.
I got playtime every season, I was named First Team All-Conference for the East Coast Conference in my senior year, and I never experienced any terrible injury.
Volleyball gave me a second family which not only consists of my current teammates but also includes all my friends that play for the other athletic teams.
When I think of my teammates and my coach, I tell myself it is okay. It is okay to leave. It is okay to close this chapter. It is okay to let go. It is time for something new.
Leave a Comment
About the Contributor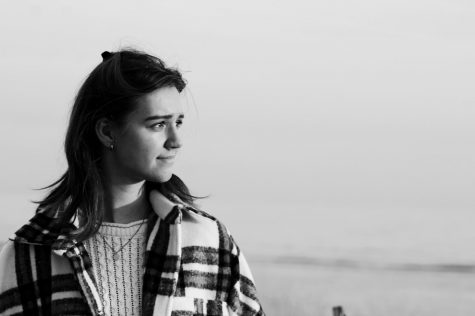 Stephanie Lankhorst, Impact Staff
Stéphanie Lankhorst is a Senior at Mercy College, majoring in Radio and Television Production. At the age of 17, Stéphanie decided to move from the Netherlands,...