Beyoncé Once Again Regins Supreme
After six long agonizing years of desperate whining and wailing, Beyoncé finally released her highly anticipated seventh studio album, Renaissance. Additionally, for the first time since she revolutionized the music world back in 2013, we finally got an album rollout that seemed…traditional.
With a lead single released just one month before, and a release actually being announced, Beyoncé made it clear that she was ready to return with a bang.
And of course, she didn't disappoint, like she never actually does.
There are roughly two and a half months left in the year, and if it's one thing I'm sure about, it's that Renaissance will be my top-played album of the year, and Beyoncé will once again reign as my most listened-to artist, a well-deserved spot.
In her entire solo career, Beyoncé has never once let me down with an album release. Although there will always be songs that pass for me, there will always be something that I can see and hear and appreciate why she did it. Her artistry and dedication to her craft will always allure and fascinate me.
Although I am just a bit angry with her for not releasing the visual side of Renaissance despite teasing us with it two months ago. The visual release is widely a part of my love for her music and why I sometimes spend hours obsessing over other artists who don't understand the opportunity they just missed.
(Imagine if Folklore by Taylor Swift was a visual album. Imagine!)
Beyoncé will always hit the mark for me, and I'm so glad that this album was released at the time it did, when my life was subpar and missing a revolutionary dance album I didn't know I needed.
Clearly, I'm not the only person who felt this way. Since its release in late July, the album has already reached over 800 million streams and sold over 500 thousand copies worldwide.
Filled with references from dance past, and present, Renaissance is a testament to Beyoncé's chameleon abilities. With every release, she creates a stir, and wave in the music industry. From resetting the album release system to popularizing visual albums, to setting a new standard for performing. Even so now, at 41, Beyoncé is still reinventing herself, still trying new things and still being creative with her music.
From its very first second to its last, the album hypnotizes me to dance and let it all out. Not only does the album understand the importance of just grooving, it also acknowledges topics like self-love, and confidence and freedom.
COZY, the second track on the album is a song about being proud of who you are, and where you came from. As she sings, "Comfortable in my skin, cozy with who I am," in the hook, Beyoncé encourages us to be proud of our roots. This is not only about black love either, like some people who were worried about her direction after Black is King.
With lines also referencing the "progress flag", an evolved redesign of the pride flag created by Daniel Quasar. The progress flag was a call out to not only acknowledge and celebrate the LGBTQ+ community but also recognize a more inclusive society.
My favorite track and now the permanent anthem of life is Alien Superstar, a track pouring overwhelming confidence and homage to the otherworldliness within ourselves. Beyoncé sings, "I'm too classy for this world, forever I'm that girl." which releases a large number of endorphins in my brain every time I hear it.
When the chorus came on I truly felt like Sailor Moon in that viral video, twirling and floating, transforming into the best version of myself that I can be.
It was a bit shocking for me to hear some of these songs at first. Of course, I know she's dabbled in this field before, but she completely submerged herself in this water. Dipping her feet fully in and swimming into the dance genre.
Like Virgo's Groove, which I have unironically renamed Scorpio's Groove in my head. When I first heard this song I felt like I immediately needed to buy some roller skates and head to a skating rink. Something about it just made me want to get up and just start grooving. She's never done dance before like this but I'm glad she did. Although the song is over six minutes long, it never feels like it's dragging or full of nothing. Each second is necessary.
Another favorite track is Heated, where Beyoncé proves that she can do Drake better than Drake. (Yes, I know he is credited as a writer.)
I can't talk about this album without mentioning the best part of the entire experience. If you're part of the despicable 2 percent of the universe that listens to a new album on shuffle, then you probably missed the point.
I've always loved it when artists go the extra mile to really bring a project together by adding smooth transitions.
My long-lasting favorite before Renaissance was the Let Me Talk to You to My Love transition by Justin Timberlake.
The entire album ties together but my favorite run would have to be Alien Superstar / Cuff It / Energy / Break My Soul. When I first listened to the album I wasn't even aware of the songs changing.
With Renaissance, Beyoncé once again proved why she remained a prominent and relevant artist since 2001. Her constant need to challenge herself and work harder instead of remaining stagnant motivates me every day.
As Beyoncé writes in the release announcement:
"I hope you find joy in this album. I hope it inspires you to release the wiggle. Ha! And to feel as unique, strong, and sexy as you are."
Leave a Comment
About the Contributor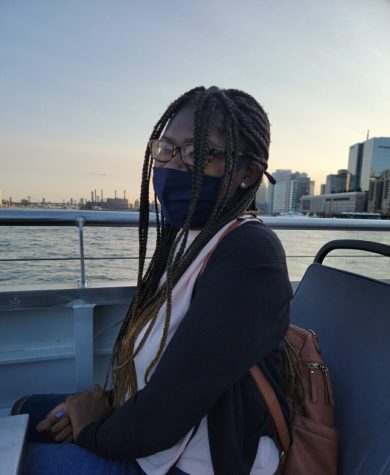 Diannah Plaisir, Managing Editor
Diannah Plaisir is currently a senior at Mercy College, pursuing a degree in Media/Communications. Having decided that she was going to be a journalist...