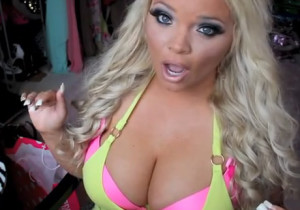 Sasha Majette, Senior Editor

January 26, 2014

Filed under From Wired To Weird
A popular YouTube performer recently posted a video with the title "Do Dogs Even Have Brains", where Trisha Paytas, an actress and plus size model questions whether or not man's best friend has a brain. The subject of the video is not to quantify the variable intelligence of canines but rather to question...
PJ Gueye
Impact Staff
Pj Gueye ( Pj Da Prodigy) is a senior Tv/ Radio Production major and minor in Music Industry and technology at Mercy College.In the summer of 2016, Pj founded the Band P.L.U.G. P.L.U.G stands...
Read all stories written by PJ Gueye
Daniel Lederer
Impact Staff
Daniel Lederer is a senior finishing his final semester on campus as a media studies student. Dan is an avid fan of movies and television, particularly superheroes, animation and Netflix. He also has good...
Read all stories written by Daniel Lederer
Michael Perrota
Adviser
Prof. Michael Perrota began teaching at Mercy College in 2005. Previously, he was a full-time reporter for North Jersey Media Group in the sports and news sections. After he began teaching, he worked in...
Read all stories written by Michael Perrota
Caroline Newman
Impact Staff
Caroline is a senior at Mercy College. Her major is Radio & Television Production. She is from the picturesque valleys of Medford, Oregon. She is a member of the production team and helps film our...
Read all stories written by Caroline Newman
Valerie Lopez
Associate Editor
Valerie Lopez is a small town Hispanic girl from upstate New York who has big dreams and endless potential. She is a journalism major going into her sophomore year, hoping to one day write for Time magazine....
Read all stories written by Valerie Lopez
Steven Keehner
Associate Editor
Steven Keehner is a media studies major with an unhealthy addiction to coffee and the British band, Oasis. Hailing from the mediocre town of Oyster Bay, New York, he was the Editor-in-Chief of his high...
Read all stories written by Steven Keehner
Jared Naut
Impact Staff
Jared Naut is a junior majoring in journalism hailing from the town of Parlin, New Jersey. When Jared is not writing, you can catch him listening to his favorite acapella group, Pentatonix, or binge-watching...
Read all stories written by Jared Naut
Stephen Lyons
Former Associate Editor
Stephen Lyons is mostly found on chairs and couches in front of a Television. When he isn't wasting his life with Xbox games or TV series, he likes to write and take long walks on the beach. His goal is...
Read all stories written by Stephen Lyons
Adriana Saad-Vinza
Impact Staff
Adriana Saad is from Ecuador. Her grandmother brought her over when she was 15 years-old for a better future. She jokes that her plan did not go as she wished because she became pregnant two years later....