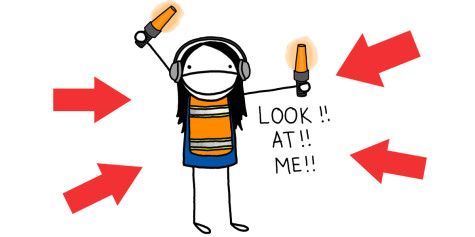 Samuel Neve, Opinions Editor

March 9, 2014

Filed under The Stiff Upper Lip
The power of social media has developed drastically over the last few years and it's gotten to a point that many advertisers, charities and individuals have started to run out of ways to grab peoples attention. Read More &raquo...
Ellis Joshua
Impact Staff
Ellis is a junior Media Studies major who is looking to become either a sports writer or sports broadcaster after he graduates. He believes writing for the Impact will help him achieve his goals and give...
Read all stories written by Ellis Joshua
Daniel Lederer
Impact Staff
Daniel Lederer is a senior finishing his final semester on campus as a media studies student. Dan is an avid fan of movies and television, particularly superheroes, animation and Netflix. He also has good...
Read all stories written by Daniel Lederer
Adriana Saad-Vinza
Impact Staff
Adriana Saad is from Ecuador. Her grandmother brought her over when she was 15 years-old for a better future. She jokes that her plan did not go as she wished because she became pregnant two years later....
Read all stories written by Adriana Saad-Vinza
Andrea Loaiza
Staff Writer
The name is Loaiza, Andrea Loaiza. She is currently a junior in Mercy College on her way to getting her bachelors in Media and Journalism. She was the managing editor for her high school newspaper...
Read all stories written by Andrea Loaiza
Brian Pineiro
Impact Staff
Brian Pineiro is a senior... finally. After a brief hiatus, Brian is back and more determined than ever to pursue his degree in Media Studies. This does not mean that Brian has not been keeping busy...
Read all stories written by Brian Pineiro
Michael Panteleo
Impact Staff
Michael Panteleo is a media studies major at Mercy College. He enjoys writing, watching, and playing football and basketball. He is a member of the Collegiate Scholars program at Mercy College and is...
Read all stories written by Michael Panteleo
PJ Gueye
Impact Staff
Pj Gueye ( Pj Da Prodigy) is a senior Tv/ Radio Production major and minor in Music Industry and technology at Mercy College.In the summer of 2016, Pj founded the Band P.L.U.G. P.L.U.G stands...
Read all stories written by PJ Gueye
Caroline Newman
Impact Staff
Caroline is a senior at Mercy College. Her major is Radio & Television Production. She is from the picturesque valleys of Medford, Oregon. She is a member of the production team and helps film our...
Read all stories written by Caroline Newman
Mikayla Newham
Impact Staff
Mikayla Newham is a senior at Mercy College. She was born and raised in Redding, California, but came to Mercy to pursue her dream as a college softball player, as well as furthering her education....