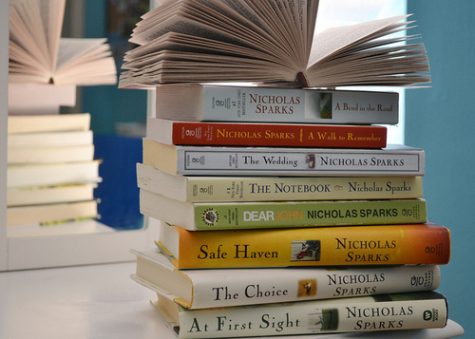 Kayla Simas, Managing Editor

February 13, 2017
Dear Mr. Sparks, In the fall of 1996, you wrote 'The Notebook.' At that point in history of our world, I was only a few months old, yet you were already shaping the way I would view love and the hardships that come with it. 20 years later, you're still the New York Times Best Selling Author. You know why...
Chevaughn Hurst
Impact Staff
Chevaughn Hurst is a senior majoring in media studies with a concentration in journalism. He grew up in Jamaica and migrated to the United States at the age of 6 years old. His friends and family call...
Steven Keehner
Managing Editor
Steven Keehner is the Managing Editor of the greatest publication on the Hudson. Hailing from the mediocre Town of Oyster Bay, New York, he enjoys going to gigs, playing his guitar, and pizza. He...
Jess Brandt
Sports Editor
Jess Brandt is a Media Studies major specializing in Journalism. She is from the wholesome town of Folsom located in beautiful Northern California. She is a member of the Mercy College Women's soccer team...
Jack Seda-Schreiber
Impact Staff
Jack Seda-Schreiber is the entertainment editor for The Impact News. Born in New Jersey, Jack has an almost encyclopedic knowledge of music and a wide and diverse range of musical tastes. Jack not...
Randi Rooney
Impact Staff
Randi Rooney is a person. "I enjoy long walks on the beach!" "6:30, eating dinner with myself; Seven o'clock wrestle with my self-loathing." I live in Rockland County and I've been encouraged to...
Alex Wendling
A die-hard sports fan who is eager to learn more about the sports media industry. His dream is to one day work for a big sports news outlet. He is a die-hard Jets fan and on a fall afternoon, one can find...
Andrew Kim
Andrew Kim is a junior majoring in Journalism. Transferring and switching majors a few years ago was a big risk but it has been well worth it so far. Andrew is from Glen Rock and loves writing about his...
Jillian Simmons
Impact Staff
Jillian Simmons is a junior studying Television and Radio Broadcasting, with a secondary concentration in journalism. She has a passion for video editing and writing, and after graduating hopes to get...
Amber Perez
Impact Staff
Amber Perez is a Journalist major here at Mercy College. She is currently residing at The Bronx, New York and enjoys listening to music and reading books about romance. Her current favorite writing...
Alexis Lynch
Social Media Editor
Alexis Lynch is a junior majoring in Media Studies with a focus in Journalism. Living in Westchester, New York her whole life she has been very focused on the entertainment industry as well as sports,...