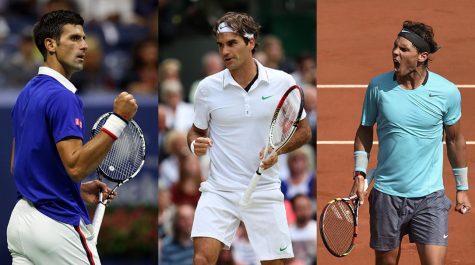 Brian Pineiro, Impact Staff

February 1, 2019

Filed under Brian's Banter
Whether you know it or not we have been and are living in tennis' golden age. Made possible by these three men and their marvelous accomplishments. See just how special they truly were and are!
Chevaughn Hurst
Impact Staff
Chevaughn Hurst is a junior majoring in media studies with a concentration in journalism. He grew up in Jamaica and migrated to the United States at the age of 6 years old. His friends and family call...
Read all stories written by Chevaughn Hurst
Michael Dunnings
Former Associate Editor
Michael Dunnings, otherwise known by the Hungarian equivalent "Miska", is a native of Dobbs Ferry and a senior studying Journalism at Mercy College. Michael can either be found wasting countless hours...
Read all stories written by Michael Dunnings
Daniel Johnston
Impact Staff
Daniel Johnston grew up in Oceanside, New York, and is a senior at Mercy College studying journalism. Daniel is an avid movie watcher and sports fan, even though all of his teams are always terrible. In...
Read all stories written by Daniel Johnston
Jared Naut
Impact Staff
Jared Naut is a junior majoring in journalism hailing from the town of Parlin, New Jersey. When Jared is not writing, you can catch him listening to his favorite acapella group, Pentatonix, or binge-watching...
Read all stories written by Jared Naut
Steven Keehner
Associate Editor
Steven Keehner is a media studies major with an unhealthy addiction to coffee and the British band, Oasis. Hailing from the mediocre town of Oyster Bay, New York, he was the Editor-in-Chief of his high...
Read all stories written by Steven Keehner
Christina Galgano
Impact Staff
Read all stories written by Christina Galgano
Andrea Loaiza
Staff Writer
The name is Loaiza, Andrea Loaiza. She is currently a junior in Mercy College on her way to getting her bachelors in Media and Journalism. She was the managing editor for her high school newspaper...
Read all stories written by Andrea Loaiza
Adriana Saad-Vinza
Impact Staff
Adriana Saad is from Ecuador. Her grandmother brought her over when she was 15 years-old for a better future. She jokes that her plan did not go as she wished because she became pregnant two years later....
Read all stories written by Adriana Saad-Vinza
Michael Panteleo
Impact Staff
Michael Panteleo is a media studies major at Mercy College. He enjoys writing, watching, and playing football and basketball. He is a member of the Collegiate Scholars program at Mercy College and is...