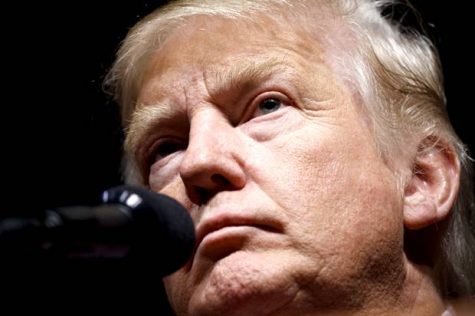 Samuel Neve, Editor-at-large

February 19, 2017

Filed under The Stiff Upper Lip
February 20th marks the first thirty days of Donald Trump's term as the 45th President of the United States (and ironically his first President's Day) and what we have seen has been 'unpresidented' in modern politics. This showman, television personality has made it his mission to make this...
Adriana Saad-Vinza
Impact Staff
Adriana Saad is from Ecuador. Her grandmother brought her over when she was 15 years-old for a better future. She jokes that her plan did not go as she wished because she became pregnant two years later....
Read all stories written by Adriana Saad-Vinza
Nicole Acosta
Managing Editor
Nicole is from The Bronx and is a journalism major at Mercy College. Her hobbies include discovering new places to eat on a budget, photography, listening to every current album you could think of, and...
Read all stories written by Nicole Acosta
Jared Naut
Impact Staff
Jared Naut is a junior majoring in journalism hailing from the town of Parlin, New Jersey. When Jared is not writing, you can catch him listening to his favorite acapella group, Pentatonix, or binge-watching...
Read all stories written by Jared Naut
Michael Dunnings
Former Associate Editor
Michael Dunnings, otherwise known by the Hungarian equivalent "Miska", is a native of Dobbs Ferry and a senior studying Journalism at Mercy College. Michael can either be found wasting countless hours...
Read all stories written by Michael Dunnings
Valerie Lopez
Associate Editor
Valerie Lopez is a small town Hispanic girl from upstate New York who has big dreams and endless potential. She is a journalism major going into her sophomore year, hoping to one day write for Time magazine....
Read all stories written by Valerie Lopez
PJ Gueye
Impact Staff
Pj Gueye ( Pj Da Prodigy) is a senior Tv/ Radio Production major and minor in Music Industry and technology at Mercy College.In the summer of 2016, Pj founded the Band P.L.U.G. P.L.U.G stands...
Read all stories written by PJ Gueye
Caroline Newman
Impact Staff
Caroline is a senior at Mercy College. Her major is Radio & Television Production. She is from the picturesque valleys of Medford, Oregon. She is a member of the production team and helps film our...
Read all stories written by Caroline Newman
Mikayla Newham
Impact Staff
Mikayla Newham is a senior at Mercy College. She was born and raised in Redding, California, but came to Mercy to pursue her dream as a college softball player, as well as furthering her education....