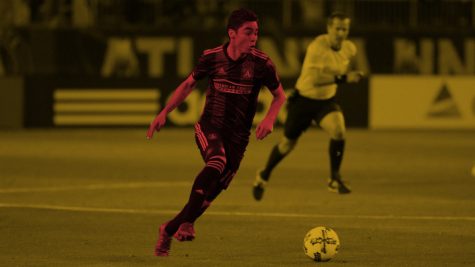 Steven Keehner, Impact Staff

January 6, 2018

Filed under Tales of an American Redhead
With Ezequiel Barco, one of the top prospects in Argentina, set to sign for Atlanta United, it signifies great changes for the landscape of Major League Soccer. Barco, along with  Jesus Medina, Diego Rossi, and Josue Colman are all players who fit this new mold of signings that could change MLS forever. ...
Ellis Joshua
Impact Staff
Ellis is a junior Media Studies major who is looking to become either a sports writer or sports broadcaster after he graduates. He believes writing for the Impact will help him achieve his goals and give...
Read all stories written by Ellis Joshua
Michael Dunnings
Former Associate Editor
Michael Dunnings, otherwise known by the Hungarian equivalent "Miska", is a native of Dobbs Ferry and a senior studying Journalism at Mercy College. Michael can either be found wasting countless hours...
Read all stories written by Michael Dunnings
Caroline Newman
Impact Staff
Caroline is a senior at Mercy College. Her major is Radio & Television Production. She is from the picturesque valleys of Medford, Oregon. She is a member of the production team and helps film our...
Read all stories written by Caroline Newman
Jared Naut
Impact Staff
Jared Naut is a junior majoring in journalism hailing from the town of Parlin, New Jersey. When Jared is not writing, you can catch him listening to his favorite acapella group, Pentatonix, or binge-watching...
Read all stories written by Jared Naut
Valerie Lopez
Associate Editor
Valerie Lopez is a small town Hispanic girl from upstate New York who has big dreams and endless potential. She is a journalism major going into her sophomore year, hoping to one day write for Time magazine....
Read all stories written by Valerie Lopez
Mikayla Newham
Impact Staff
Mikayla Newham is a senior at Mercy College. She was born and raised in Redding, California, but came to Mercy to pursue her dream as a college softball player, as well as furthering her education....
Read all stories written by Mikayla Newham
Steven Keehner
Associate Editor
Steven Keehner is a media studies major with an unhealthy addiction to coffee and the British band, Oasis. Hailing from the mediocre town of Oyster Bay, New York, he was the Editor-in-Chief of his high...
Read all stories written by Steven Keehner
Christina Galgano
Impact Staff
Read all stories written by Christina Galgano
Stephen Lyons
Former Associate Editor
Stephen Lyons is mostly found on chairs and couches in front of a Television. When he isn't wasting his life with Xbox games or TV series, he likes to write and take long walks on the beach. His goal is...
Read all stories written by Stephen Lyons
Nicole Acosta
Managing Editor
Nicole is from The Bronx and is a journalism major at Mercy College. Her hobbies include discovering new places to eat on a budget, photography, listening to every current album you could think of, and...