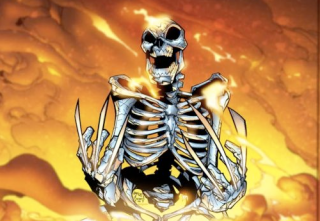 Mark McCarthy, Staff Writer

September 25, 2017
Remember when death held some sort of consequence? Marvel doesn't because they brought back another character from beyond the grave just to milk their popularity. The lucky victim this time around is Logan, aka the original Wolverine. Now, for those out of the loop, Logan's been dead for about...
Dan Rebain
Impact Staff
Dan is a VERY TALL person, a sports enthusiast that can't stop talking about FOOTBALL, HOCKEY, BASKETBALL, SOCCER, and MMA. Also, he's making jokes on anything 24/7. He is a junior Media Studies major...
Read all stories written by Dan Rebain
Safaa Benbrahim
Impact Staff
Safaa Benbrahim is a XXX. She writes a column called XXXX. She can be reached at XXX. Column Description.
Read all stories written by Safaa Benbrahim
Michael Panteleo
Impact Staff
Michael Panteleo is a senior and studies journalism at Mercy College. He enjoys writing, watching, and playing football and basketball. He is a member of the Collegiate Scholars program at Mercy College...
Read all stories written by Michael Panteleo
Steven Keehner
Managing Editor
Steven Keehner is the Managing Editor of the greatest publication on the Hudson. Hailing from the mediocre Town of Oyster Bay, New York, he enjoys going to gigs, playing his guitar, and pizza. He...
Read all stories written by Steven Keehner
Adriana Saad-Vinza
Impact Staff
Adriana Saad is from Ecuador. Her grandmother brought her over when she was 15 years-old for a better future. She jokes that her plan did not go as she wished because she became pregnant two years later....
Read all stories written by Adriana Saad-Vinza
Amber Perez
Impact Staff
Amber Perez is a Journalist major here at Mercy College. She is currently residing at The Bronx, New York and enjoys listening to music and reading books about romance. Her current favorite writing...
Read all stories written by Amber Perez
Jillian Simmons
Impact Staff
Jillian Simmons is a junior studying Television and Radio Broadcasting, with a secondary concentration in journalism. She has a passion for video editing and writing, and after graduating hopes to get...
Read all stories written by Jillian Simmons
Francesca Simone
Editor
Three jobs, five college courses, a huge family, a binge-watching addiction, a deep-rooted passion for Halloween, a never-ending hunger for literally every edible thing in sight (bottomless pit, for sure),...
Read all stories written by Francesca Simone
Randi Rooney
Impact Staff
Randi Rooney is a person. "I enjoy long walks on the beach!" "6:30, eating dinner with myself; Seven o'clock wrestle with my self-loathing." I live in Rockland County and I've been encouraged to...
Read all stories written by Randi Rooney
Jack Seda-Schreiber
Impact Staff
Jack Seda-Schreiber is the music columnist for The Impact news. Born in New Jersey, Jack has an almost encyclopedic knowledge on music and a wide and diverse range of musical taste. Jack not only...