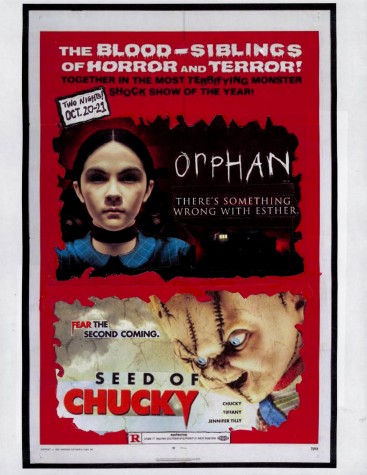 Rashaan Pace, Impact Staff

April 16, 2015

Filed under Movies and Television, True Story
  According to the Holy Bible's story in Genesis, Chapter 4, which depicts the brutal slaying of Abel by his brother Cain, the concept of violence, in particular, murder is as old as creation. The story suggests that because of sin, the inability to control one's emotions can lead various per...
Staff Profile
Jess Brandt
Sports Editor
Jess Brandt is a Media Studies major specializing in Journalism. She is from the wholesome town of Folsom located in beautiful Northern California. She is a member of the Mercy College Women's soccer team...
Read all stories written by Jess Brandt
Tanisha Esprit
Impact Staff
Tanisha Esprit, also known as Tan Tan or T, is majoring in journalism at Mercy College. She is from the breathtaking island of St.Thomas, USVI. She enjoys the view of pages turning and the pen gliding...
Read all stories written by Tanisha Esprit
Nora-Grayce Orosz
Impact Staff
Nora-Grayce is a journalism major from Yonkers. She is a music and pop culture addict who lives for concerts and festivals. In her spare time she can be found binge watching the X Files, photographing...
Read all stories written by Nora-Grayce Orosz
Karen Polanco
Impact Staff
Karen is dull and boring and that is why she can't write a bio. She lives in Connecticut. Or something. She edits videos fairly well. Rumor is she loves donuts. She can be reached at...
Read all stories written by Karen Polanco
Andrea Loaiza
Staff Writer
The name is Loaiza, Andrea Loaiza. She is currently a junior in Mercy College on her way to getting her bachelors in Media and Journalism. She was the managing editor for her high school newspaper...
Read all stories written by Andrea Loaiza
Tiffany Wilson
Staff Writer
Tiffany has always had a particular fascination with the media industry, especially the " behind the scenes" or brains of the project. She grew up admiring the singer on stage wishing she could be...
Read all stories written by Tiffany Wilson
Olivia Meier
Impact Staff
Olivia Meier, most commonly referred to as Liv, is a journalism student at Mercy College. And while she loves New York, she is a true Jersey girl. If she's not writing with a latte in hand, you can find...
Read all stories written by Olivia Meier
Michael Perrota
Adviser
Prof. Michael Perrota began teaching at Mercy College in 2005. Previously, he was a full-time reporter for North Jersey Media Group in the sports and news sections. After he began teaching, he worked in...