Bad Bunny Bebe
I had only ever been to one concert before I was a little 13-year-old obsessed with Justin Bieber – and I mean obsessed. I'm talking about almost every inch of my wall covered with Justin Bieber's face. Then I finally got over that cringy phase and moved on to rap music. 
Because I'm Hispanic, I had always listened to reggaeton music growing up. From Daddy Yankee to Wisin y Yandel to Ivy Queen to Don Omar; my uncle would always be playing it. Then came this new generation of reggaeton artists and I fell in love all over again. Especially with Bad Bunny. His music seemed different to me: more genuine. I fell in love with his voice, style, and flow. He was featured in so many songs and had a bunch of his own music but not his own album.
Finally, in 2018, he came out with X 100pre. Every song on that album, even the sad ones, are the type that you can bump in the car with no shame. A couple months later, he started going on tour and my friend Erik told me about it. We and a couple of other friends had made a plan to go in April to see him at Madison Square Garden. I was literally so excited. My best friend, Vanessa, and I would count down the days until it was time. 
Finally, on April 27, I got to see the man himself. Vanessa and I picked out our best outfits, did our hair, and put on a full face of makeup as if we were actually meeting him. Honestly, we looked good as hell.
Getting to the venue seemed to take forever. We had to follow the map on our phones to navigate around the city. When we finally got to the venue we had to wait on the longest line, it felt like we were moving like turtles. All I could think about was having Bad Bunny in front of my face. After what felt like an hour, we finally got to the gate where they checked tickets and then we walked down the huge hallway where they had all the merchandise that I couldn't afford.
We finally got to our seats and all I wanted was to skip over the opening act and get to the main act. Then the first performance began, Amenazzy. I had no idea who this was and I don't remember a single thing about his performance, so that says a lot about him. When he was done, it transitioned into "Ni Bien Ni Mal" and at that moment, Bad Bunny finally came out.
I felt like I was high; like I was in a dream. I couldn't believe he was in front of me.
He ended up bringing up Arcangel, another reggaeton artist I grew up listening to. Two of the most iconic people were right in front of me – so surreal. I spent the whole night singing my little heart out to every song. For two hours straight he was running up and down the stage and singing. I don't know how he does it. I am so grateful that I had the opportunity to experience the best concert ever.
Now, every time I hear a Bad Bunny song, I imagine I'm at a concert watching him perform right in front of me.
Click to hear my favorite Bad Bunny song.
Leave a Comment
About the Contributor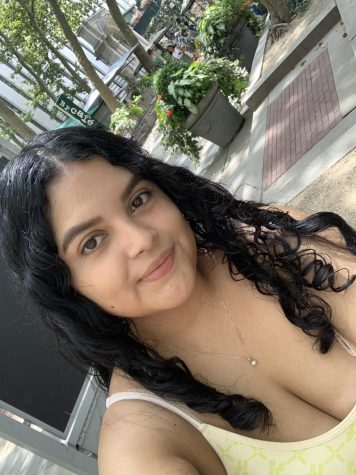 Noelle Ramirez, Impact Staff
Noelle Ramirez is a Junior at Mercy College perusing Journalism to become a Social Media Manager. Noelle enjoys listening to music, especially Bad Bunny,...