My Experience with Therapy
The coronavirus pandemic has swept the whole world and has people struggling with their mental health more than ever. If you're like me who was struggling with their mental health before the pandemic and it's gotten harder for you to cope with it, I feel you it sucks. But that doesn't mean you should just sit there and be upset about it.
Yes, times are hard right now but I really believe God is testing us to see how mentally strong we really are.
Let me give some background about my mental health.
I started to see a therapist about two years ago for my anxiety and it was the first time I ever went to a therapist. As anyone would be, I was very anxious because opening up about your past to a stranger even if they're a trained professional can still be a nervewracking experience. I know people personally who don't go to therapy because of that reason.
Now I'm not going to sit here and write that everyone should go to therapy because everybody has their own way of handling their mental health and you should do whatever helps you and what's best for you. However, I do recommend going to a therapist if you're like me and you have really bad anxiety to the point where there are times you can't eat, fall asleep, or even go out and socialize without anxious thoughts running through your mind.
I have been going to therapy for two years now and in that span, I have gone to two different professionals. This is because I didn't really have a connection with my first one and that's okay, because you may have to try and go to multiple therapists to see which one is right for you. My advice is to go to one for a month and if you feel like they aren't right for you then try to find another one. For me, I feel more comfortable speaking to a woman over a man, it's just a personal preference of mine.
I decided to go to therapy back in September of 2018 when I almost dropped out of college, that was probably the worst month of my life. I wasn't showing up to class, I would sleep till two in the afternoon every day, and I felt like I had no purpose in life. I'd wake up breathing heavily and my heart racing like I just ran the New York City marathon.
I would just lay in my bed all-day barely eating or drinking any water, just sitting in my bed sulking in my own misery. My parents never understood what I was going through especially my mom she would come into my room every day and tell me things like: "oh cheer up it's not that bad" or even worse "get over it move on."
When you tell someone who has terrible anxiety or depression, it bounces off them like they are wearing a cavalier vest. I love my mother to death, but I feel like she isn't fully educated on this topic and that is why I am a huge advocate for mental health because it is something that millions of people struggle with on a daily basis. Over the last few years, mental health has become more talked about around the world and I want to join in on the conversation and share my own experiences. 
Since 2018, I have grown as a person mentally and physically. I have been seeing my therapist every other week. I make sure I am getting some exercise because of COVID I have been doing at-home workouts because I don't want to go back to a gym yet and I have been trying to play more basketball for cardio when it's nice out.
I have also been reading a lot of books on mental health I just finished Shook Ones by Charlamagne Tha God from Power 105.1's The Breakfast Club and I'm currently reading the Fifth Vital by Youtuber Mike Majlak where he talks about his struggles with drug addiction and his mental health. I love reading other people's stories about their struggles with mental health it helps me find inspiration and it also shows me that I'm not the only one going through this even knowing it feels like I'm alone in this fight. 
You can't cure anxiety or depression but you can manage it. I don't take medication but I do meditate and I smoke marijuana to help me go to sleep at night.
Just remember hang in there because you're not alone.    
Leave a Comment
About the Contributor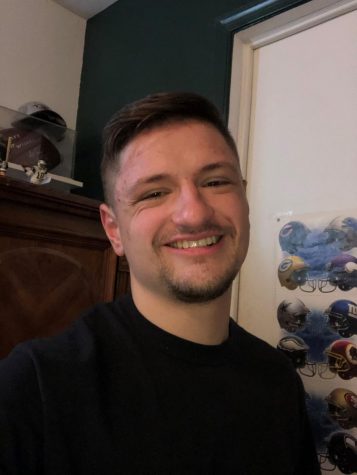 Alex Wendling, Impact Staff
A die-hard sports fan who is eager to learn more about the sports media industry. His dream is to one day work for a big sports news outlet. He is a die-hard...