Reigning Over the Wrestling World
The Undertaker and his undefeated streak reigned at the grandest stage of them all, Wrestlemania, for two decades. The Rock and his charismatic energy and catchy phrases. Stone Cold Steve Austin and his feud with authority. The hustle, loyalty, and respect motto of John Cena.
All of these things are what grabbed people into the world of WWE, but after Cena's Hollywood career took off, it left fans without an undeniable star of the business.
That was until Roman Reigns turned heel. Since this moment, Roman has reigned supreme over his peers.
I have been a fan of wrestling since I was maybe nine years old. Yes, I understand that it is predetermined, but I am a fan of the stories that they are trying to portray more than anything.
The Anoa'i family has been in this business for decades. You have the Wild Samoans, Umaga, and the Rock. So when Joe Anoa'i was born, the family business seemed to be the path to follow.
Roman began his main roster career in a stable called the Shield in November 2012, instantly making noise with Seth Rollins and Jon Moxley, formerly known as Dean Ambrose when he worked for the company. I remember the trio ran through the entire roster. Beating down anyone who was in their way.
Roman was the powerhouse of the group. Said very few words but let his actions do the talking for him. The group had a great run and lost rarely in the three runs they had.
After going 2-0 in matches against Evolution, who recently reformed, Rollins would be the one to break the group up. He took a steel chair to the backs of his Shield brothers, and the three men would focus on their solo careers.
Reigns was being fast tracked as the new face of the company, and this saw many fans disapprove.
A once beloved silent assassin turned into was being written to be a main event star. The switch was not aligned for Roman Reigns. His promo skills were not to par with the likes of a John Cena, and the fans noticed.
I could go into detail about the run, but for the most part, it was not nearly as exciting as his return to the company in 2020. There were a couple of world title runs and Wrestlemania main events. He was also the second and last man to defeat the Undertaker at the event.
Due to the Covid-19 pandemic, Reigns took a 5-month hiatus from the WWE as he was immune compromised, a result of his battle with leukemia.
This hiatus was probably the best thing that happened to his career.
Roman returned to the company at Summerslam 2020 and brought an entirely new attitude with him. He attacked then Universal Champion, Bray Wyatt, and Braun Strauman in their match.
The facial expression and body language he gave at the event and during the attack suggested that we were about to experience heel Roman Reigns. This was confirmed when he aligned himself with Paul Heyman.
Since this return and alignment, the self-proclaimed Head of the Table has been untouchable.
At the very next pay-per-view, Reigns won the Universal Championship. This title was a laughing stock for most of its existence. It was held by part-timers of the company, had bad title runs attached to it, and received questionable booking. After winning the title, he lived up to the title of the Tribal Chief.
He has become like a final boss in a video game. The undeniable main event and best in the business.
His first title defense was a good story within itself when his real-life cousin, Jey Uso, was put in a position to face Reigns. I didn't really want to see this feud and felt that the two were better united. Jey is one half of the Uso tag team, a great tag team for this era but his twin brother Jimmy was dealing with an injury at that time. The real-life cousins always seemed to help each other out before Roman turned heel so I felt like I need to tune into what was going to happen.
This feud has an argument as one of Reigns' best feuds since becoming champion. The two told a story of their Samoan heritage and life growing up together. Roman had a high standard growing up that he had to live up to and help feed their family.
While telling this story, the champion tweaked things that made his character more imposing. The slow entrance to the ring, trash talk, and slower moves in the ring made him look stronger.
The series of matches between to two showed how much Roman wanted to be respected and desire to be acknowledged no matter the length he would have to go. Eventually, this was the case after Jey was unable to beat his cousin and gave up to save his brother. Jey aligned himself with his family and became the Right Hand Man to the Tribal Chief. Storytelling at its finest.
Reigns started to elevate everyone that he works with and that started with Jey. He is the focal point of WWE, and he has the audience wanting more. From wanting to him to shut up a couple of years ago, he has everyone clinging to his every word, wanting more.
His run has been dominant and believable, unlike the first time he was handed keys to the company. He has been Universal Champion for over two years and became the Undisputed WWE Universal Heavyweight Champion of the World after beating Brock Lesner at the previous Wrestlemania a little less than a year ago.
He has created a power stable called the Bloodline, which consists of his Jimmy and Jey Uso and their younger brother Solo Sikoa. His special counsel is still Paul Heyman. The group also appointed Sami Zayn as an honorary Uce.
With this, the champion doesn't seem to be losing his titles anytime soon.
After this, the names of Roman Reigns' victims would be as followed : Rey Mysterio, John Cena, Logan Paul, Matt Riddle, Cesaro, Drew McIntrye, Edge, Daniel Bryan, Kevin Ownes, and Brock Lesner.
Leave a Comment
About the Contributor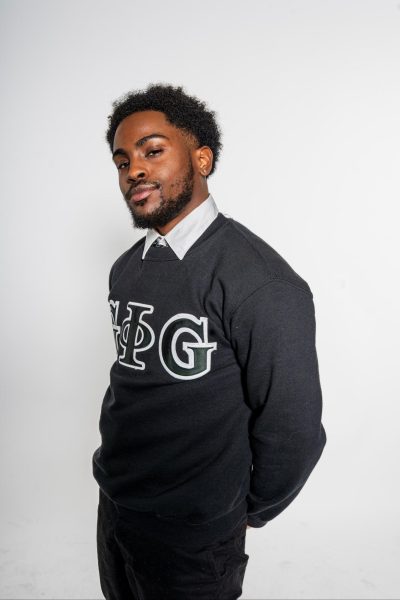 Nate Singleton, Impact Staff
Nate Singleton is a Senior pursuing a degree in Media Studies: Journalism at Mercy University. He serves as the President of the Big Apple City Chapter...