I Lied
The air became colder as the Halloween spirit died down and candy morphed into empty wrappers. "Hi honey!"— my mom welcomed me home, embracing me in her arms, to the excruciating sound of my dad's old Honda driving away.
My thrill of returning home stemmed from having just spent Halloween trick-or-treating with my dad and his new girlfriend's family. I would say my mom wasn't too happy about it. I could see the shine taken away from her platinum blonde hair and rosiness drained from her apple cheeks.
I couldn't stand to see my mom like this. The idea alone of spending my favorite holiday with the other woman brought on anger, sadness, and fear I became eager to let go of as I returned home.
After the long car ride back home, nothing appealed to me more than taking a warm shower in the comforting smell of a Dove soap bar to cleanse me from this horrid weekend. Before I could jump in the shower, my mom noticed a bruised mark on my leg. Her questioning of where the mark came from added to my annoyance.
In the heat of the moment and under my excruciating desire to take a peaceful shower after the weekend I just had, I blurted out a lie, "Dad's girlfriend did it! She kicked me."
I gulped and greeted the deepest breath of my life. My mom basically interrogated me until I was physically exhausted from excessively lying. I finally hopped into the warm shower—steam began filling the bathroom mirror whilst tears rushed out of my eyes.
I pondered to myself for the rest of the shower.
What did I just start?
***
Halloween was my favorite time of year. Orange and purple lights lit up the night. Ghost inflatables towered over everyone and their homes. Every color of candy wrapper littered the streets. Crispy red and orange leaves fell into my hair as I approached my dad's car.
"Hi sweetie!" my dad said as he bear-hugged me. I smiled so hard I could feel my cheeks throb. This was until I stepped into the car and saw her.
She sat in the front seat too comfortably. A smokey black color consumed her eyes with the clothes to match. A dark wine red color sat on her lips. Her long black hair flowed towards the backseat. She looked like she was dressed for Halloween every day. My mom was the exact opposite. She had an angelic smile that lit up every room, flowy blonde hair, and coconut brown eyes you could stare at all day.
I didn't exchange many words with the other woman. Barely even hello. This was just our unspoken norm.
I sat in the backseat practically sticking my whole body out of the car window so I wouldn't have to witness my dad and his new girlfriend exchange flirtatious remarks. And to shield my nose from her signature scent of old cigarettes and cheap perfume.
We arrived at a tall white house where her family lived. The neighborhood contained houses that resided tightly together. Some with windows falling apart and others with overgrown grass covering them.
"Are we going to a haunted house daddy?" I asked, only to receive a disappointing look and a nod no from my dad.
I walked up the steps to the house from the back to be greeted by his girlfriend's large family: her mother and father who reeked of cigarette smoke and ricotta cheese, her sister and sister's husband who reeked of cigarette smoke and chocolate, and her son who only spoke heavy metal music.
After I was coated in cranberry-colored lipstick and the smell of cigarettes from the greetings, it was time to go out with my newfound family in my costume. This year I dressed as a vampire, wishing I was one so I could suck the blood out of my wannabe stepmother.
She asked me, "And what are you supposed to be Alyssa?"
I said, "I don't know."
The question annoyed me for the rest of the night. I walked from house to house, filling up my pillowcase with piles and piles of Reeses, Twix, Starbursts, Jolly Ranchers, and Hershey Bars. After getting candy from each door, I'd have to turn back around to dad and his girlfriend, holding hands and smiling at one another. It made me sick.
They drove me back home late that night.
Dad asked, "Why haven't you tried any of your candy, sweetie? You practically wiped the whole neighborhood." His girlfriend chuckled.
I lost my appetite. I rushed out of the car once I reached back home and couldn't wait to just take a shower and go to sleep.
***
I watched in bewilderment as my dad stood outside his car, waiting to pick me up the following week. He had no idea of what awaited him.
My mom stormed out of our tall brick apartment building. Heading straight for the run-down Honda. Screaming at the top of her lungs.
I sat in the front seat of my dad's car, watching from afar without trying to be obvious. It was at this moment I had to come clean.
I confessed my sins as if I were in church. I had to be honest, even if it would hurt me in the end.
My mom yelled angrily, "Why would you lie about something like that Alyssa?"
I said, "I don't know."
I could feel the redness rushing to my cheeks as I grew hot and embarrassment engulfed not only me but my mom as well. At least there was a rosiness on her cheeks again.
My mom looked down at me in disappointment as I headed off to my dad's house for another weekend.
Old car tires screeched as I reflected out the window in the back seat for the next hour only to still find myself in anger, sadness, and fear.
Leave a Comment
About the Contributor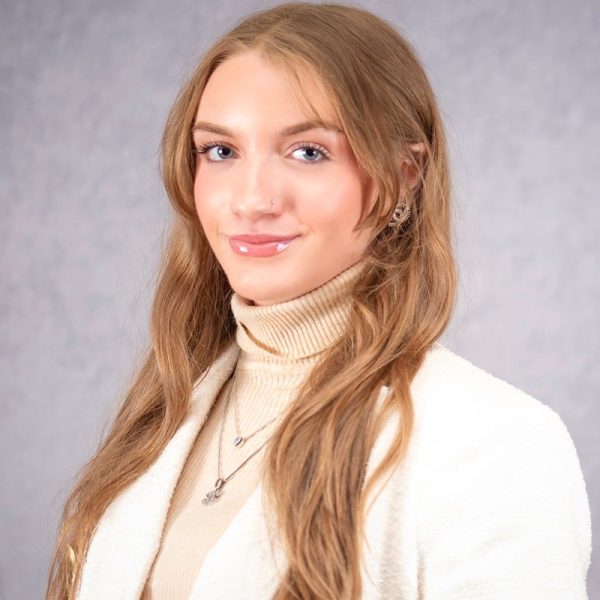 Alyssa Politi, Managing Editor
Alyssa Politi is a junior at Mercy College majoring in journalism and minoring in business. She serves Mercy College presently as the Director of Communications...