CJ Stroud's Success Awaits Him
After the prolonged wait, Ohio State quarterback CJ Stroud has declared for the 2023 NFL Draft. Stroud ranks as Mel Kiper's QB3 currently, although plenty of draft experts can see the young play caller go as high as first overall. The toolage that the two time Heisman finalist possesses are those that can be very valuable to the franchise that plunges to go get him. Quality arm strength, exceptional throwing accuracy, and excellent poise are all strengths that have separated Stroud from other quarterbacks in this class. 
There have also been negative narratives to CJ Stroud in his career in Columbus. His mobility as a player has been doubted by many. His leadership ability has been questioned, referring to his body language when things "aren't going well." Agendas like these have led some people to believe CJ's pro career will be short lived as other school quarterbacks in the past. But how real are these narratives? Let's talk about it.
CJ Stroud is 22-4 in his career as the starter at Ohio State. In those four losses, he recorded 1,575 passing yards, 11 TDs, 3 INTs, with a 66% completion percentage. What do these numbers tell you? Well, they'd actually tell you that despite losing those games, Stroud played exceptional when under pressure. Even despite the narrative telling you the opposite.
What sticks out about Stroud amongst the nation's best at the position is his efficiency throwing the football. Both years as the Buckeye starting quarterback, CJ finished in the top 2 of all FBS players in passer rating; A true assassin as a thrower. This often gets discredited due to the array of talented players he's played with at Ohio State, which has never made much sense to me.
Are quarterbacks not supposed to have anybody talented to throw the ball to? It's all nonsense. What would the best passers in the NFL be without the talented players they throw to? I'll tell you. Not very good.
Stroud has dealt with criticisms for the last two seasons as the starting quarterback, yet he's been as impressive as any 21 year old would be at handling the outside noise.
 After Stroud and Ohio State's consecutive loss to Michigan in November, writers and analysts continued to drag his name. People mocked his "lack of toughness" when playing from behind, which the Buckeyes did not experience much in his short college career.
Not the best mojo to be swirling around you when preparing to take on the defending National Champion and #1 team in America, the Georgia Bulldogs, in the College Football Playoff semifinal. It would have been easy for CJ to shut down and wave the white flag on his college career following the remarks, but instead, he displayed one of the best quarterback performances the Playoff has seen in its existence. 
Stroud answered those critics and then some, throwing for 348 yards with 4 touchdowns and 0 interceptions against the nation's premiere defense over the last two seasons. He also rushed an impressive 12 times, racking up 34 additional yards on the ground. CJ's best run came late in the 4th quarter, a scramble for 27 yards which set the Buckeyes up in Bulldog territory, nearing a game winning field goal attempt.
The performance by CJ Stroud even in the loss was crucial for his draft stock, proving those who doubted his mobility that he could move, especially against an extremely talented opponent. The single game performance, along with an exceptional Pro Day and NFL Combine, has boosted Stroud's stock to as high as the favorite to go first overall.
The Carolina Panthers are the first team on the clock in this year's NFL Draft, after trading up with the Chicago Bears earlier this month. At the Ohio State Pro Day on March 22nd, Carolina sent FOURTEEN team representatives to observe the young talent. While they were certainly there to evaluate other draft eligible Buckeyes, it's no secret who owned the majority of their attention. 
In case you were wondering, typically NFL teams will send about 2-3 reps to each college Pro Day, so you can truly understand how wild 14 team scouts in attendance is. It should tell you everything you need to know about their interest in CJ, with the weird tingling feeling that an Ohio State quarterback just might be the first selection of an NFL Draft.
I am ecstatic to watch CJ Stroud make a lot of his naysayers look foolish, just as his former teammate Justin Fields is accomplishing in his two years with the Bears. It's 2023, and Ohio State play callers are now heavily sought after by the NFL. Pinch me please.
Leave a Comment
About the Contributor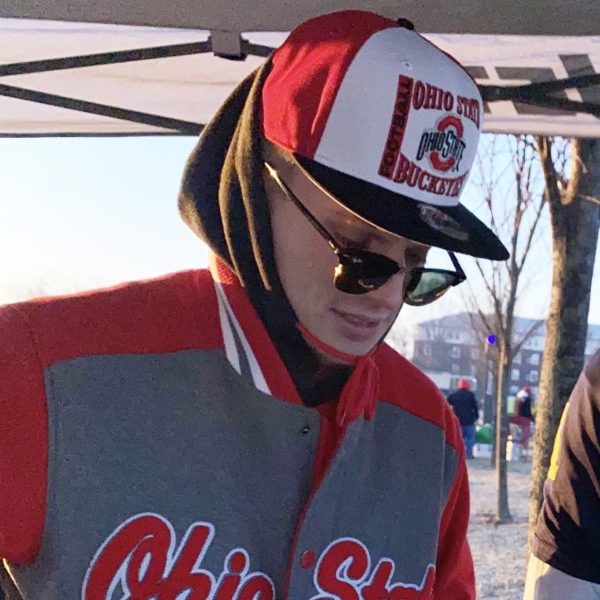 TJ Heyder, Sports Editor
TJ Heyder is a fifth year Media Studies major at Mercy, with a passion for sports journalism. TJ has become a main beat writer covering Mercy athletics...