At last, another dreadful offseason has come to a close, and football is upon us. All of the months of chatter amongst fans and observers of this sport finally find some clarity on the field, and we couldn't be more excited. The 2023 season will be a year for some of the best players in the country to continue their legacies, and the new kids on the block to begin theirs. 
With that being said, I present to you my Watch List of some of the best young players hitting the turf this fall.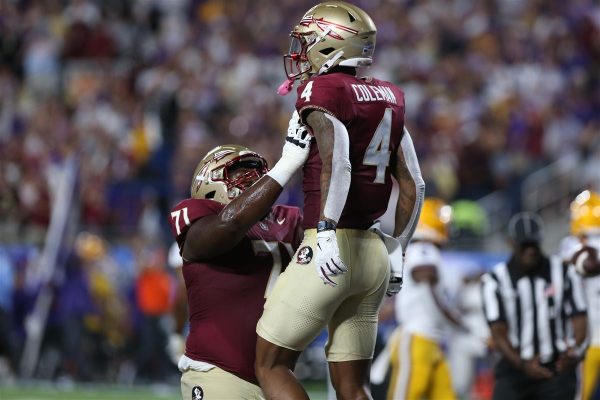 #1. WR Keon Coleman – Florida State
At the top of my list, I have my favorite transfer portal acquisition by any team this offseason. It's no secret that the Seminoles have been one of the more talked about teams in the country heading into 2023, and the addition of a premier WR1 puts that offense in nuclear territory. The 6 '4 215 pound Coleman was a beast in his last season at Michigan State, catching 58 passes for nearly 800 yards a year ago. Keon is a "jump ball" type receiver with extreme athleticism and length. The duo of Coleman and fellow FSU pass catcher Johnny Wilson makes a fatal combination for opposing secondaries to cover. Seminoles' Heisman-caliber quarterback, Jordan Travis, brings a high level of play at the position that Coleman hasn't been exposed to in his young career thus far. With three touchdown catches in his first game last Sunday, I think it's fair to believe Travis might have found his new favorite toy. Keep an eye out for No. 4 all season long.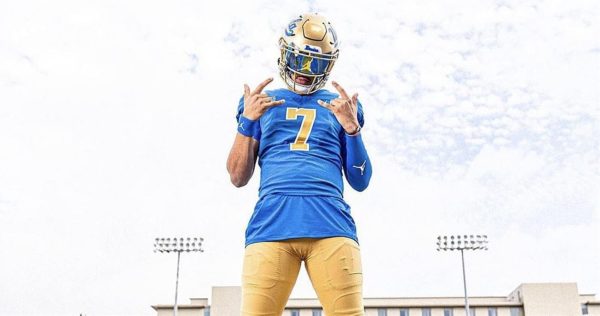 #2. QB Dante Moore – UCLA
Listen, there's a really  good chance you have no clue who this is. And that's okay. In a few years when you're waiting on your team's first-round pick in the NFL Draft hoping it's him, we're just going to remember this little nugget of information. He's that special. The true freshman was a consensus five-star prospect and the No. 1 player out of Michigan in the 2023 class. Bruins' head coach Chip Kelly received some backlash a week ago when he named Washington transfer Ethan Garbers the starter for Week 1 over Moore, but that didn't stop us from seeing this kid's talent on display. Moore relieved Garbers in the 2nd quarter after his two interceptions, and the freshman took over from there. Dante went 7/12 passing for 143 yards and two touchdowns in his shortened debut, leaving much to think about as a UCLA fan heading into their Week 2 matchup with San Diego State. This is the guy you hand the keys to the program to. Do it already, Chip.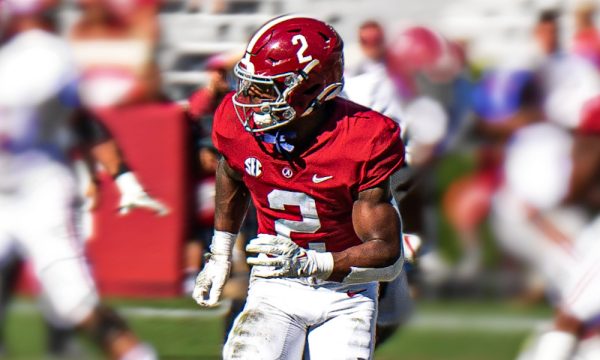 #3. S Caleb Downs – Alabama
There are few freshmen in college football this year with higher expectations than Caleb Downs. I'd actually make an argument there aren't any. The No. 1 ranked safety in the 2023 class was as sought after as it gets in the last recruiting cycle, with Nick Saban and company ultimately winning the battle and earning his pledge. Downs profiles as a versatile weapon on defense, possessing elite cover skills. The freshman is also known to be a hard hitter who can make fundamental tackles in space. There just aren't many players with the contour of Downs coming out of high school, who's already received comparisons to former Crimson Tide and current Pittsburgh Steeler safety, Minkah Fitzpatrick, as a prospect. Downs will be a Day 1 starter for the Crimson Tide defense and will fit soundly in the talented Bama secondary. He'll be another Saban product who walks across the stage and shakes Roger Goodell's hand in a few years, in the first round. Mark my words.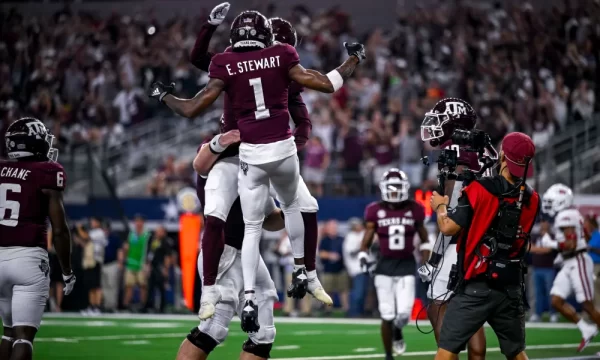 #4. WR Evan Stewart – Texas A&M
Maybe it's the Ohio State fan in me, but man do I relish in elite wide receiver play. Stewart is the definition of elite, entering his sophomore season in which he caught eight passes for 115 yards and two touchdowns in his season debut. The Texas native was a five-star recruit out of high school and chose his hometown Aggies over their state rival Longhorns. His prowess combined with his physical makeup makes Stewart a mouth-watering NFL product. It's to be noted that Stewart eclipsed 100 yards in only two games last year, one of them coming against one of the best defensive head coaches in the country, Nick Saban and his Alabama team. The Crimson Tide have had an assembly line of professional talent in their secondaries over recent years, making that performance even more eye-opening towards Stewart's potential. He has all the tools to become the best wide receiver in the SEC in his second season. Alabama and Texas A&M meet on Oct. 7th for their yearly showdown this year, and I fully expect Stewart to have another monster game.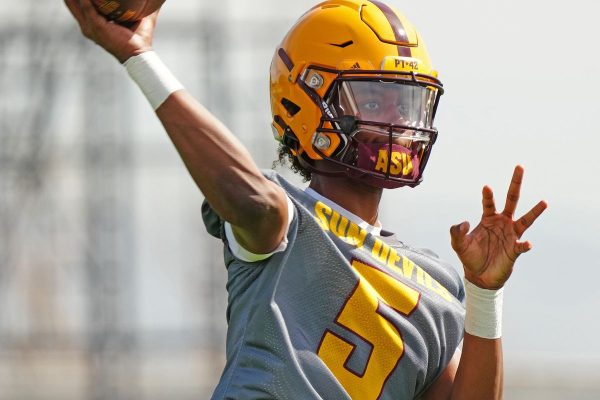 #5. QB Jaden Rashada – Arizona State
Does this name sound familiar? You know, the quarterback who was committed to Florida with that massive NIL deal attached? Well uh, that never actually ended up sticking. Rashada backed out of his National Letter of Intent when a Gator collective fund responsible for paying Florida student-athletes terminated his four-year, $13 million agreement after signing day. Rashada quickly redirected his school focus and landed at Arizona State, and it's already looking like the Sun Devils stepped in gold. Rashada is a certified killer, throwing for over 3,000 yards and 30 touchdowns as a senior at Pittsburg High School in California last year. The Golden State just produced the first two draft picks in the 2023 NFL Draft, and it looks like their next young star can be just as special. Rashada opened up the season with two touchdown passes in his first college start, adding 236 yards passing yards on the day. Does he finish his career at Arizona State? Hard to assume, but for now, the Sun Devils have their guy of the future. This kid is going to be nice.