Ohio State Spring Game 2023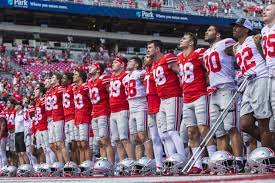 The Buckeyes have been back in action for spring practice over the last few weeks, leading up to the highly coveted Spring Game in Columbus, Ohio.
The first taste of the 2023 season has fans salivating over any early team news, leaving the Spring Game to be the over-analyzed event it always is because it will be their only nibble of football until September.  
There are many new faces that Ohio State fans are excited to introduce themselves to on April 15, including the two potential starting quarterbacks for this year's team. Kyle McCord and Devin Brown are the two talented players who will both look to replace potential #1 overall pick CJ Stroud in the starting role.
Both of these players were extremely talented high school prospects. McCord ranked as a five-star player and the 6th ranked quarterback in the 2021 cycle, while Brown was a high four-star recruit and also the sixth-ranked position player in his respective 2022 class.
Head Coach Ryan Day has made it clear to the media that his starting quarterback "doesn't have to be Superman, but just has to make routine plays consistently," but what does Coach Day mean by this? Let's discuss this.
To me, this message is fairly simple. Not many programs in the nation have the plethora of offensive talent that Ohio State does. The Buckeyes with newly promoted offensive coordinator Brian Hartline has been one of the best recruiting programs in America since he's been there, specifically with blue-chip wide receiver prospects rolling in every year.
Hartline has landed a near laughable seven 5-star receivers since he was named the position coach in just 2018, while also bringing in another thirteen 4-star receivers in that frame as well. The pass catchers for the Buckeyes have been amongst the nation's best during Hartline's tenure, and it doesn't look like that anaconda grip on receiver talent is loosening any time soon.
But for our two quarterbacks battling it out for the starting job, it has to be a relief knowing all the help is there for either one to find success at the college level. And that's what Day is referring to in his comments. The Spring Game will show us a lot about what we should expect from these two come fall camp.
Then you have the defensive side of the ball. A unit that has been as strong as college football has had to offer in recent years, but the last two seasons have shown serious signs of vulnerability.
Much of that liability has stemmed from the Ohio State secondary, who allowed 661 yards in the air and 6 touchdowns combined in their last two losses of the season to Georgia and Michigan, with each game featuring a touchdown pass of over 75 yards. Maddening.
For those who have watched this team as closely as I have over the last several years, you can understand the massive dropoff from what this unit once was. In 2019, the Buckeyes put two cornerbacks in the first round of the NFL Draft alone. It's time we get back to what we know.
Positions coach Perry Eliano has done his due diligence in improving the secondary, bringing in significant transfer players with plenty of game experience. The two transfer names Ohio State fans are most excited about are Davison Igbonusun, the sophomore from Ole Miss, and Ja'Had Carter, the senior from Syracuse. Both players were highly touted in the portal and should make an immediate Day 1 impact on the defense.
The last unit to keep a good eye out for in this game is the big men up front. The offensive line has been another strong suit for Ohio State over the last 10 years, and its new challenge will be replacing two outstanding tackles in Paris Johnson Jr. and Dawand Jones, who departs for the NFL Draft later this month.
For those unfamiliar with football, the tackle positions are arguably the most important players on the offensive line. CJ Stroud had the luxury of being defended by two monster-sized athletes like Johnson and Jones, and it will be up to Ryan Day and position coach Justin Frye to assure their new starting quarterback receives a similar defense.
Sophomore Zen Michalski and junior Josh Fryar will get the first opportunity to lock down those starting jobs, serving as the two backups to the Buckeyes' 2023 draftees. They will have their hands full in the Spring Game, taking on multiple former 5-star pass rushers on the Ohio State defense. But you know how the saying goes, iron sharpens iron.
The brand of Ohio State should never allow them to not have young players ready to plug into the lineup. It's a "reload not rebuild" mentality in Columbus, and it rings true with the players who are drafted from the Buckeyes every year. It's just a matter of whether they can put it all together for a championship season, which Buckeye fans have starved for since their last in 2014.
There is much to be excited about in the coming weeks as an Ohio State fan, with many new names to become acclimated with quickly.
If the Buckeyes can reload their roster soon enough, there is no reason why this team should not compete for a National Title again in January.
Leave a Comment
About the Contributor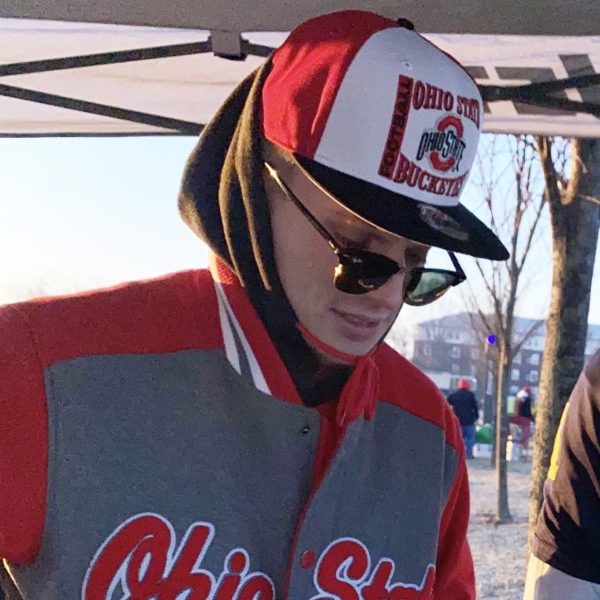 TJ Heyder, Sports Editor
TJ Heyder is a fifth year Media Studies major at Mercy, with a passion for sports journalism. TJ has become a main beat writer covering Mercy athletics...