Beasts of No Nation Forces Viewers To Think About Their Own Survival
As an adult, the thought of being left alone in an African jungle to fend for myself doesn't exactly seem like it would make for a good film. Death from sheer terror alone would pretty much put an immediate end to any unfathomable plot of how I ended up there, much less leave time for interspersed moments of deep reflection.
Cary Joji Fukunaga's (True Detective) 2015 Netflix release Beasts of No Nation actually expands on this frightening and gut wrenching idea. But of course, instead of bestowing the fear of the unknown on a more mentally equipped adult, the film throws an innocent preadolescent boy in the middle of the wilderness of a war torn unspecified West African country. Fukunaga actually makes this work, though. There is even time left over for soul searching.
Based on Uzodinma Iweala's novel of the same name, this is the story of Agu. Separated from his mother, and later violently from his father and older brother, young Agu, extraordinarily portrayed by newcomer Abraham Attah, fearfully traverses his way through close range gun fire into wide shots of majestic greenery. For a brief moment, the series of picturesque shots make it seem as though Agu missed his way, escaped the African jungle and wandered aimlessly into one of Akira Kurosawa's Dreams (1990). But then, presumably in the distance, would be the elusive figure. The one that once it's been seen, unmistakably foreshadows imminent death. Don't worry, it's there. Though in this instance, and perhaps thankfully, it's something a little more life altering.
In the case of Beasts the symbolic figure in the abyss of foliage, momentarily paused to make sure viewers get a good look, isn't much of a lifeline for Agu. It is, however, a Native Defense Force (NDF) rebel soldier, one of many young men fighting under the direction of a blood hungry commanding officer, known strictly as "Commandant," portrayed by English actor and Golden Globe winner Idris Elba. The Commandant's war sodden path is guided by the heard, though not yet seen Supreme Commander, Dada Goodblood (Jude Akuwudike). Dada Goodblood's optimistic "keep moving" and "keep fighting" commands over a radio are so hypnotizing, they seem to eerily escape the confines of the television. Or tablet. Or smartphone for that matter.
Set out to defeat the now in power NPR government, the NDF take Agu under their wing on the notion that they are defeating the men who have torn his family apart. This notion is personally put forth to Agu by the ruthless Commandant. Elba's chilling portrayal of the NDF leader provides just the right amount of malice to be met with the pathetic disposition of a man long overdue from attaining the absolute power he desires. His need for power devours him and Elba doesn't let a second pass for any deviation of this expression to be detected. Elba went on to take home the 2016 Supporting Actor SAG award for this performance.
Along the way, Agu is befriended by Strika, (Emmanuel Nii Adom Quaye) a mute child soldier. Quaye's performance which relies solely on emotion is one of the most memorable in the entire film. In addition to Attah and Elba, Quaye and other young actors, notably Kurt Egyiawan (Two I-C), and Teibu Owusu Achcampong (Preacher) are a part the driving force against Fukunaga's cinematic battlefield. Their performances are nothing short of bringing the film's most important aspect to the viewer: the unimaginable reality of the situation.
Fukunaga possesses a discerning eye that remarkably takes on the task of camouflaging any cliché that could have concluded this film before it really even got started. Of course, Agu loses his family, but it isn't any less tragic. And yes, he is forced to fight as a child soldier, this can be seen in the film's trailer, but his journey isn't as predictable as one might think, nor is it for the faint of heart. It's Fukunaga's precision and ability to tell Agu's story, the transition of childlike imagination to the harrowing reality which sets in prematurely, that makes the film resonate.
From the opening line, "It is starting like this," set against childhood chatter and song, viewers are on a journey from rhyme and television, to bullets, drugs, and rape. Fukunaga's hand weaves into a child's gentle reality the heaviness of heart that is felt when what we have known all our lives becomes lost. This journey is a daunting task, not only for Agu, but for a director to bring Agu's story to life. It is a lesson burdened with consequences that anyone, regardless of age, would find difficult to bear.
Beasts of No Nation is the therefore the type of film that must be seen more than once. Maybe several times. Not only for its excellent cinematography, or superb portrayals, but because it simply does what a film of its type is supposed to do. It takes us on a grueling journey, carries us on its back when it thinks we've had too much, and then leaves us pondering about something different every time. Perhaps mainly about our own survival.
"Nothing is ever for sure… and everything is always changing."
Only in this moment do we know what has shaped us into who we are today. Tomorrow, well, that's a different story.
We haven't met that person yet.
Beasts of No Nation (2015)
Director
Cary Joji Fukunaga
Writer
Cary Joji Fukunaga (screenplay), Uzodinma Iweala (based on the novel by).
Cast
Idris Elba, Abraham Attah, and Kurt Egyiawan
 Rating
NR
 Genre
War Drama
 Run Time
137 minutes
Leave a Comment
About the Contributor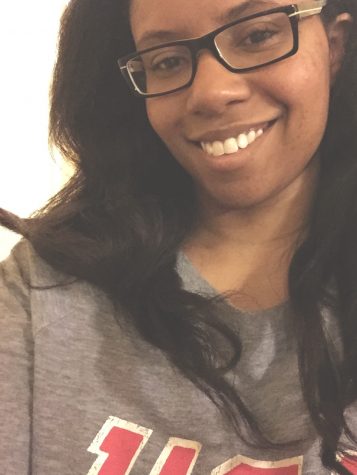 Christine Coleman, Staff Writer
Christine is an English major at Mercy College who is also minoring in Journalism. In her spare time she enjoys writing, dancing, movies (usually scary...