Schoolin' It on NY Fashion Week
Sweatpants, sneakers and a Mercy College t-shirt, the typical wardrobe for students to wear to classes. Another school year and another semester of research papers, projects and exams. Nobody would think about how pretty or handsome they want to look every day. They focus on the stress they expect to have from school aside from their other priorities.
As this semester begins, so is New York Fashion Week. A week that comes up every season for stylists, press, media and famous people to attend in order to start selling to the public. A chance for the young people to socialize with professionals about putting together a fashion show.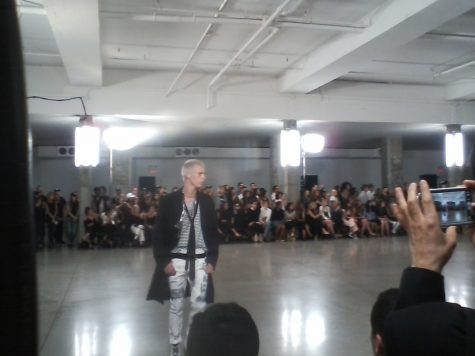 Sept. 7 was when the whole madness started. One of the fashion shows that took place that day was the release of the R13 Denim collection by designer Chris Leba. It was a rock themed fashion show that started off with the rock version of The Star Spangled Banner. After about six looks, the music transitioned to a 1980's rock song that had inspired Leba to release his wardrobes. It was an appropriate way to commemorate Labor Day and the start of a new school year.
The fashion show was targeting young adults who were in the fashion industry or waiting anxiously to return to classes to see their peers. Early Childhood Education student, Emma Giannini, is one of those young adults returning to classes to start her sophomore year. She is aware that fashion week is important to some people.
"Fashion is about being comfortable. I would never wear that," she stated regarding the R13 Denim collection.
As Giannini continues to watch a video from the R13 Denim show on a laptop in the library, her other reaction was "I like dark neutral colors like black, white and gray." She started to compare the wardrobe from the show to her own casual wardrobe. "I'm the type of person that likes to wear dark colors and wears jeans everyday. I would dress something casual that is not too hot or too cold."
Many big name brands such as Coach, Vera Wang, Chanel, Dolce & Gabbana and Calvin Klein are sold at Macy's, one of the largest department stores where young adults shop. Calvin Klein specifically was the big finish during this fall's fashion week. The clothing line is being sold through different companies such as Foray, Ali & Ariel and Bow & Drape. These companies get college student exposed to different designers and fashion entrepreneurs during College Fashion Week.
College Fashion Week is an event occurring every year during the fall semester for the past few years. This year, the models, currently college students are walking the runway at 404 on 10th Avenue revealing wardrobe from different designers yet to be named.
Giannini agreed to the idea of the event targeting college students, "They love fashion and seeing new trends. I would go. I wouldn't mind see different styles coming up. Basically, to see out there."
Whether the type of fashion show is Art Hearts or Gen Art X Bloomingdales, young adults want to have styles to describe who they are. They attend fashion shows because they are searching for an identity or want to have new clothes to wear for the next occasion. They are interested in the messages conveyed by the clothes of different designers.
Giannini finishes watching the video with her interpretation of R13 Denim. "The message that said to me is that community is not where it should be. Save our economy and society. It doesn't have to be God. Someone has to be able to do something. Not everyone is religious."
While some young adults are focused on Gucci accessories and clothes from Calvin Klein, students come to the Mercy College campus with sweatpants, sneakers and a Mercy College t-shirt to start their school day. This fashion display at Mercy College is much to Giannini's advantage as she states, "Be comfortable with what you're wearing and find your own style to describe who you are."
Leave a Comment
About the Contributor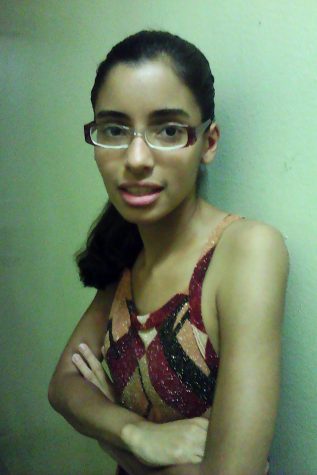 Sarai Acevedo-Charon, Staff Reporter
Sarai was born in Yonkers, New York and is majoring in Media Studies/Radio and Television Production. Her hobbies include listening to music, singing,...