Cedar Street Eats

With only two cafes at Mercy College, the same meals can become repetitive. Luckily, Mercy College is located on the outskirts of the quaint downtown Dobbs Ferry area, which has multiple authentic restaurants lined up on one street. One can take the scenic route to get to Cedar Street by taking a 10 minute stroll through the aqueduct trail, or by driving through Broadway and taking a right onto Cedar Street. For the lazy food lovers, some of the restaurants on Cedar Street deliver. The restaurants on Cedar Street will satisfy one's food cravings, whether craving for Mexican cuisine, frozen yogurt, or pizza for a college discounted price.
Go Greenly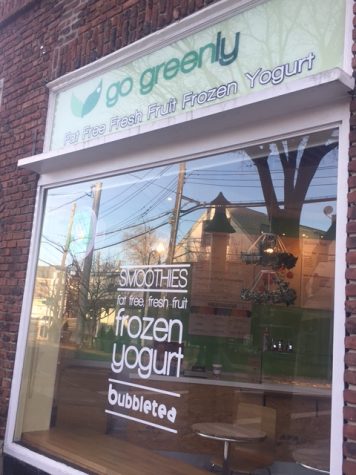 Located at 1 Cedar Street, Go Greenly does not just satisfy one's sweet tooth cravings. Go Greenly gives out a 10 percent discount on any purchase for Mercy College students. Not only do they have nonfat frozen yogurt, there are multiple delectable beverages that are available along with a wide variety of smoothies and bubble tea flavors. Also, Go Greenly has great selections of toppings which include freshly diced fruits, sprinkles, and chocolatey delights. Additionally, the service is always nice and welcoming. They are quite accommodating when you request to taste the many flavors of frozen yogurt. A great healthy option for those who want to indulge in the sweet savory taste of frozen yogurt. They can be contacted at (914) 231-6161.
Tomatillo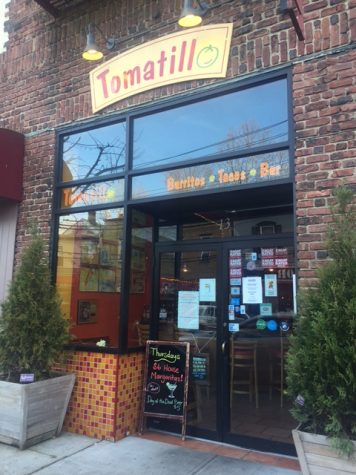 Tomatillo is a cozy rustic Mexican restaurant filled with outstanding food and top-notch service. Unfortunately, there is no student discount at this establishment. Nonetheless, their food and drinks are reasonably priced. Tomatillo only uses fresh ingredients from local farms. They are very well known for their fresh guacamole and build your own burritos. Tomatillo's menu is also very accommodating to vegetarians and vegans. Even meat lovers enjoy their signature Vegetarian Chili. They have weekly specials like "Taco Tuesday" and "Margarita Thursday." Sadly, they do not deliver, but do offer curb side service. This establishment is great when one wants to sit down, relax, and enjoy satisfactory Mexican food in a vibrant, kid friendly atmosphere.
Tomatillo is open seven days a week, and is located at 13 Cedar Street. They can be reached at (914)478.2300.
The Parlor
The Parlor is not the average pizza joint. If one is looking for innovative, delicious pizza, stop by at The Parlor. These Neapolitan Pizzas are made with homemade dough and
cooked in a wood oven fire, to crispy perfection. They are filled with bold and fresh flavors that will have one coming back for more. It is very reasonable and has great proportions. The pies are individually sized, but can also be meant to share.
Some pies that are customer favorites are: Polpette Pie (cookery meatballs, pomodoro, ricotta, basil) and the Brussel Sprout (Applewood bacon, stracchino cheese, parmigiano and brussel sprouts). Any restaurant that can transform brussel sprouts into something worth trying. The vibe in this restaurant is very relaxed, yet industrial. Chefs cut the pizza into slices using scissors. One can also pair their pies with the eateries craft beers and wines. Anyone will quickly fall in love with The Parlor.
The Parlor is located at 14 Cedar Street, and is open Tuesday through Sunday. They can be reached at (914) 478 8200.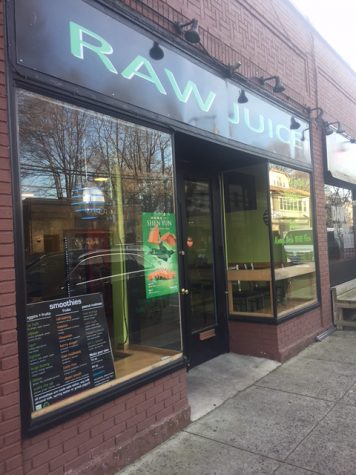 Raw Juice
If a health fanatic, check out Raw Juice. Here, they create any smoothie of your choosing, made with ingredients from local farms, right in front of you. Their menu is healthy, yet still tasty. People of all ages enjoy the fresh and healthy beverages that are made at Raw Juice. They also make wraps and have a salad bar. If you've been missing out on your vitamins or just want a shot of vitamins try out their Wheatgrass Shot to get your greens. Raw Juice also has a "Smoothie of the Week," which is always a treat. Raw Juice is open seven days a week, and located at 21 Cedar Street and they can be reached at (914) 231-5897
Cedar Street Grill
Cedar Street Grill is a modern take on traditional American cuisine. Whether you feel like a burger that isn't made from a patty or just some good chicken wings then take a trip to Cedar Street Grill. It may be more on the pricey side but it's worth it. Their Hudson Valley Burger and Cedar Street Burger are good at filling that burger craving that Mercy cafes just can't fill some
times. Tired of mercy chicken tenders then try the Dirty Chicken Wings, you can't go wrong with something glazed with maple and siracha. The food isn't the only good thing about Cedar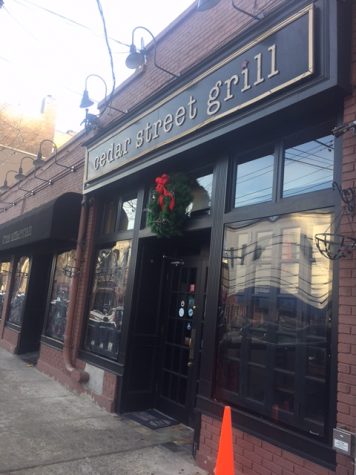 Street Grill either, the atmosphere is very cozy due to the fireplace they have inside the restaurant. You can also sit outside during the warmer months for a nice afternoon lunch date.
Cedar Street Grill is located at 23 Cedar Street. They do not deliver but you can place an order for takeout. Also, if you want to go there for dinner I'd suggest that you make a reservation as they can get busy. They can be reached at (914) 674-0706
Lemon Tree
Been craving sushi since you left home in September? Then Lemon Tree is the restaurant you've been looking for. They have plenty one-of-a-kind sushi rolls, such as the Peace Roll (Lobster tempura filled with avocado and topped with fresh mango). The best part of Lemon Tree is that they don't just specialize in sushi, but also include diverse sorts of Asian cuisine. Their Sesame Chicken is a favorite, and like all entrees, is big enough to feed two. Another plus side are their Japanese sodas, which come in different flavors, such as strawberry. These flavored sodas pair nicely with any of the special rolls they make.
One of the best things about Lemon Tree are their reasonable prices. The atmosphere is relaxing with dim lighting and pictures of butterflies on the walls.
Lemon Tree is located at 27 Cedar Street and they can be contacted at (914) 591-7088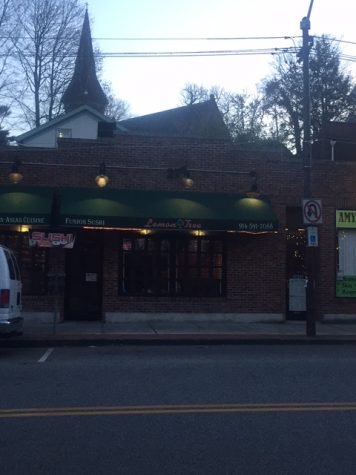 Golden Dragon
Golden Dragon offers traditional Chinese dishes such as fried rice with various types of meat and seafood, as well noodles (both chow and lo mein). They have the classic sides one would expect from a Chinese restaurant, like egg rolls and dumplings. Golden Dragon is located at 17 Cedar Street. They can be contacted at (914) 693-7578.
Dawg House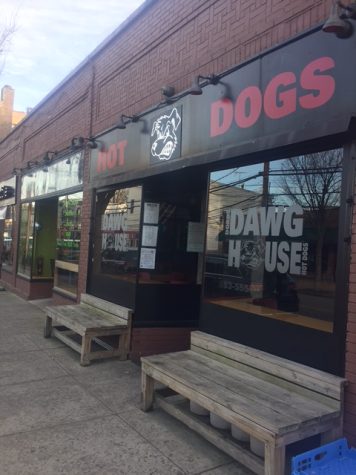 If one is looking for something quick yet still satisfying to eat, Dawg House is a stop they must make. Just make sure to show up with an open mind. At Dawg House, originality is key. With what seems to be endless customizations and combinations, one can create whatever hotdog their tastebuds crave.
There are 54 specialty hotdogs to choose from, with each dog satisfying any craving. Whether one wants something sweet, cheesy, or tangy, there are endless toppings.
The Dawg House offers "The Challenge," and that challenge is when one rolls the dice to determine which column of 12 hotdogs they'll have to eat within 30 minutes. Beware, one can't alter the hotdogs in any way.
Dawg House is located on 25 Cedar Street and is open Monday through Saturday. They can be reached at (914)693-5555.
Leave a Comment