Brewing up Successful Spirits at Westchester Craft Breweries
Craft brewing has become increasingly popular among young people who want to experiment with new brews, and Captain Lawrence is one such brewery that's making a name for itself. Located in Elmsford not far from Mercy's Dobbs Ferry campus, Captain Lawrence Brewing Company is a multiple award-winning brewery that's quickly becoming a world-wide brand.
Captain Lawrence has three massive silos that loom over the property, each holding malt for brewing beer. "Malt is the backbone," says Chris Konopka, an employee of the brewery.
The first room inside the brewery is the beer hall. Long tables fill the room with a long, wood bar at the back with areas for ordering flights, food, or picking up to-go beers. Through the beer hall is the main room, the brewery itself. To those unaccustomed to the look of a brewery, it appears similar to a science lab. Stainless steel covers most surfaces with giant fermentation tanks filling most of the space. The massive tanks are used for brewing the year-round beers that are sold. An area of of this main room, called the pilot system, is for experimenting with new kinds of beer.
The newest piece of machinery in the brewery among the cluster of complicated-looking machines is the canning line. Canning has now become the preferred trend for breweries as opposed to bottling, in order to avoid "skunked" beer—when the tastes turns bad due to the chemical reaction.
"All bottles, even the darker bottles, let in a little bit of UV light, and that UV light from the sun can skunk the beer," Konopka explained. Bottles like the ones used for Corona let in the most amount of UV light, causing the beer to skunk faster. Brown bottles let in the least amount of light, but can still lead to skunking. Cans let in no light allowing for skunk-free beer.
Like many craft breweries, Captain Lawrence has year-round brews, the most well-known being the "Freshchester" Pale Ale, as well as seasonal beers that rotate throughout the year. For the colder months, they offer a spiced "Winter Ale," spring brings out the "Meltwater IPL," an Indian pale lager, and for those hazy months of summer and crisp days of fall, the brewery offers the "Sun Block IPA", and "Autumn Blaze Pumpkin Ale" respectively. They also have a steady flow of limited release beers that add variety to their collection.
Captain Lawrence Brewing Co. was founded by Scott Vaccaro, who learned about brewing beer from seeing the father of a close friend's home brewing system. Vaccaro was only 17 at the time and wanted to learn to brew, and after receiving his parents permission, he began brewing his own lagers that same year. After completing college, Vaccaro worked for a few breweries before deciding to start his own, naming it after the street of his childhood home.
Captain Lawrence has been operating out of Elmsford since 2012. Originally started in Pleasantville, less than five miles from their current location, the brewery was launched by Vaccaro in 2006.
"We more than doubled the size of our space, this allowed us to put in the bottling line," said Konopka "It also allowed us to put in a lot more fermentation tanks, with a state of the art brew deck."
Between 2007 to 2013, the brewery went on to win eight awards at the Great American Beer Festival, with five being gold award winners. The brewery also has multiple highly favorable user reviews at Beer Advocate, the largest website of the craft beer community. Captain Lawrence also holds events like trivia, live music, thirsty Thursdays and seasonal events, like the annual sour festival.
Captain Lawrence also has avoided one of the many pitfalls of craft beer breweries—the bad batch. A bad batch comes when beer becomes tainted during the brewing processes. Avoiding bad batches or tainted batches are one of the top priorities for breweries. "It is very important we don't allow any outside bacteria into the beer. That's what damages the batch."
Breweries are an ever-growing industry, with over 5,000 across the United States. Few have become destination spots, and Captain Lawrence steadily become a hot spot for beer aficionados as well as the casual consumer.
Beer consumption dates back all the way to 5,000 BC in ancient Egypt and Mesopotamia, yet according to Beer100.com, tests on ancient pottery have found fermentation of barley and grains to produce beer from 7,000 years ago in Iran. By the seventh century AD, beer became a bonafide business, and was produced by monasteries. Beer production skyrocketed during the Industrial Revolution in the 19th Century. Up until Prohibition, American beer was mainly produced as what we know as European beer today. To increase bootlegging profits, beer was watered down, and that lighter beer is still considered "American" style beer to this day.
Leave a Comment
About the Contributor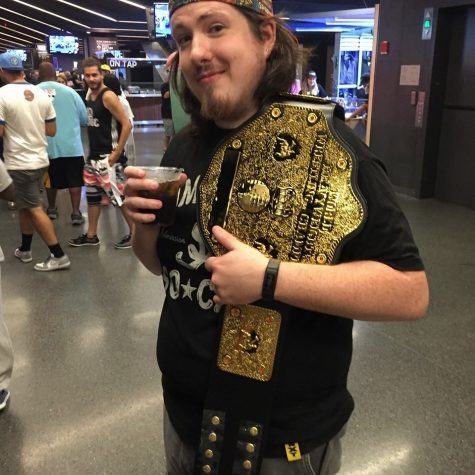 Stephen Lyons, Former Associate Editor
Stephen Lyons is mostly found on chairs and couches in front of a Television. When he isn't wasting his life with Xbox games or TV series, he likes to...