Spring Break Open Opportunity For Music DJ
Miami Music Week is the largest weeklong marathon of electronic dance music events in the entire country. Thousands of artists perform at hundreds of venues located in Wynwood, Downtown Miami, Miami Beach, and Little Haiti.
The venues include boats, nightclubs, pools, and pop-up spaces. Miami Music Week leads up to Ultra Music Festival, which is one of the, if not the biggest, electronic music festival in the country.
Ultra Music Festival is attended by 165,000 people over the course of three days during the month of March. Before becoming a three day festival back in 2011, Ultra was originally a one day festival from 1999 to 2006.
Because of the amount of people attending Miami Music Week, it can be a great way to gain a following for an up and coming producer or DJ who is playing at one of the many venues.
Austin Hennessey, a senior at Mercy College, and is majoring in music technology, and is trying to make a name for himself while on Spring Break.
Hennessey was born in Rhode Island, but moved to Maryland at a young age. During his sophomore year of high school, Hennessey became highly interested in electronic music. "I started making electronic music during high school, but it was never much more than making mash ups in my basement," said Hennessey.
After graduating from high school, Hennessey attended Frostburg State University in Maryland. It was at Frostburg State that Hennessey met a friend who produced electronic music. After that Hennessey began making his own music on his laptop.
"When I met Jordan in college, he was producing a lot of Riddim and Dubstep in Abelton, and I was amazed and wanted to start right away," Hennessey stated.
While at Frostburg State, Hennessey worked as a freelance photographer.
"A good friend of mine from home was bringing me to raves all the time to shoot photo and video for a lot of my idols at the time. It was a wild first impression of the scene for sure," Hennessey added.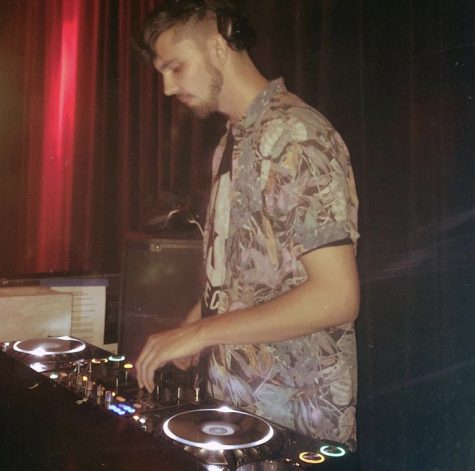 By attending these events, Hennessey began making connections in the industry. Eventually Hennessey began looking into other colleges with great Music Technology programs. Hennessey decided on Mercy College and started during the spring of 2017.
"I really felt like the program here at Mercy would really help me find the direction I wanted to take with my music," stated Hennessey.
Hennessey continued to fine tune his craft at Mercy College. His hard work finally paid off when he was signed to OKNF records. OKNF releases music to many different major platforms, including Spotify. After that, Hennessey later signed with three other record labels.
Through his connections, Hennessey has been booked at clubs in Brooklyn, Chicago, and throughout the rest of the East Coast.
"Going to these events and meeting the people working in the industry I was dying to be a part of. That was crucial, you've got to get out there," Hennessey said.
Of course, Hennessey's biggest event has yet to happen. During Miami Music Week, Hennessey will be playing a major event on a boat at on March 29.
The event has already sold a number of tickets and people are still buying more. "As of right now our pre-sale and tier 1 general admission have sold out, but our remaining tickets start at $55. We also have a number of VIP packages still available as well," Hennessey stated.
Playing during a crazy week of electronic music in Miami can definitely rattle the nerves. "I'm definitely nervous. I've never not been nervous before a performance, even as a kid. But I've been preparing for this for so long, so I will try to keep that in mind," said Hennessey.
Although playing such a big event can make a person nervous, it can also bring a level of excitement, especially with a lineup like this event. "It's hard to tell the difference between excitement and nerves sometimes, but I'm most excited to see this event come together. I mean, throwing an event like this isn't easy and our team has been busting their buns so I'm stoked to see the payoff. I'd also be lying if I said supporting our headliners Golf Clap and Codes wasn't a dream come true for me," stated Hennessey.
Hennessey has made tremendous strides over the last few years, and this is only just the beginning for this Mercy student with a lot of potential.
Leave a Comment